You can accuse Windows 8.1 of a lot of things, but one thing you can't say about Microsoft's latest OS is that it lacks web integration. Thanks to deep integration with Bing, OneDrive, and other Microsoft online services, Windows 8.1 is most definitely where the desktop meets the cloud.
Not everyone's sold on the cloud, though. You could just use a local account to keeping Microsoft as far away from your PC as possible, but a lot of Microsoft's services are actually pretty useful. What if you wanted to enable some and disable others? Here's how to individually sever Bing and OneDrive's deep tendrils into your system, along with info on how to keep general Windows apps from looking over your virtual shoulder.
Bing search
Part of Windows 8.1's comprehensive search feature in the modern UI, dubbed Smart Search, includes results from Bing.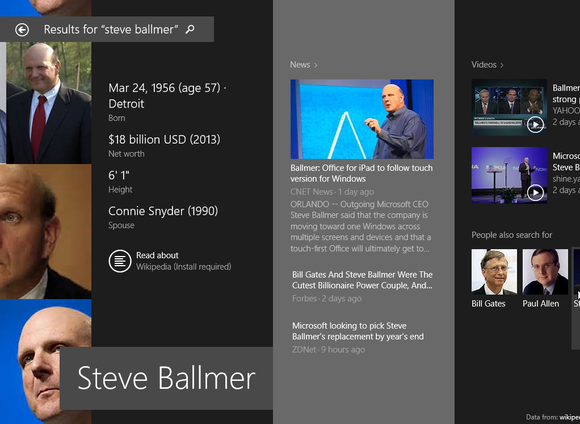 If you search for anything that isn't an exact match with a file, option, or program already on your PC, Windows 8 launches Bing Smart Search, which searches for the term locally as well as on the web and within your Windows 8 apps themselves, then collate the results into a slick and helpful interface. It's a convenient feature, but the downside is that for Smart Search to work some of the local search data on your PC gets sent to Microsoft.
If you'd rather not have Bing results mixing with your PC-based searches, dumping Bing is easy. Open the Settings charm by tapping the Windows logo key + I. Then go to Change PC settings > Search and apps > Search.
Next, tap or click the slider to "off" that says "Get search suggestions and web results from Bing." If you want to include Bing results, but would rather not have them personalized based on your search history and PC location, then under "Your search experience" tap or click the radio button next to "Don't get personalized results from Bing."
Cut off OneDrive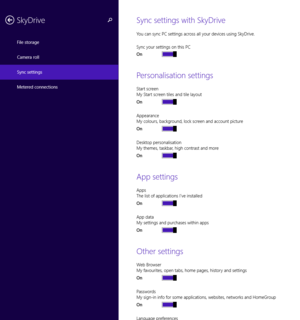 Windows 8.1 has deep OneDrive integration that can sync almost everything across multiple PCs, from commonly used files and folders, to your Internet Explorer tabs and settings, to your desktop background and Start screen apps. While most of the options are enabled by default, Microsoft gives you very granular control options over OneDrive's syncing, so it's really up to you how much you put in the cloud.
To adjust your settings, open the Settings charm again, and then go to SkyDrive > Sync settings (SkyDrive in Windows 8.1 will soon be renamed to OneDrive).
Here you'll find a page filled with all your personalized sync settings. Simply read through the list and anything you don't want to sync just tap or click the slider underneath it. If you're looking for the nuclear option that stops any personal settings from syncing across PCs then turn off the slider at the top that says "Sync your settings on this PC."
But we're not done yet. Now go back to the main SkyDrive menu and tap or click on File storage. Turn off the slider that says "Save documents to SkyDrive by default" to prevent your files from being automatically saved to the cloud.
Now, go back to the main SkyDrive menu again and choose Camera roll. Select the radio button that says "Don't upload photos." Also make sure the slider that says "Automatically upload videos to SkyDrive" is turned off. These photo settings largely apply to tablet owners and the few PC users that like to take a lot of snaps with their Webcam.
Privacy
But it's not just Microsoft's cloud hooks you have to worry about. Modern UI apps can also ask for data about you and your PC. Let's dive into these settings by opening the Settings app again and selecting Privacy > General.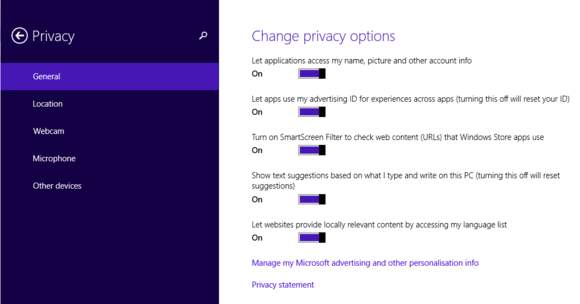 Here you can control what third-party apps can access including your account info, "advertising ID" for personalized ads, and auto suggestions as you type.
Whatever you decide to turn off on this page, I would highly recommend leaving the SmartScreen Filter turned on just in case an app ever tries to direct you to a malicious website.
Now go back to the main privacy menu and this time select Location. Turn the slider off that says "Let Windows and applications use my location." Alternatively, you can choose to limit specific apps from accessing your location. Just keep in mind that without location services available, apps for weather, news, and maps may not be as conveninent to use as they once were.