Bitcoin's popularity is growing, but even its biggest backers say it has a mountain of problems to overcome in gathering wider appeal.
"It's on the fringe," said Marc Andreessen, the Silicon Valley venture capitalist and Netscape co-founder, whose firm, Andreessen Horowitz, is one of the largest investors in ventures involving the Internet-based monetary system.
Bitcoin's current standing in the technology world is analogous to the early days of the Web, he said, when it was feared for its connections to child pornography and illegal drug sales.
The digital currency has found its way into a range of online services over the past year, boosting its popularity, but mainstream acceptance remains elusive.
Is Bitcoin necessary?
There are numerous issues at play. People still aren't sure what to make of it, established digital payment systems generally work fine, and there aren't tons of exciting applications yet. Those challenges, and others, were laid out by Bitcoin investors Tuesday at CoinSummit, a San Francisco conference focused on Bitcoin and other digital currencies, which drew hundreds of entrepreneurs and others working in its expanding ecosystem.
One of the biggest challenges is that some people, particularly banks, may not trust Bitcoin yet, some investors said. "The lack of banks willing to take merchant accounts for new Bitcoin companies is a real inhibitor to the growth of the ecosystem," said Jeremy Liew, a partner at Lightspeed Venture Partners, during a panel discussion.
The Web, of course, was eventually embraced by the masses as it became useful for shopping, email, and many other tasks. Investors hope that Bitcoin will someday go mainstream as well, as its platform expands and new applications are developed.
But building trust in Bitcoin takes time, Liew said. "Trust is going to be a very important factor for companies in the Bitcoin space to grow," he said.
Still, investors have high hopes for Bitcoin, despite recent blowups including the fall of Mt. Gox, once the largest Bitcoin exchange, and mounting scrutiny by financial regulators and authorities across the world.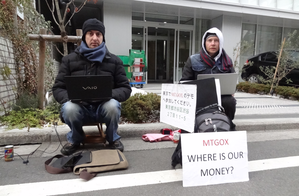 "We think of Bitcoin as being on the scale of the next Internet," said Balaji Srinivasan, a general partner at Andreessen Horowitz, during a panel discussion at the show.
One barrier to use is that people don't trust Bitcoin as they do paper money. When average people think about trusting money, Andreessen said, they think about whether they can trust the bank, or the U.S. Treasury, or the U.S. Mint. Using bitcoins requires trusting the underlying technology, which is a foreign concept to laypeople.
"We have to work hard to explain [the system], articulate it, simplify it, and make it understandable," Andreessen said.
Another issue is the fact that Bitcoin still doesn't have a killer app yet, said Micky Malka, the founder of Ribbit Capital.
Also, if companies working in Bitcoin want to see wider use of the currency, more protections should be put in place to verify the security of the technology, according to some speakers at the conference.
Andreessen Horowitz's Srinivasan said the firm would be interested in funding an "underwriters lab" for Bitcoin, which conceivably could provide electronic audits and safety testing for Bitcoin exchanges and other companies that might otherwise become the victims of hacks, as some reports called Mt. Gox. The idea has some support.
"These fundamental infrastructure components need to exist before [Bitcoin] apps can truly thrive," said Hemant Taneja, of General Catalyst Partners.
Upon security, trust is built
Some Bitcoin companies are trying to tackle these concerns. Coinbase, a Bitcoin exchange, wallet and payment processor that is backed by several high-profile investors, has pledged to provide quarterly security audits by outside firms. A recent review of Coinbase's system said it was operating according to security best practices.
Above all, Andreessen said his firm viewed Bitcoin as an ecosystem capable of providing a range of applications that might not even use actual bitcoins, such as peer-to-peer money-lending networks. One of the firm's goals is to build a portfolio of investments in all areas of the ecosystem.
Meanwhile, average people need to become more comfortable with Bitcoin and aware of its potential, he said. People were skeptical of the Web in the early '90s, he said. But by 1995 or 1996, he said, "they said, 'oh, this is pretty cool.'"