At a Glance
Expert's Rating
Pros
Strong price-to-performance ratio
Blu-ray drive
Attractive, unassuming enclosure
Cons
No SSD
Just adequate power supply
Only one PCIe slot (occupied)
Our Verdict
You'll find plenty of more powerful gaming PCs on the market, but few that are this competitively priced for the components delivered.
Some mainstream PC manufacturers don't have a clue when it comes to building a machine that will appeal to gamers. They'll focus on looks instead of components, or beef up all the wrong components to make the machine look impressive on paper. Acer's 2014 Predator G isn't perfect, but it hits nearly all the right notes at a fair price. After all, few of us have the wealth to drop eight grand on something like the Origin Genesis.
PCWorld dismissed last year's Predator as "toothless." The Predator model AG3-605-UR39 reviewed here is a vast improvement, with a modest enclosure housing a mostly solid collection of components. Anyone in the market for a mid-range gaming desktop who's not interested in building their own could do a lot worse.
Acer builds several Predator models, each of which features Intel's Core i7-4770 processor. The components that vary are memory and video card. This particular model has 8GB of DDR3/1600 memory and a video card based on Nvidia's GeForce GTX 770 graphics processor. HP and Dell tap the same CPU for their upscale gaming PCs—the HP Envy 700-030qe and the Dell XPS 8700 Special Edition respectively—but both of those machines are equipped with lesser video cards.
Acer's got game
With all that horsepower, the Predator produced an impressive Desktop WorldBench 9 score of 92. That means it delivered 92 percent of the productivity performance of our Lab-built reference system, which consists of an Intel Core i7-4960X Extreme Edition CPU, 16GB of DDR3/1600 memory, and an Nvidia GeForce GTX 780 video card.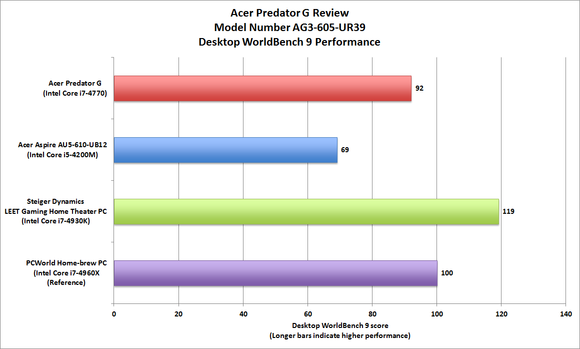 The Predator was also able to run BioShock Ultimate at a resolution of 1920 by 1080 pixels and with image quality set to medium at a very impressive 154 frames per second. If you want to game at even higher resolutions—say, 2560 by 1600 pixels with Ultra image quality on a 32-inch display—the Predator will take you most of the way to that magical 60-frames-per-second mark.
In our tests, it delivered the game at that resolution and image quality at an average of 48 frames per second. Battlefield 4 presented more of a challenge—the Predator mustered 31 frames per second at those settings—but you'd need something on the order of an Nvidia Titan-series GPU to do much better. And a card like that would cost nearly as much as this entire computer.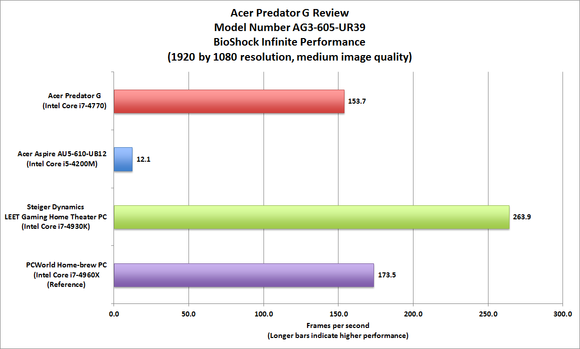 If I only had an SSD
There are several places, however, where Acer could have improved this machine by using higher-end components, with storage being the most important. Last year's model at least had a small (16GB) SSD cache to augment its 2TB, 7200 rpm hard drive.
This year, the company provides only a 1TB, 7200 rpm hard drive. Come on, Acer, you've left the entire rig bottlenecked by the speed of its hard drive. SSDs are relatively inexpensive these days; it's a glaring omission that the Predator lacks one, and that there's no convenient way for a user to install one without resorting to a conversion kit.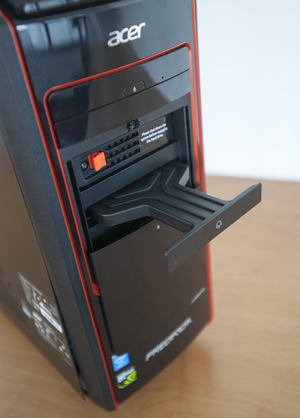 And Acer has once again selected a diminutive 500-watt power supply. That's the bare minimum needed for its existing hardware, and it severely limits the upgrades you can make without upgrading the PSU as well.
At least it's easy to add storage: The Predator still features a movable door on the front that dips down to reveal an removable drive tray. While you can't hot-swap drives, the SATA data and power connectors in the back of the bay mean you don't need to remove the entire side panel to add a hard drive (unless you're installing an SSD, that is). And there's a Blu-ray drive in its top bay for those who watch movies on disc or otherwise use physical media.
The Predator's case hasn't changed much compared to last year's model. It's primarily flat-black, with orange highlights. It still feels a bit cheap, with thin steel siding and a weak plastic front door, but you can't expect much more for the price. As someone who prefers unassuming cases without a surplus of garish LEDs and windows, I find the Predator refreshing compared to the look-at-me! designs that many boutique vendors come up with. If you are a fan of eye-catching designs, on the other hand, the Predator will look boring.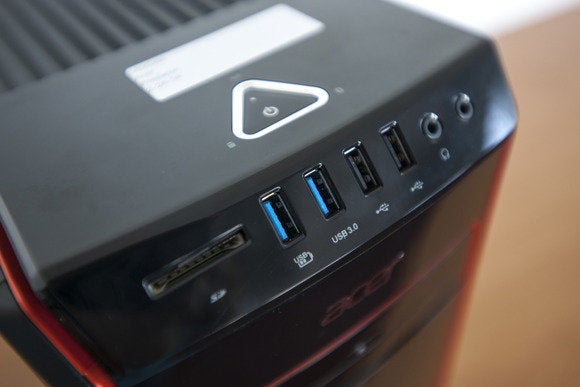 Final thoughts
There isn't a lot of room to expand the Predator beyond storage. Its motherboard has just one PCIe slot, and it doesn't offer much in the way of cooling. Having said that, its airflow seems adequate. The case gets a bit warm on the right side while playing games, but nothing outside of standard operating temperatures.
When it comes to building reasonably priced gaming PCs, the Predator AG3-605-UR39 shows that Acer is on the right track, delivering some potent hardware at a reasonable price. But the Predator would be even more fearsome if it came with an SSD and a beefier power supply.