For people who travel overseas a lot, it sounds almost too good to be true: unlimited international data roaming and texting at no extra cost. But that's exactly what T-Mobile USA started offering its U.S. users earlier this year as part of its price battle with AT&T.
International roaming can be really expensive. An accidental click on a video or a browse down the Facebook newsfeed can cost several dollars, and if you leave the phone downloading messages in the background, expect a hefty bill when you return.
So, T-Mobile's offer is enticing, but there's no such thing as a free lunch, right?
In February, I got a chance to try it out when I traveled for a week to Spain, on a reporting trip to the Mobile World Congress expo, and then afterward to Austria and the U.K. I'm a T-Mobile customer so the test was done on my personal phone, a recently purchased Nexus 5, and my personal line, with no assistance from T-Mobile or prior notification to the company.
"Not bad for free"
Typically when traveling overseas, I disable data roaming and try to get a prepaid local SIM card, so it felt quite liberating to switch my phone on as I landed in Spain, and even better moments later when I received a welcome SMS message.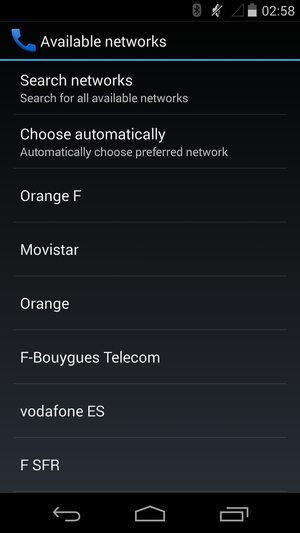 "Welcome to Spain. Unlimited text incl with your global coverage. Talk $0.20/min," and then, "Unlimited web included as part of your global coverage."
That second text message also included a link to purchase high-speed access because the free T-Mobile service is capped, and that's the biggest down-side to the service. Data typically flows at 128kbps—many times slower than the typical U.S. speed—but part of my test was whether it would be good enough.
While I was waiting for my bags, messages started dropping into my inbox and notifications started popping up on the screen.
"Not bad for free," I thought, and that was the same conclusion with which I ended my week of travel.
For email, Twitter, Facebook, browsing news, navigating with Google Maps, and much of the other things I do with my phone, the service was fine. Sure, I had to wait longer for things to load. Sometimes it took up to a minute to post a picture to Twitter, but I doubt few of us live such important lives that we need things to happen a lot faster.
In all three countries, I ran tests using Ookla's Speedtest app. I'd invariably get a download speed of around 0.13Mbps and an upload speed of around 0.12Mbps—just as T-Mobile had said.
The faster data service, had I purchased it, would have provided the fastest service available from the foreign network for between $15 for 100MBs of data for a single day to $50 for 500MBs of data over a two-week period. That's a lot cheaper than roaming has cost in the past, but I didn't feel the need to purchase it, especially during the latter portion of the trip where I wasn't doing any business.
Still working out the kinks
In Spain, the phone kept losing its data connection with roaming-partner Movistar, and wouldn't reliably reconnect, so I had dial tone but no data. I rebooted the phone many times and never managed to figure out the problem, then, after a couple of days, the phone started connecting to Orange, an alternate network. I'd tried to connect to Orange earlier in the week and that didn't work, but suddenly it was working and my problems disappeared.The test wasn't without problems.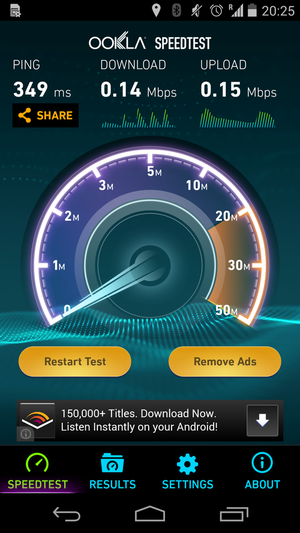 When I contacted T-Mobile to describe my problem, the company's engineers who examined what had been going on ended up adjusting the way roaming phones connect to networks in Spain, hopefully ending the problem for others.
My connection to Orange, and a subsequent connection to T-Mobile in the U.K., brought some concerns. Rather than the welcome text message telling me my usage was covered, I got one that said "Welcome to United Kingdom. CAUTION: For specific rates and info call us…"
Was I back to paying a lot of money for my data? Should I disable roaming?
I tried to check on the T-Mobile app in the phone, but it wouldn't connect. It kept telling me there was no data connection, despite being online.
T-Mobile later told me the message I got was their error, served up by mistake, and that too should now be fixed. The app wasn't connecting because the company had programmed it not to work overseas, ironically to stop customers running up high charges.
These problems aside, the roaming service was useful, especially for vacationers. Those overseas on business might want the faster service, especially if they aren't paying the bill themselves, but even then the basic service might suffice.
I ended my trip satisfied with the service, and you can't beat the price.