I've demonstrated the Windows Phone's predictive, heuristic text entry and voice recognition prowess to nearly everyone who's ever pulled up a barstool next to me, yet they still bang away at their iPhones and Android devices as if they'd never noticed. Go figure. Maybe Translator with Speech will get their attention. Not only does this app do a bang-up job of translating both text and speech input into other languages, it speaks the translations.
So who cares if your translator speaks? Say you're on business overseas and having a hard time being understood through your thick American accent. With Translator with Speech, you just type or speak the phrase you want to translate into the phone, turn on the speaker, and let the phone say it for you. Okay, it's a bit geeky, but it works, dagnabbit. I tried this with both the Taiwanese couple who own the local coffee shop and my Spanish-speaking god-family. I possess smatterings of both languages (Mandarin, not Cantonese). All were in agreement—the phone was one heck of a lot easier on their ears than my ham-tongued linguistic efforts. I offered to make the phone their godfather.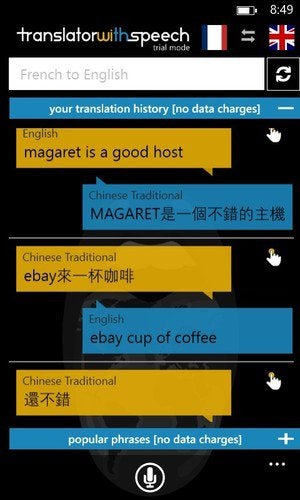 If you didn't understand why I talked up-front about predictive heuristic texting and top-flight speech recognition, it's because it's employed in the Windows Phone version of Translator with Speech app. This means you can input text quickly enough to get your schnitzel ordered before an angry mob of locals decrying your ugly American ways can gather. With the Android or iPhone versions, perhaps you start a riot. With the iPhone in particular, there's always the chance you'll be thrown in jail when it auto-corrects your innocent inputs into a libelous statement.
Just to drag this review on a bit… I tried English to German with such common phrases as "My foot is swollen" and "Take me to your leader." English to French? "Where are your truffles and foie gras?" No problem. Alas, that's about as far as my language skills would take me, but Translator with Speech covers 54 languages in both directions. The app uses a data connection for translation in many cases, however, there are several hundred common phrases, as well as the audio for them in 10 languages, on board. That's a good thing if you stray away from service. You can also tap on previous translations, which are organized on-screen like an SMS conversation, to hear them again.
Translator with Speech is a great app, and I guarantee you it will be with me on my next overseas voyage, no matter which phone I take with me. About the iPhone and Android devices? I kid. Mostly. You really should check out Windows Phone's predictive text entry.