At a Glance
Expert's Rating
Pros
Very fast
4TB of capacity
Very low cost per gigabyte
Cons
Very difficult to recover from a RAID 0 failure
Thicker and heavier than single-drive alternatives
Our Verdict
The Seagate Backup Plus Fast is indeed fast. It's also capacious. But use it for backup—not primary—storage. It's very difficult to recover data from a RAID 0 failure.
Seagate has upped the performance ante for portable backup hard drives by stacking two 2TB drives, striped in RAID 0, inside its Backup Plus Fast USB 3.0. Since it writes half the data to one drive and half to a second drive at the same time, you should theoretically get nearly twice the performance.
It comes close. This approach also has the happy effect of providing twice the capacity—4 terabytes—of any single 2.5-inch drive solution. That's enough to take care of just about any backup job.
The Backup Plus Fast is a runner. It even bested LaCie's Thunderbolt-based, RAID 0 dual-drive Little Big Disk by a small margin in sustained throughput. The Little Big Disk, however, blew the Backup Plus Fast away in Crystal Disk Mark's random write tests—Thunderbolt has some technical advantages.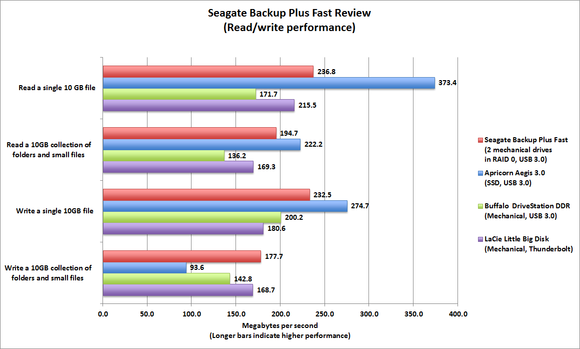 And being hard-drive based, the Backup Plus Fast can't touch the sustained throughput (large file performance) of solid-state drives such as Apricorn's Aegis 3.0, though it matches up well with those products with small files. But it's far cheaper per gigabyte—6 cents per, as opposed to about 70 cents for external SSD products.
By the numbers, the Backup Plus Fast wrote our 10GB mix of files and folders at 178MBps, and it read them at 195MBps. With a single large 10GB file, that jumped to 233MBps and 237MBps respectively. The average USB 3.0 portable drive transfers data 100MBps slower—a significant drop-off. Only Buffalo's DriveStation DDR, with its DDR memory cache, comes within 30MBps of the Backup Plus Fast—and it's a 3.5-inch product that requires AC power.
There is a downside to striping drives in RAID 0, and the Backup Plus Fast is hardwired for that; there's no option to mirror the drives using RAID 1. Using two drives to store the same data set doubles what risk-assessment specialists like to call failure points. The failure of either drive results in an unusable data set. Even if recovery is possible, it will be more difficult and more expensive to recover compared to a single drive.
With two drives inside, it's obvious that the Backup Plus Fast will weigh more than a single-drive product. Personally, I enjoy the 11 ounce heft; but it does add to your travel load. The box is also twice the height of others, making it impossible to fit in a shirt pocket, though it's normal in it's other dimensions: 3.25-inches wide and 4.6-inches long. Seagate includes a USB 3.0 cable and very capable backup software that includes the ability to back up your mobile devices.
The Backup Plus Fast is just about the best thing going in direct-attached backup storage these days. It's combination of speed, capacity, and portability is impossible to beat. At least for the vast majority of us using USB 3.0 rather than pricey Thunderbolt.
Just remember that this is a RAID 0 box and should never be used as primary storage without being backed up itself.