At a Glance
Expert's Rating
Pros
Super-fast writing
Well built
Good price-to-performance ratio
Cons
Slightly heavy (if you're upgrading a notebook)
Pedestrian read speeds
Our Verdict
The marriage of OCZ's controller and Toshiba's NAND is a happy one: The Vertex 460 is a fast writer (if only a pedestrian reader).
OCZ is dead! Long live OCZ! Toshiba snapped up the pioneering SSD manufacturer after OCZ filed for bankruptcy in October, 2013. The company's first new SSDs following the bailout—the OCZ Vertex 460-series—are pack-leading writers and good readers.
OCZ died because the company didn't have its own NAND fab, so it couldn't compete on price. Having Toshiba in charge solves that problem, and the Vertex 460 employs some of Toshiba's latest 19nm MLC (multi-level cell) flash memory. The controller is OCZ's own Barefoot 3 M10; together, they deliver super-fast write speeds with both large files and large collections of small files.
As a matter of fact, in our tests with 10GB data sets served up by a RAM disk, the 240- and 480GB models proved to be the fastest-writing SATA SSDs we've tested. On the other hand, they were strictly pedestrian reading our 10GB data sets, placing well back in the pack. CrystalDiskMark came to the same conclusion; however, we're talking only about a 9-percent deficit compared to Toshiba's own Q Series Pro, which is fastest reading SATA SSD we've tested.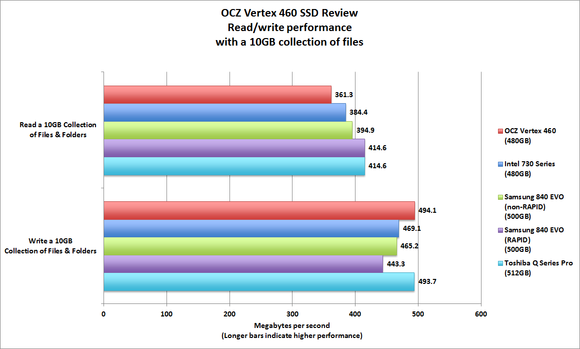 In terms of longevity, the Vertex 460 series are rated about average: OCZ warrants the drives for three years, with an average of 20GB of writes per day (22TB in total). That's not a lot when compared with the new 480GB Intel 730 Series, which claim 70GB per day for five years (125TB in total). But the plain truth is that most users won't even come within hailing distance of writing 20GB a day, so most SSDs should provide service for the better part of a decade given no lockups or freezes.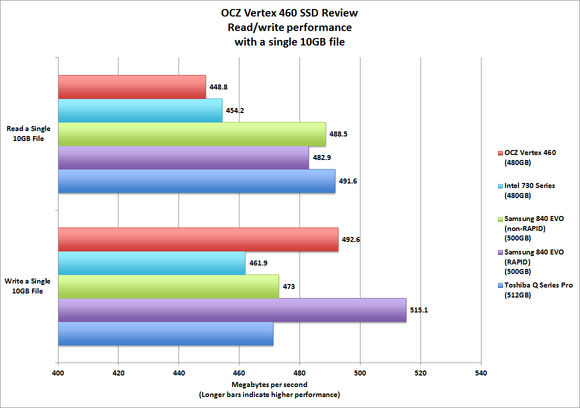 Hold the 7mm-thick 480GB Vertex 460 in the palm of your hand and you'll be surprised by its heft. It's easily one of the heavier SSDs we've tested, thanks to its beefier-than-usual case and chassis. We opened the drive to find that its printed circuit board is held in place with screws. Most units have screws only for the bottom plate, which in turn holds the other parts in place. It's a small difference, but we always appreciate robust construction.
Final thoughts
Vertex 460 drives are priced well for the performance they deliver: $100 for the 120GB model, $190 for the 240GB model, and $360 for the 480GB model reviewed here. These are top-shelf drives, and a fine first effort from the OCZ/Toshiba partnership. I hope it's a harbinger of great things to come.