On Thursday, Facebook unveiled its Connectivity Lab, the technology incubator by which Facebook plans to bring Internet connectivity to the developing world.
In a video (embedded below), one executive explains how the company plans to use satellites to bring access to rural areas, as well as drones to connect users in suburban environments. And it will all be connected via a laser backbone tying it to the Internet at large.
Facebook's quixotic quest is being routed through Internet.org, the organization that Facebook, Opera, Qualcomm, Samsung and others organized last August. Its ambitious efforts to bring Internet access to underserved will also reportedly be met with projects like Google's Project Loon, which will dangle wireless routers from balloons to accomplish the same goal.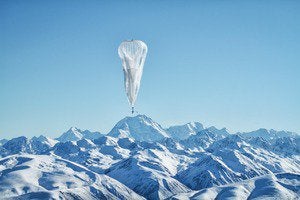 However, Facebook chief executive Mark Zuckerberg said Internet.org is making progress. "Over the past year, our work in the Philippines and Paraguay alone has doubled the number of people using mobile data with the operators we've partnered with, helping 3 million new people access the internet," he said in a Facebook post.
Last year, Internet.org proposed a series of methods that included edge caching, using technology to cache frequently-accessed information on the edge of the networks, and using "white space" spectrum to provide more data throughput.
Now, Facebook is proposing an alternate approach. "If you think about the traditional model of distributing Intenet access, it starts with a big base station," said Yael Maguire, a director of engineering at Facebook, in a video the company posted. "It's a tower that provides wireless signals that propagate to people's devices."
But that tower requires land rights, a way of route power to it, and an Internet connection to the Internet at large. "What we want to do is challenge all these assumptions to change the way in which we think about distributing the Internet," Maguire said.
Satellites, drones, and lasers
One challenge will be to use a series of satellites to beam data to those isolated users on mountains or in dense jungles. Low-orbit satellites are one solution, as are geosynchronous satellites. But a network of satellites will require solving a whole series of problems to make sure that receivers on the ground and in the sky are in sync and can talk to one another, Maguire said.
In suburban environments, Facebook is looking at a new architecture: a plane that flies at roughly 20,000 meters, circling endlessly on power supplied by solar panels. Facebook said it would bring on "key members" of Ascenta, a small UK-based company whose founders created early versions of Zephyr, a solar-powered unmanned aircraft.
And how will they all be connected together? Frickin' laser beams, but mounted only on the satellites themselves. Facebook has actually hired some of the pioneers in the field of what's called "free-space optics" to solve the problem, Maguire said.