A little-known U.S. space plane quietly broke its own space endurance record this week as its current unmanned mission surpassed 469 days in space.
Much of the information about the X-37B and its mission is classified, but the little that is public points to it being a development vehicle for new Air Force space capabilities while serving a secondary role for the U.S. military and intelligence community as a testbed for new space-based surveillance technologies.
The current mission, dubbed USA-240, is the third for the X-37B and began on Dec. 11, 2012, atop an Atlas V rocket at Cape Canaveral. The spacecraft is taken into orbit on a rocket but lands like the space shuttle by gliding down to Earth.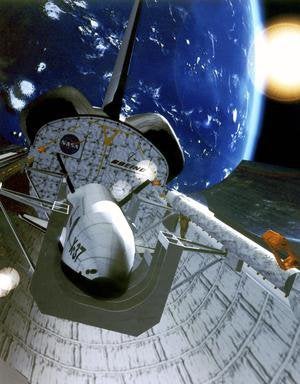 That isn't the only similarity it shares with the space shuttle. It looks visually similar, sort of like a mini shuttle, and it, too, started life as a NASA project. The space agency solicited proposals in 1998 for projects that would push the boundaries of space development and exploration, and later awarded Boeing a US$137 million contract for the X-37.
Originally envisioned as something that would be launched from the shuttle to test reusable launch vehicle technology, the X-37 never made it into space and eventually was transferred from NASA to the Defense Advanced Research Projects Agency (DARPA) in 2004.
That's when it moved into the shadows.
Into the quiet, into the dark
It didn't emerge again until April 22, 2010, when the Air Force launched an Atlas rocket carrying what had been renamed the X-37B. Details of the mission were kept secret, but soon after launch, amateur satellite hunters spotted the X-37B orbiting the Earth at about the same altitude as military satellites.
The mission lasted 240 days, ending with a landing at Vandenberg Air Force Base in California on Dec. 3, 2010.
A second mission, using a second spacecraft, took to the skies just under three months later, on March 5, 2011. The gap allowed engineers to make some changes to the craft based on what had been learned in the first flight.
Again, little information was forthcoming from the Air Force, but the flight turned out to be a record breaker. Though the mission was designed to last up to 270 days, the Air Force said it would push past that point and kept the X-37B in orbit until June 16, 2012—a total of 469 days in space—ending again at Vandenberg.
The current mission has now surpassed that record-breaking second flight.
The X-37B program appears to be aimed at giving the Air Force a space plane that can stay aloft for long periods, return to Earth and then be turned around fast and put back into orbit, said Jonathan McDowell, an astrophysicist at the Harvard-Smithsonian Center for Astrophysics and an authority on satellites and launches.
"The Air Force now has a policy of acquiring capabilities rather than missions, so some general somewhere probably thinks it would be spiffy to have a space plane that can launch at short notice," he said. "It's worthwhile learning lessons from the shuttle and how to do turn-arounds cheaper."
What's inside?
Mystery surrounds the actual missions being undertaken during these flights, but McDowell thinks it's serving a similar role as the space shuttle by carrying a science or intelligence payload.
"I believe it's testing some kind of experimental sensor for the National Reconnaissance Office; for example, a hyperspectral imager, or some new kind of signals intelligence package," said McDowell. "The sensor was more successful than expected, so the payload customer asked the X-37 folks to keep the spacecraft in orbit longer."
That theory is backed up by comments made by the Air Force to The Christian Science Monitor before its first flight that it would be involved in "various experiments" that will allow "satellite sensors, subsystems, components and associated technology" to be taken to space and back.
Another clue to the X-37B's role might be in its control within the Air Force's Rapid Capabilities Office, a Washington, D.C., unit that attempts to fast-track new technologies to help deal with specific threats that might have a short lifespan. That's distinctly different from the rest of the Air Force's space operations.
The Rapid Capabilities Office officially reports to senior U.S. military leaders but also, according to Aviation Week and Space Technology, exists as a "little acknowledged interface between the Air Force and the intelligence community."
Updated at 7:07 p.m. PT with a video report from IDG News Service.