The first iteration of Microsoft's Office for iPad lacks the ability to print, an unfortunate omission that Microsoft representatives intimated will be fixed in a forthcoming release.
"Microsoft will absolutely continue to update the app on a regular basis," a company representative told us.
That's not to say Microsoft's iPad suite is intrinsically unable to print, or that it has trouble connecting to Apple's own AirPrint service. Rather, the suite's three apps (Word, PowerPoint, and Excel) simply don't have a print function yet. A support document within the apps confirms this.
In all fairness to Microsoft, Apple's iPad lacked a native print function for about a year after its introduction in 2009, arriving in the fall of 2010 with iOS 4.2. And AirPrint, which connects the iPad wirelessly, only works with a subset of printers that can connect wirelessly to the Internet and support the protocol. Perhaps as an indicator of how uncommon printing has actually become, few early reviews of Office for iPad actually noticed the lack of a printing function. (PCWorld's review was among those, and has been updated to reflect this.)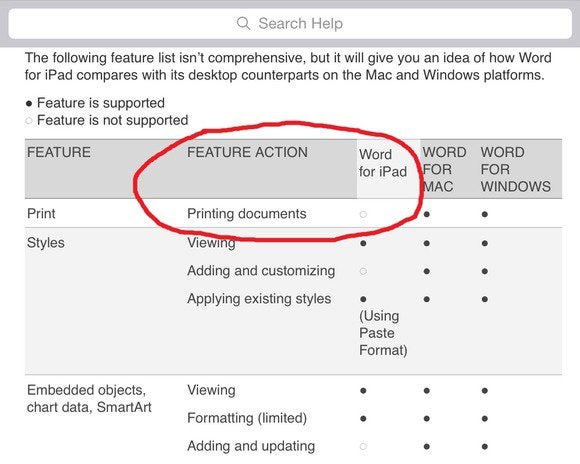 Nevertheless, failing to integrate printing support into the iPad version of Office is somewhat akin to leaving cut-and-paste functions out of early versions of iOS (and early Windows Phone versions lacked cut-and-paste as well).
When asked for comment, Microsoft representatives implied that printing would be added in the future—and that printing was perhaps not all that common for iPad users.
"Office for iPad was designed from the ground up for the iPad and for the productivity scenarios that an iPad is well suited for," the company said in a statement. "For example, delivering a PowerPoint presentation, reviewing and annotating a Word document or making changes to a financial analysis in Excel. Office for iPad ensures that documents look as good as they do on a PC or Mac. The apps have a familiar look and feel, and are designed for touch. And when you edit documents with the iPad, you can be sure that no content or formatting is lost.
"We will continue to update the applications based on customer feedback and needs," the statement added. "Similar to other Microsoft apps (like OneNote for iPad) and the Office 365 service, we provide feature updates based on an ongoing basis. Since launching Office 365 last year, we've delivered more than 100 updates to the commercial and consumer services extending the Office 365 subscription value."
Microsoft has issued updates to Office 365 on a weekly basis, Julia White, the general manager in charge of Office, said in an interview after the launch of Microsoft Office for iPad. "We'll watch really closely and see how people are using these apps and you should expect us to iterate very fast," she said.