Our eyes have already feasted on 4K TVs, and 4K monitors for computers are coming, too. On Monday, Samsung announced a new line of consumer monitors, including its first Ultra High Definition, 4K display meant for desktop use. The UD590, available now for pre-order, is a 28-inch desktop monitor with a resolution of 3840 by 2160 pixels.
But the best part is its price: $700, according to Samsung. Other models due out this year will cost $1,000 or more.
The UD590 connects to your PC via HDMI or DisplayPort, and its specs are impressive: a 1-millisecond gray-to-gray response time, 370 cd/m2 brightness, and support for one billion colors. It uses LED backlights with a TN panel that offers 170- and 160-degree viewing angles. These angles are good, though not as wide as monitors using IPS or LPS panels.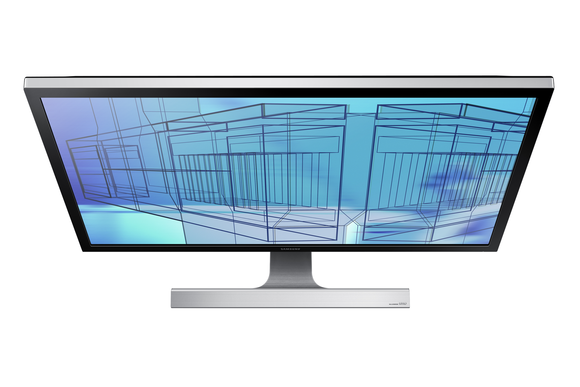 The display features Samsung's Picture-in-Picture 2.0, which allows you to connect two computers to the monitor and view them side-by-side at native resolution. PiP 2.0 also lets you view HD video at full original resolution. The display can also upsample low resolution content to UHD resolution.
The T-shaped stand you see on the UD590 and other Samsung displays may resemble a soundbar or port hub, but it's just for looks. A simpler stand is available on the lower-end models for a lower price.
We're still waiting for information on refresh rates for the display—a sticking point with other 4K monitors. Part of the issue is really the port's problem: A Sharp 4K display we have in-house, for instance, can manage only a 30Hz refresh rate via HDMI, but 60Hz via DisplayPort, which is a more capable, but less commonly used, connector. We'll update this article when we hear back from Samsung.
The company also announced two 24-inch and two 27-inch 1080p displays. All four full-HD monitors use PLS-WVA panels with wide, 178-degree viewing angles. Connectivity includes VGA and HDMI ports, but no DisplayPort. The 24-inch models start at $250 with a simple stand, and $270 for a model with a stylish T-shaped stand. The 27-inch models start at $310 for the simple stand, and $330 for the T-shaped stand.
The displays will begin shipping sometime this month.