The other day I was organizing a set of photos I wanted to show to some friends as a slideshow. I'd sorted the images in OneDrive on my Windows 8.1 PC and then planned to display them on my Nexus 7.
But when I opened OneDrive for Android, all my images were out of order. They were disorganized even though each image had a filename in numerical order (01.jpg, 02.jpg, and so on), and they were sorted in ascending numerical order on my desktop.
Ack!
Luckily, the OneDrive Web app lets you fix this problem in just a few seconds. Login to OneDrive.com and navigate to the folder holding your images or other files you want to organize in a specific order.
By default, OneDrive sorts images by date in the order they were created, and not by their name as is the standard with most files.
If your images were numbered like mine, you'd think the easiest way to fix this problem would be to click on Sort by:>Name in the top right corner. While that will rearrange your files in proper numerical order, the sorting won't persist across multiple devices.
So to get the sort order you want on your tablets and smartphones you have to actually go through and organize your files one-by-one.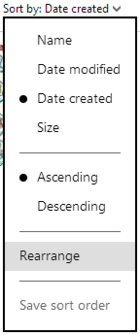 In the top right corner, click on Sort by: and from the drop-down menu select Rearrange. Your files will now turn into movable icons that you can drag and drop wherever you'd like. So just take your mouse ane organize your files as you see fit.
Once you've got a sort order you're happy with click Save sort order in the upper left corner of OneDrive.
In my tests using OneDrive's Web app in Chrome, Microsoft's cloud storage sometimes popped up a notification that said "Do you want to leave this page without saving your sort order?"—a troubling message considering I just went to all that trouble to sort my files and press save.
But never fear, this appears to be a OneDrive quirk, your newly sorted files will still be saved in the proper order. Just click the Leave page button to exit.
That's it, your files are now sorted just how you want them and that sort order will persist everywhere you need them including Android and iOS devices.