At a Glance
Expert's Rating
Pros
Easy interface
Graphic export
Fairly snappy
Not many bells and whistles
Cons
Inflexible results
Some "fakeout" UI items
Our Verdict
Folder Size can reveal some useful and unexpected things about what's eating your disk space. And it's free.
Folder Size provides a breakdown of exactly what is taking up the most space on your hard disk, or any portion thereof. This can be extremely useful if you're trying to figure out why disk space is lower than expected or if you want to know just how much storage you're wasting on email archives from 2002 and grade-z public domain monster movies from Internet Archives. And by "you," I mean, "me."
There's an old joke that "anything free is worth what you paid for it." Folder Size is worth the very minimal download time and disk space in that it provides useful information that is not easily extracted from File Explorer, which will let you can see the size of a folder, but not its relative contribution to total storage. Folder Size has a clean, professional, and easy-to-use interface and offers the ability to export a chart image—but not a text report, which leads to the main problem or issue with the program: The "Export…" menu item produces only a dialog asking you to upgrade to a paid version.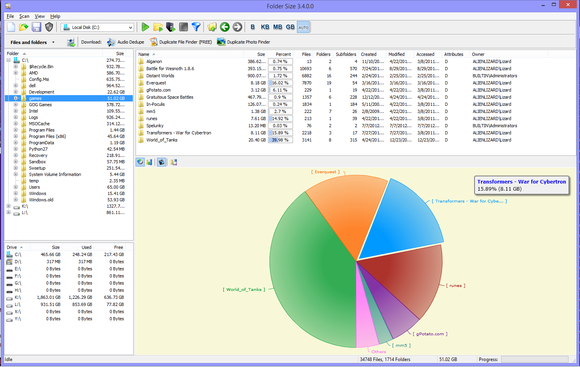 Some freeware is complete in itself; others are "teaserware," where buttons, menu items, and options are enabled, but only bring up dialogs or alerts informing you that if you want to do that, you need to upgrade. Having inactive/unavailable functions appear active, so that you aren't sure if something will work until you click on it, is a common but frustrating technique. I appreciate that companies need to make money and that freeware "lite" versions of software are a way to build a customer base, but designing an interface that deliberately obfuscates the distinction between active and inactive features tap-dances close to the ethical line. I don't want to single out MindGems here—it's a very common approach, and I have to assume it works, or it wouldn't be used so often.
So, what about the features that are active? You can view the report as a pie chart or a bar graph. Depending on the structure of a given folder, you may find most of the space is consumed by "other"—hundreds or thousands of small files. You can double-click on a pie slice/bar that represents a folder in order to drill down. Thus, if you see that "Games" is taking up 80 percent of your "User" folder, you can drill in to that and realize most of that space is, in turn, taken up with a few MMOs you haven't played in years. (Once again, by "you," I mean, "me.") Using Folder Size to perform these spelunking expeditions into the depths of your hard disk is much more efficient than using File Explorer.
A short time of exploring using Folder Size let me find, and remove, about a hundred gig of files I didn't need. Even with the small feature set, that's useful enough that I can recommend the free version as-is, though users who need more sophisticated analysis and reporting will probably want to upgrade to a paid version after they've experimented a bit.