At a Glance
Expert's Rating
Pros
Robust, but lightweight construction
2560-by-1440-pixel touchscreen
HDMI and DisplayPort; hardwired ethernet; 802.11ac Wi-Fi
Adaptive function row
Cons
Short battery life
Unconventional keyboard layout
Over-hyped speech- and gesture-recognition features
Our Verdict
Almost everything about the new X1 Carbon is better than the original. But the company's engineers should have left most of the keyboard alone. We can also do without its speech- and gesture-recognition.
Update, 4/2/2014: Lenovo provided us with incorrect pricing on this eval unit. As configured, the correct price is $1609, not $1529 as originally reported.
Lenovo took its sweet time cooking up Haswell versions of its flagship business Ultrabook line. While there are signs the 2014 ThinkPad X1 Carbon spent too much time in the test kitchen, it's still the best notebook I've laid hands on.
This new X1 Carbon is thinner and lighter than the original, which was first introduced in 2012 and updated (with a touchscreen) in early 2013. Yet it has a higher-resolution display, more I/O ports, an improved docking-station option, and an entirely new "adaptive function key" row. Lenovo's cooks should have served it up that way, instead of going on to mess with its keyboard layout and lard it with half-baked voice- and gesture-control features.
Let's go over the new machine's many positive attributes first, starting with its display. Lenovo sent an eval unit equipped with an Intel Core i5-4300U processor, 4GB of low-power DDR3/1600 memory, and a skimpy 180GB SSD. Its 14-inch IPS touchscreen is delightful, boasting a resolution of 2560 by 1440 pixels. Pixel density is 210 pixels per inch (PPI), just shy of Apple's 15-inch MacBook Pro with Retina display (which has a resolution of 2560 by 1800 and a pixel density of 220 PPI).
The screen is very bright, responsive to touch, and it delivers excellent contrast in all lighting situations. As with the previous model, its hinges allow for 180 degrees of rotation. Lenovo also offers less-expensive non-touch configurations and models with 1600-by-900-pixel displays.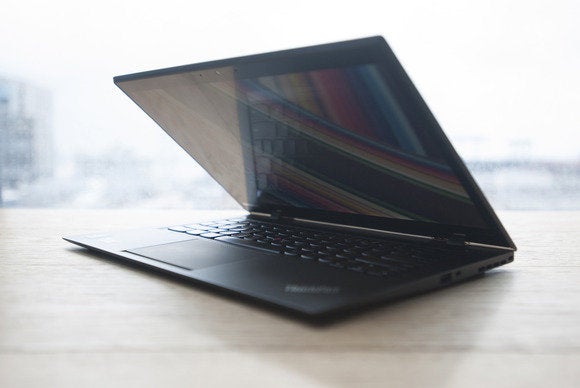 Robust, but lightweight
The top half of the X1 Carbon is fabricated from carbon fiber, hence its name, and the lower half of the chassis is made from a magnesium alloy. The new touchscreen configuration is thinner than the old non-touch model (0.72 inches, compared to .074 inches) and it weighs only a bit more (3.15 pounds compared to 2.99 pounds). The chassis is once again wrapped in a charcoal-gray non-slip finish.
More importantly, Lenovo managed to cram more I/O ports into the new design. The old model had just two USB ports (only one of which was USB 3.0), a mini DisplayPort, and an SD card reader. Since it had no hard-wired ethernet, you had to use a USB dongle or a docking station, either of which would consume one of its USB ports.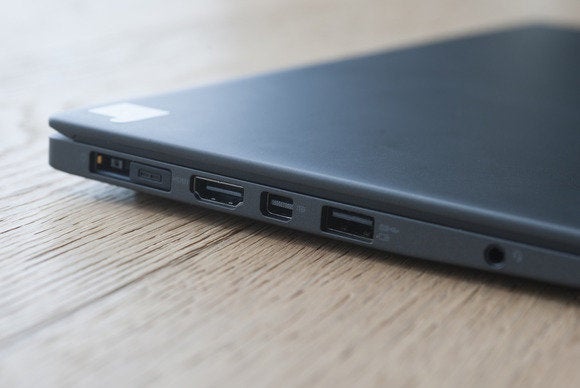 The 2014 model sacrifices the SD card slot, but it has two USB 3.0 ports, both a mini DisplayPort and a full-size HDMI, and a proprietary gigabit ethernet port (a dongle adapter is provided). The new X1 Carbon also supports 802.11ac Wi-Fi by way of Intel's Dual Band Wireless-AC 7260 adapter. You'll find a fingerprint reader on the margin of the right side of the deck, next to the right arrow key.
A proprietary port links the notebook to Lenovo's new OneLink docking station, so you won't need to give up a USB port when you're deskbound. The OneLink Dock Pro ($180) uses a single cable for power, data, and uncompressed video over DisplayPort and DVI. It has four USB 3.0 ports (one with always-on charging), two USB 2.0 ports, gigabit ethernet, and a stereo mic/headphone jack.
Mighty morphin' function row
Lenovo is justifiably proud of its replacement for the row of keys at the top of the typical keyboard. Its "adaptive function row" changes according to the application in use (you can also manually switch by touching the Fn key at the far left).
In place of mechanical keys that serve multiple functions depending on which other key you hold down, both the function keys and the icons representing them change in accordance with the app you're currently focused on: You get one set of function keys when you're using a word processor, a different set when you're using a web browser, and so on. According to Lenovo, this is made possible by combining the reflective properties of a layer of liquid crystal and the emissive properties of an electroluminescent layer beneath a Gorilla Glass panel to deter scratches.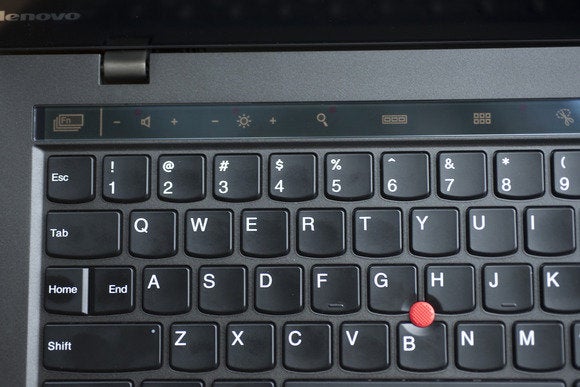 There are four touch-sensitive rows in all. The Home row is the default and becomes active when you switch from another app to something like a media player. It includes controls for volume, display brightness, search, cloud storage, gesture control, and voice recognition (I'll go into more depth on those last two features later). The Web Browser row becomes active when you switch to a web browser (Internet Explorer, Chrome, Firefox, and Safari are all supported). This mode adds page-back (but not page-forward), refresh, and new-tab buttons to the row.
Launch a Skype, Google Talk or WebEx session, and the Web Conference row becomes active. This adds buttons for adjusting the focus of the built-in mic (to account for multiple people at your end of the call, for instance), changing camera settings, turning the camera on and off, and muting and unmuting the built-in mic. The Function row activates when you're using Microsoft Office apps. It restores the usual F1 through F12 function keys, along with dedicated buttons for projecting your display to another device (such as a video projector), and turning the keyboard backlight on and off. Oddly enough, you won't find buttons for media-player transport control (play, pause, rewind, fast-forward) in any of the four rows.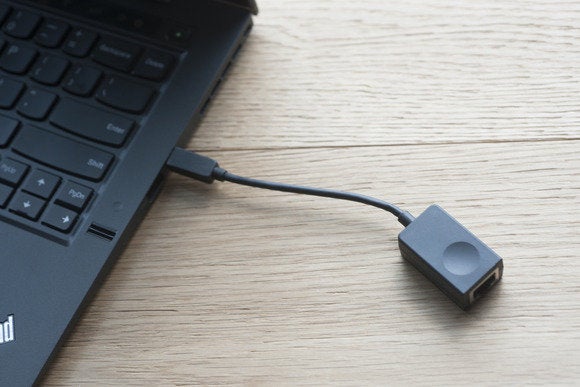 Lenovo wisely retained the excellent tactile feedback its laptop keyboards have always delivered. I also like the new clickpad, which is slightly larger because its right, left, and center mouse buttons are integrated into the pad. Traditionalists might balk at this design, but it is an improvement—and the old, familiar track stick is still there for true conservatives.
So far, so great. But that's where the company should have left well enough alone. Lenovo's ballyhooed Natural User Interface—which incorporates gesture controls and voice recognition—is largely a useless gimmick.
Speak up!
You don't have to use voice or gesture control, but it's like going to a very expensive prix fixe restaurant where three of the first four courses are hoity-toity delicacies you find revolting: Escargot, Beluga caviar, and Fugu, for instance. You know you don't have to consume any of it, but dammit, you paid for it! And with the X1 Carbon's list price at $1609, you're most definitely paying for those features.
The X1 Carbon's voice recognition is the more useless of the two. It's powered by Nuance's Dragon Assistant, so its voice recognition capabilities are exceptionally good. But unless you work at home or in an enclosed office, it's unlikely you'll try it. And if you do, there's a big gap between the software's ability to recognize your utterances and its ability to do something useful with them.
You can set Dragon Assistant to run in the background and activate it by saying "Hello Dragon," or you can extend the X1 Carbon's already mediocre battery life by leaving it off and activating it from the adaptive function row (the button is there in three of its four configurations). It will return to sleep on its own, or you can say "Go to sleep" to stop it from listening.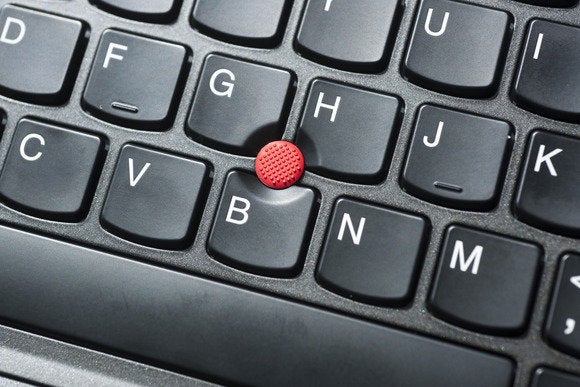 The thing is, there's nothing you can do with your voice that you can't do faster with a mouse and keyboard. To send an email, for instance, you must tap the voice-recognition button on the function row (assuming you don't first need to tap the Fn button to call up one of the three modes in which it's present) and then say "Send email." Now wait for Dragon to respond "Who should it go to?" and then speak the person's name (let's use John Smith as an example). If you have more than one John Smith in your contact database, or one John Smith with multiple addresses, Dragon will respond "You have several contacts named John Smith. Which one?" Dragon will then display a numbered list of all the John Smiths it found.
At that point, you must physically select the addressee, because Dragon won't understand "number two," "the second one," or even "John Smith number two." You also can't use Dragon Assistant to navigate to the cc/bcc or subject lines. Its dictation mode is useless for writing the body of your message, because it goes to sleep every time you pause to compose your next thought.
Wave your hands in the air!
Gesture controls, meanwhile, rely on your camera to recognize your hand gestures. This works only with some programs (including PowerPoint, Adobe Acrobat and Reader, Windows Media Player and iTunes, and Microsoft Photo Viewer) and a few Metro games (including Cut the Rope, Fruit Ninja, and Angry Birds Star Wars). Swiping your hand in front of the camera (palm facing out) from right to left is supposed to trigger the next slide in your presentation or slideshow, or advance to the next page in your document. Swiping from left to right displays the previous slide or page.
If you're controlling a media player, these gesticulations move you back and forth through the tracks in your playlist. Making a tapping motion—moving your hand toward and then away from the camera—starts and pauses the player, moving your fist up and down in front of the camera adjusts the volume, and putting your index finger to your lips is supposed to toggle mute. Getting the system to recognize my hand gestures was a hit-or-miss affair, and I couldn't get the system to recognize the mute gesture at all. I definitely wouldn't rely on this technology if I were in front of an audience making a presentation.
Where's the @#*&! CapsLock?
A number of legacy keys have been relegated to key combinations, which might or might not bother you. Toggling Scroll Lock requires holding down the Fn and K keys; you must hold down the Fn and 4 keys to put the computer to sleep; and there are similar key combinations for Break, Pause, SysRq, and Insert mode. This last combo is the only one that remotely bugs me, but the other changes Lenovo made to the standard keyboard layout are much more troublesome.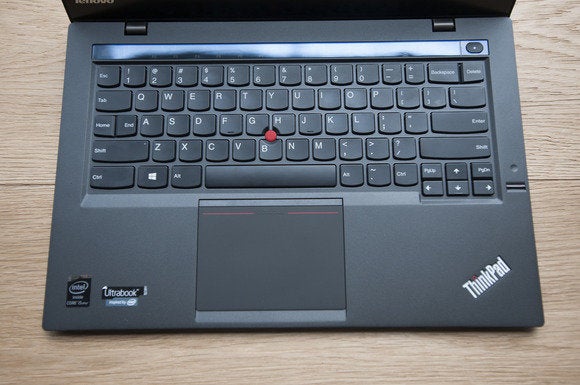 On the old X1 Carbon model, you'd turn on the keyboard backlight by holding down the Fn key and tapping the spacebar. That's been moved to a dedicated key on the adaptive function key row, but it appears on only the last of the four displays (though you can rearrange the sequence in which these rows appear). What's more troubling is that Lenovo decided that nobody uses the CapsLock key, so it's been replaced entirely by two half-size Home and End keys. If you do happen to use the Home and End keys a lot, you'll be irritated to find them on the opposite side of the X1 Carbon's keyboard.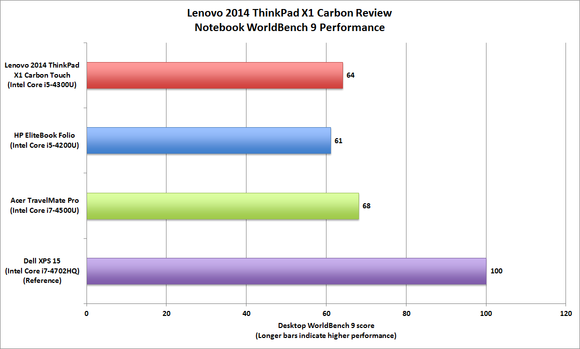 You can toggle CapsLock on and off by double-tapping the Shift key. Lenovo wisely added an LED to that key to indicate its status (lit when CapsLock is engaged, dark when it's not). That's in addition to the symbols that appear on the screen itself, assuming you haven't disabled that feature. The oversized Backspace key on the earlier model has been reduced by about a third, and the Delete key has been moved to the right of it (it's on the top row of the older model's keyboard). The only other change to the keyboard map is the relocation of the tilde/single-quotation-mark key from the numbers row to where the PrtSc key was on the old model.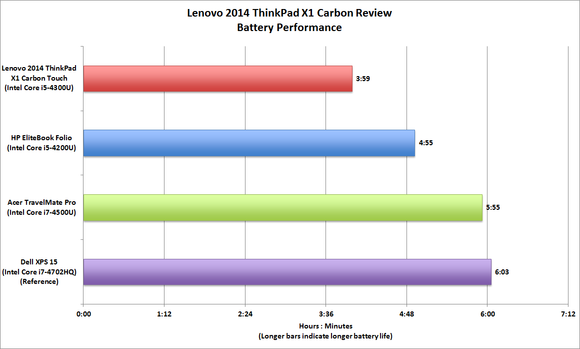 Performance and battery life
The 2014 ThinkPad X1 Carbon Lenovo delivered a Notebook WorldBench 9 score of 64, which puts it right between HP's EliteBook Folio and Acer's TravelMate Pro. The HP, powered by an Intel Core i5-4200U processor, produced a WorldBench 9 score of 61. The Acer is based on an Intel Core i7-4500U and earned a WorldBench 9 score of 68. All three chips rely on the same integrated graphics (Intel HD Graphics 4400), but the part Lenovo selected is the only one of the three that supports Intel's enterprise-oriented Stable Image Platform, vPro, and Trusted Execution Technology.
Some laptop manufacturers have said PCWorld's battery-rundown test is more demanding than what other publishers use (it seems we set the display to a higher brightness level, and we run the laptop until it goes into its deep-sleep state versus shutting down altogether), but we use the same test for all notebooks. So the X1 Carbon's battery life of 3 hours and 59 minutes is disappointing compared to what the Lab recorded with the HP (4 hours, 55 minutes) and the Acer (5 hours, 55 minutes). To its credit, the battery recharges rapidly; still, this ultimately cost the Lenovo a half-star in my final verdict.
Final thoughts
The 2014 Lenovo X1 Carbon is a very expensive notebook, but I think its robust construction, high-res display, innovative feature set, and real-world performance justify its price tag. The previous model was great, and Lenovo significantly raised the bar by adding new I/O ports and an innovative adaptive function row (although that takes some getting used to).
On the other hand, the new X1 Carbon's battery life is disappointing, and I found the Natural User Interface that Lenovo is so proud of—gesture control and voice recognition—to be borderline useless. Lenovo's radical remapping of the keyboard could infuriate many (especially if you rely on special keys such as Insert, Scroll Lock, and Break. And for heaven's sake, why do away with CapsLock?), but it didn't take long for me to adapt to the changes.
Bottom line: The X1 Carbon was and is a great computer. Last year, I convinced IDG to buy me the 2013 touchscreen model. How I wish I could have waited.
Correction, 4/2/2014: The HP EliteBook Folio I compared the X1 Carbon to is outfitted with an Intel Core i5-4200U processor, as indicated in the performance charts (the body text reported that it had and Intel Core i5-4300U). I regret the error.