At a Glance
Expert's Rating
Pros
Provides a web portal for media streaming
Elegantly simple design and functionality
DLNA compatible server
Cons
No Internet pass-through
Requires a reboot when switching from USB to Wi-Fi operation
Our Verdict
For wireless streaming of media and storage, Seagate's Wireless Plus is a polished, fast, and reliable external drive.
A good portable hard drive is as handy as a pocket on a shirt. You can use one to back up your PC, carry important files with you on the road, store music and movies without clogging the hard drive on your PC, and more. In fact, there are countless other applications for portable drives, simply because you can never have enough storage. And that goes double when your boot drive is a smallish SSD.
Sure, cloud storage is one alternative to carrying a mechanism with you, but you need to have Internet access to use it (not always possible when you're traveling), and storing files in the cloud isn't always practical when you're dealing with large files or large collections of files.
Before you shop for a portable hard drive, however, you should know that very few of them provide data redundancy, meaning they don't duplicate the data they store. If a file becomes corrupted, you might lose that information forever. So don't use a portable hard drive to store irreplaceable information unless you have a duplicate copy stored somewhere else—on another hard drive in your computer, on a second portable hard drive, in the cloud, or on a network-attached storage device.
Now that we've established how useful a portable hard drive can be, let us show you how to choose the right portable hard drive for your needs. Performance and the features listed below the chart are the factors we take into consideration.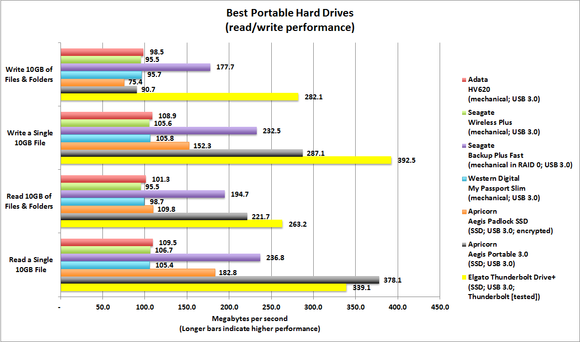 Factors you should consider
Platform If you're buying a portable hard drive for a PC, buy one that's pre-formatted NTFS. Macs use the HTFS+ file system, so manufacturers sometimes offer a different SKU for each platform (or they might provide a pre-loaded NTFS driver for Mac users). If the drive you want is available formatted only HTFS+, you'll need to take the time to reformat it.
Media A platter-based portable hard drive will typically deliver more capacity at a lower cost-per-gigabyte than one based on a solid-state drive, but it will also be slower and more susceptible to damage if it's dropped. SSDs aren't impervious to shocks, but they don't have any moving parts.
Interface USB 3.0 is the ideal portable hard-drive interface for PC users. It's ubiquitous on new PCs, and it's backward-compatible with USB 2.0 on older models.
Thunderbolt is the fastest hard-drive interface, and it's very popular on the Mac platform. Oddly enough, despite being an Intel technology, Thunderbolt ports are rare on the PC front—especially on laptops.
Firewire (aka IEEE 1394) is fast, too, but it's another interface that was more popular with the Mac community than with PC users—and it's on the way out because Thunderbolt is faster.
Some drives have more than one interface, which is convenient if you use the drive on more than one platform. All three interface types provide enough electrical power for most any portable hard drive, so you don't need to carry a power brick.
Wireless Some drives give you the option of ditching the cable altogether. These are particularly handy for streaming media to a computer, tablet, or smartphone. They produce their own short-range Wi-Fi hotspot and operate on battery power.
Enclosure Most platter-based portable hard drives use 2.5-inch mechanisms, so they're generally just slightly larger than the drive itself (typically around 3 inches wide, 4 inches deep, and less than an inch thick). Cases are typically made from plastic (ding resistant), aluminum (lightweight), or a combination of the two. Western Digital and Seagate have lately started offering dual-drive products that are necessarily twice as thick as their single-drive cousins.
Some manufacturers offer optional external cases to protect their drives. The best ones have a cable pass-through so you don't need to take them out of the case to use them.
Data security If you're security-conscious, consider a hard drive that must be unlocked before you can use it, or one that automatically encrypts the data stored on it (and decrypts it when accessed by an authorized user). Most drives with "secure" branding do both. Some drives use numeric keypads to authorize access; others have fingerprint readers.
Warranty Defects happen. Make sure the drive you buy is covered by a solid warranty. Seagate offers a limited warranty of two years on most of its portable drives. Western Digital covers its Passport drives with a three-year limited warranty.
Cost Higher-capacity drives cost more than lower-capacity drives. Duh. The best way to evaluate a drive's price tag is to measure its cost per gigabyte. A 2TB drive priced at $120, for instance, would have a cost-per-gigabyte of 6 cents (most hard-drive manufacturers advertise 2 terabytes to be equal to 2000 gigabytes, even though 2048GB is more accurate). Price-to-performance ratios are important, too. Portable drives based on SSDs will cost considerably more than those based on mechanical drives, but they'll also be considerably faster.
Our top recommendations
Lots of portable hard drives pass through the PCWorld Lab. Each one is carefully measured, tested, and evaluated. We benchmark portable hard drives by measuring their read/write performance. We connect the drive to a testbed PC and copy a 10GB collection of small files from the PC's internal SSD drive to the portable hard drive (a write test). We repeat that test using a single 10GB file. We then copy the 10GB collection of small files from the portable hard drive to a folder on the PC's internal SSD (a read test), and repeat the test with a single 10GB file. Lastly, we run Crystal DiskMark with the Test Size set to 4000MB and report those results.
Here are our top four picks, plus three other contenders you'll want to consider.
Seagate Backup Plus Fast (4TB mechanical; RAID 0, USB 3.0)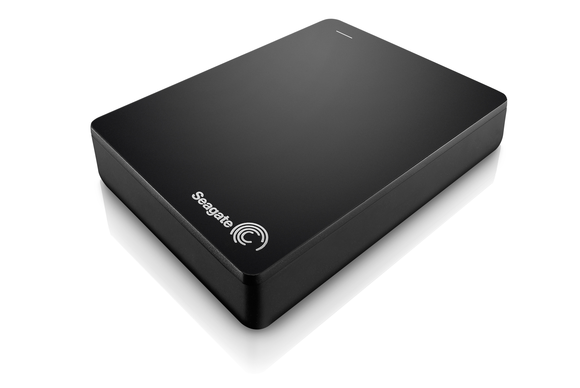 Seagate's Backup Plus Fast is loaded with great features, including an attractive price-per-gigabtye of $0.07 (you get 4TB of capacity for $270). And because this is actually two mechanical hard drives operating in RAID 0, you get phenomenal speed. There is a downside to RAID 0, however: If one drive fails, you'll lose all the data on both drives.The other downside of having two drives in one enclosure is bulk: The Backup Plus Fast is nearly 0.88 inches thick, and it weighs 10.9 ounces. That's still a tolerable weight, though, and it's comfortable to hold in your hand.
Adata DashDrive HV620 (2TB mechanical; USB 3.0)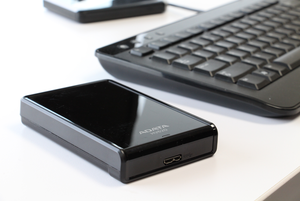 Adata's DashDrive HV620 is a good drive, with a big chunk of storage capacity and a great price per gigabyte: $0.07. It's a good choice for anybody looking to maximize their storage on the go without breaking the bank. It's not nearly as fast as Seagate's Backup Plus Fast, because it's not two drives operating in RAID 0, but neither does it come with the tradeoffs of that arrangement. The HV620 is a plain and simple portable hard drive, and a very good value.
Western Digital Passport Slim (1TB mechanical; USB 3.0)
This drive won't take a lot of space in your laptop bag, but it delivers a full terabyte of storage for taking your data on the road (a 2TB model is also available). The WD Passport Slim also makes a fine backup drive for home-office duty, either plugged into your PC or shared over a network via the USB port on your router. WD provides backup software for automated backups (you can also back up to a Dropbox account) and security software so you can password-protect your data. It costs $0.65 per gigabyte.
Apricorn Aegis Portable 3.0 (256GB SSD; USB 3.0)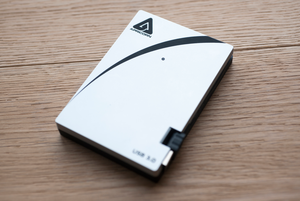 If speed is your primary need, Apricorn's Aegis Portable 3.0 is our favorite portable SSD. But be prepared to pay for its performance. While it's come down in price since it was first introduced, you'll still pay $1.09 per gigabyte for this 256GB drive. There are less-expensive portable SSDs on the market, but few that match the Aegis Portable 3.0's outstanding price-to-performance ratio. This isn't the best choice for a backup solution, but it's just the ticket when you need to transfer files rapidly.
Other strong contenders
Elgato Thunderbolt Drive+ (512GB SSD; USB 3.0, Thunderbolt)
If you absolutely need the compelling speed that an SSD paired with a Thunderbolt interface can deliver (and have a Thunderbolt interface on your PC to support it) Elgato's Thunderbolt Drive+ is the fastest—and most expensive—portable Thunderbolt drive we've tested.
Take a look at the above chart, however, and you'll see that the far cheaper Aegis Portable 3.0 outperformed it when reading a single 10GB file. The drive inside the $900 Thunderbolt Drive+ is a Plextor SATA 6Gbps model that can be purchased directly from Plextor for just $380. So you're paying $520 for a very fancy, water- and dust-resistant enclosure with both USB 3.0 and Thunderbolt interfaces and a three-year warranty. Given that Thunderbolt is more widely support on the Mac, it's no surprise that the drive comes from the factory formatted HTFS+, so you'll need to reformat as NTFS if you want to use with a PC. (For the record, we benchmarked it as an NTFS drive.)
Apricorn Aegis Padlock SSD (240GB SSD; USB 3.0)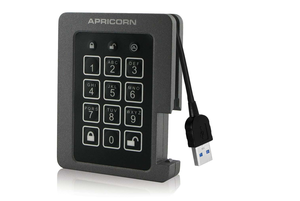 Anyone who carries sensitive information with them should consider storing it on a drive that encrypts the data to keep it from prying eyes. Apricorn's Aegis Padlock SSD features a numeric keypad to prevent unauthorized access, and it's certified Level 2 FIPS 140-2, which means any tampering must be rendered evident.
The Aegis Padlock's read/write performance is lower than what you'll get from other SSDs, but that's to be expected because the data must be decrypted during reads and encrypted during writes. But it's far faster than a comparable mechanical drive.
Seagate Wireless Plus (1TB mechanical; USB 3.0, Wi-Fi)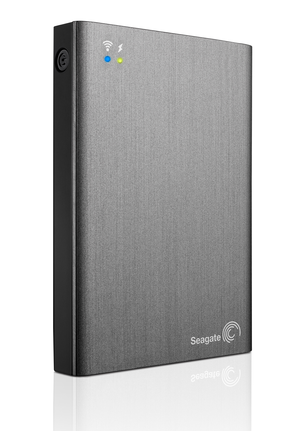 Not only can this portable hard drive operate on battery power (or your car battery, with the provided adapter), it can also create a Wi-Fi hotspot so you can stream music, video, and photos to your tablet, smartphone, or PC—without the need of a cable.
The Wireless Plus features Seagate's USM (Universal Storage Module) technology, so it can be mated to a variety of interfaces. Seagate ships a USB 3.0 module with the drive, along with a USB wall adapter, a DC-to-USB power cable, and a USB 3.0 cable. The added features push the price of the drive above what you'd typically pay for a 1TB USB 3.0 drive—The Wireless Plus costs $200—but it makes a great companion for your mobile devices.