While Microsoft released Windows 8 and Windows 8.1 to push the PC industry toward a new touch-computing paradigm, a new Windows 8.1 update is a make-good for people who still prefer mice and keyboards.
Leaked in March but officially debuting Wednesday, the Windows 8.1 Update, as it will be formally known, may not carry the dramatic weight of the Windows 8.1 release that debuted last summer. But that doesn't mean it won't be significant. Users will download the new bits not through the Windows Store, but via a Windows Update roll-out beginning April 8, says Chris Flores, a Microsoft communications director. A separate update will be available for Windows RT.
Microsoft's challenge has been to move users into a new touch-based paradigm, embodied by Windows 8. Unfortunately, the reality is that the majority of people who own a Windows PC use a mouse and keyboard. While the number of touch-enabled PCs has grown, the total is still about 40 percent of the PCs appearing in stores, according to Chaitanya Sareen, the principal program manager lead on Windows Core User Experience team.
"When you experience Windows on a pure tablet, with no mouse and keyboard, our satisfaction is through the roof," Flores said. "But once you add a mouse and a keyboard, that brings into the equation a couple decades of muscle memory and expectations. And so this update is really geared toward harnessing those decades of muscle memory and expectation to bring people much closer to all of the newness that we've added in Windows 8."
That doesn't mean the Start page is gone, or that it's been replaced with a Windows 7-style Start menu. But all of the changes are designed to ease the transition between those making the leap from, say, the expiring Windows XP to Microsoft's latest OS.
New touches bring a sense of polish to Windows
What's new? For starters, the Update can sense when no touchscreen is present and boot to the desktop by default. You'll also find Windows 8 Metro apps that can be pinned to the desktop, as well as little touches, such as title bars that surround Metro apps, making the apps easily dismissable. There are also now power button and search glyphs on the main Start page. If this all sounds familiar, it should: Our own Brad Chacos downloaded a leaked copy of the update a few weeks ago, and documented all the changes you can expect (Microsoft itself confirmed the update, in February).

Microsoft provided PCWorld with an "official" copy of the update in advance of the show. All told, the five update packages totaled just under 800MB and required about 10 minutes to install, with four reboots.
Basically, Windows now knows what environment you're working in, and provides you a complementary look and feel. During the installation process, for example, Windows began rebooting directly to the desktop I was working in, rather than the Start page. And I tried several times to launch Internet Explorer in Modern (aka Metro) mode while my notebook was docked on my desk—but I couldn't. (And I still couldn't when my Lenovo Twist was configured in tablet mode, which may be a problem for some.)
This should make desktop users feel better: Photos opened within the desktop environment use the Windows Photo Viewer rather than the Metro Photos app. Same goes for desktop video files—they open in Windows Media Player.
Our previous slideshow details all the changes you can expect within the new Windows 8.1 Update, including subtle additions like an option to break down disk usage in Metro, and an option to reconfigure the Apps list to show more items.
But there are also a couple of subtler surprises. According to Sareen, the new Windows 8.1 update images can be as much as 60 percent of the size of Windows 8.1. Microsoft made those changes to address what it calls "1-16" devices—machines with 1GB of RAM and a relatively small 16GB SSD.
"We're excited," Sareen said. "It unlocks a whole new set of devices, a whole new price point, a whole new set of customers,"
While that may speed up deployment in large businesses, and help companies like HP that assemble millions of PCs, it may also allow manufacturers to provide more user-configurable storage on their devices. Microsoft also figured out a way to suspend apps on "1-16" machines, rather than kill and restart them when needed. In general, Microsoft implemented about 200 performance optimizations into the update—and during a few hours of hands-on use Tuesday, the new build did feel snappy.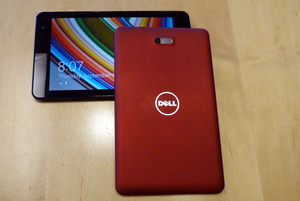 Microsoft also said that the Windows 8 version of Internet Explorer broke compatibility for line-of-business internal apps, a mistake that the update rectifies.
Why now?
So why weren't these changes implemented in the original Windows 8? Why did it take 18 months to right so many desktop wrongs? "There's nothing quite like learning from shipping; nothing quite like releasing it, and then seeing all these people and their reactions," Sareen said.
So far, I haven't found an addition that I've disliked. Everything—from right-click context menus on Start page icons to "New" labels that accompany the addition of new apps—feels like a step forward. No, you can't excise the "Start" menu from Windows 8 entirely. But by this point, you're not supposed to.
"The truth is, we tried to do a lot [in the initial 2012 launch]," Sareen said. "I'm glad we did the things we did. And I'm glad that I'm at a company that can react as quickly as we're reacting."
Additional reporting by Jon Phillips.