At a Glance
Expert's Rating
Pros
Excellent form editing
Good conversion between PDF types
attractive interface
Cons
Mediocre Word output
Interface oddities
Limited vertical work area
Our Verdict
Power PDF is a powerful PDF creator and editor, but the interface is currently (version 1.0) a tad awkward and its OCR plays second fiddle to Acrobat's.
When it comes to creating and editing PDF files, it doesn't get much better than Nuance's new Power PDF Standard. And with 95 percent of the features of Acrobat at only one-third the cost ($90), it's a bargain. That said, the interface, while easy to use, needs more work and the OCR can't match Acrobat's abilities with complex documents.
Power PDF handles just about every aspect of PDF creation and editing that you could ask for, including layering, 3D, sound and file attachments, and security. The latter may be read-only, password, or certificate protection. Signatures are handled nicely and you can even draw your own on screen if you have a suitably fluid input device (a mouse if you're really good, stylus or tablet for most of us). There's also a nice stamp feature for marking documents as read, processed, cancelled, paid, etc.
Power PDF supports the latest in PDF forms technology, including conversion of plain PDFs to forms. There are a full set of form controls including buttons, radio buttons, check boxes—all the stuff you're used to from dialog boxes. There are also the usual text editing and comment tools plus a nice drag-and-drop watermark feature with a number of templates. Other nice Power PDF features include cloud service conduits and integrated text-to-speech.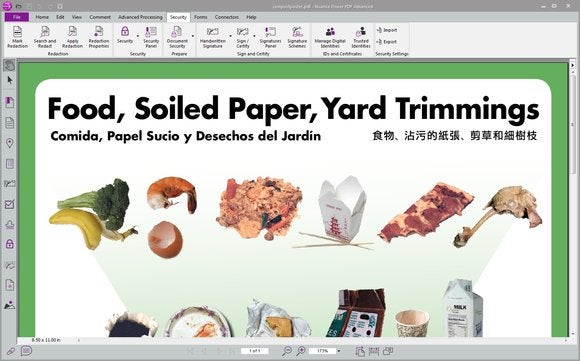 Power PDF's paned interface is eye-catchingly rendered in the latest Microsoft style and has some welcome layout features. However, in my hands-on with 1.0, there were one or two immature moments. Dialogs continually popped up at the far left corner of the screen. Also, with a dynamic zoom tool (click/hold and move the mouse backwards and forwards to zoom in and out) that works wonderfully on its own, why the duplicative old-fashioned separate zoom-in and zoom-out tools? If you come up with a better way, people will use it—multiple methodologies confuse and waste space. I'm being a tad rough on the Power PDF interface, but there's far more good than bad. On the whole, I found it much easier and more intuitive to navigate Power PDF than Acrobat XI.
I've been testing OCR and PDF programs for several years now with a very tough set of images and PDF files that stress OCR engines to the max. Power PDF did… okay. It's useless with any text that's curved, script, or handwritten, but that's the norm in the industry—handwriting recognition is still in the dark ages in the consumer OCR space. Power PDF did fine combining scans into a PDF and rendering them as searchable. Editable, not so much, and the Word document it spit out was largely unusable for any page that was not mostly text. It's not in Acrobat's league in this respect.
Gripes aside, before you plop down $300 for, or subscribe to, Acrobat XI, you should without a doubt check out Power PDF. My quibbles are minor and the feature set covers everything the average user is likely to need. It's not as good at reproducing complex documents via OCR as Acrobat XI is, but in every other aspect it's every bit as powerful, as well as easier to use.
Note: Power PDF is also available in an Advanced version for $150, which has the Word output I tested. Other Advanced features are Citrix compatibility and enhanced accessibility checking.