Dell's new rugged laptop has a 11.6-inch screen with a twist—the screen can rotate 180 degrees to turn the device into a tablet.
At first, the Latitude 12 looks like a laptop. But within the display panel, the screen rotates 180 degrees and the laptop turns into a tablet once placed on the keyboard.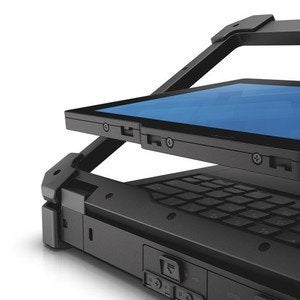 The new Latitude 12 laptop is part of a new Rugged Extreme line of laptops, which also includes the Rugged Extreme 14, also announced on Wednesday. The new laptops are robust and can withstand six-feet drops, and remain protected from extreme weather conditions.
The laptops have hard covers that add a layer of protection, but also make the products heavy. The Latitude 12 Rugged Extreme weighs 2.72 kilograms with a four-cell battery, while the 14-inch counterpart weighs 3.54 kilograms with a six-cell battery and no optical drive.
The laptops can also withstand solar radiation, "explosive atmosphere" and weather ranging from -20 degrees to 145 degrees Fahrenheit (-29 degrees to 63 degrees Celsius), according to specifications provided by Dell. The products are targeted at field workers like emergency responders and the military, and will compete against Toughbook rugged laptops from Panasonic.
The Latitude 12 rugged laptop has a starting price of US$3,649, while the Latitude 14 begins at $3,499. The laptops will ship next month.
The hybrid design in Latitude 12 has been borrowed from the company's XPS 12 Ultrabook Touch, which has a 12.5-inch screen that can similarly flip to turn the laptop into a tablet. The resistive touch screens on both new laptops can show images at a resolution of 1366 x 768 pixels.
The laptops will have storage options of up to 512GB solid-state drives. Users can configure the laptop with Intel's latest fourth-generation Core processors code-named Haswell. The laptops will come with either Windows 8.1 or 7, or Ubuntu Linux operating systems.
Other features include support for up to 16GB of DRAM, Wi-Fi and Gigabit ethernet through a connector. The laptop also has USB 3.0, USB 2.0, VGA and HDMI ports. Mobile broadband and docking are available as options.