Microsoft made the most of the kickoff to its Build 2014 developer's conference, stuffing the three-hour keynote with news both expected and completely surprising.
What everyone expected: Microsoft executives announced the new Windows Phone 8.1 software and an update to the Windows 8.1 operating system.
What no one expected: a new, Windows 7-style Start menu for Windows 8, which will be launched as a free update.
If there was a theme, it was a simple one: universal Windows, or the ability for users to experience the same look and feel of apps across phones, tablets, and PCs—and for developers to be able to easily craft apps for all three platforms. Executives showed off those new "universal apps"—one of which will include a touch-based version of Office.
Nokia's Stephen Elop guest-starred, announcing three new Lumia phones, including an international version of the Nokia Icon. And Microsoft's new CEO Satya Nadella closed, answering preselected video Q&A from developers.
That's the short version. Now let's dive into the details.
Windows Phone 8.1's ringer: Cortana
Windows Phone needs help even more than Windows 8.1. It arrived Wednesday in the form of Cortana, Microsoft's new digital assistant. Right now, Cortana is a beta app, launching just within the United States. But her mission is clear: to become your indispensable personal assistant. And if she can knock down Siri a peg or two along the way, all the better.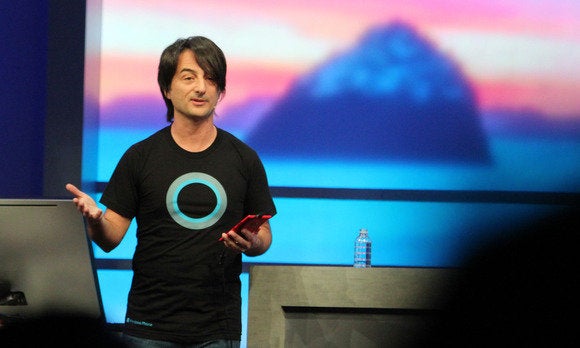 According to Joe Belfiore, corporate vice president of Microsoft's operating systems group, Microsoft met with many personal assistants to find out what made them good at their jobs. They said they tried to get to know their employers, what their quirks and preferences were. Cortana will do the same, Belfiore explained, by doing her homework. "Because she's powered by the Internet, you could say that she knows everything about the world," Belfiore said. "But because she runs on your Windows Phone, she also knows everything about you."
Cortana will get her own Live Tile, Belfiore said, and will replace the search function on your Windows Phone. Cortana can take notes, send reminders, know the places you frequent (including your home and work locations), and so on. Reminders, notes, alarms, and places are all supported—but so are applications like Twitter. Cortana even has a "Notebook" for tracking certain user interests, including an "inner circle" of favorite users. "Quiet hours" can block notifications, but the "inner circle" can break through for an emergency.
Google Now is another target of Cortana's capabilities. Like Google Now, Cortana can read your email (with your permission) and track your flights. Cortana appears to be slightly better than Google Now at handling a schedule, by managing conflicts and reciting your appointments for the day.
Belfiore also showed how Cortana could pull data from Yelp reviews and answer sports scores and facts, such as the age of Seattle Seahawks quarterback Russell Wilson, as well as health-related questions, such as the calories in a banana. But the beta Cortana also failed to call a restaurant and stumbled on the score of a recent Seattle Mariners baseball game.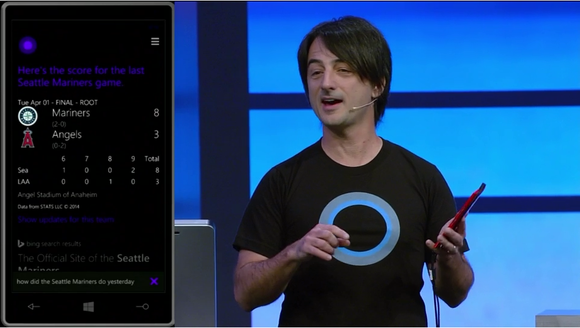 "Cortana is the first truly personal digital assistant, talking about the things that matter most," Belfiore said. Users can speak naturally to Cortana, rather than using the pre-defined phrase list in Windows Phone 8. David Treadwell, corporate vice president of the Operating System Group, demonstrated using Cortana to author a Twitter tweet—although Cortana stumbled on the hashtag.
Like Siri, Cortana showed a little personality in her interactions. At heart, however, she's practical. Search of local content is supported, as is dictation. Cortana can also trigger Skype calls and add shows to a Hulu queue.
Cortana's reminder skills are also impressive. Belfiore asked Cortana to remind him, the next time he spoke to his sister, to talk about her new puppy. This higher level of contextual awareness is something Google Now lacks.
Windows Phone 8.1 will also be more personal
The female-voiced Cortana is the lead actress in Microsoft's push to make Windows Phone indispensable to its users, but there are other players.
One of the highlights is a new Action Center, which reproduces the notifications of iOS and Google. The Action Center allows developers to add new configurable notifications, and can tell the phone to ring or vibrate.
The lock screen has also been improved. In Windows Phone 8, there was a API for an application to set an image in the lock screen. In Windows Phone 8.1, the app can take control of the lock screen. In one demonstration, messages posted to the lock screen disappeared on the diagonal, or rotated away. Users also have the ability to pick their own background image.
"All this is about to make Windows Phone more personal and make the user experience even more personal," Belfiore said.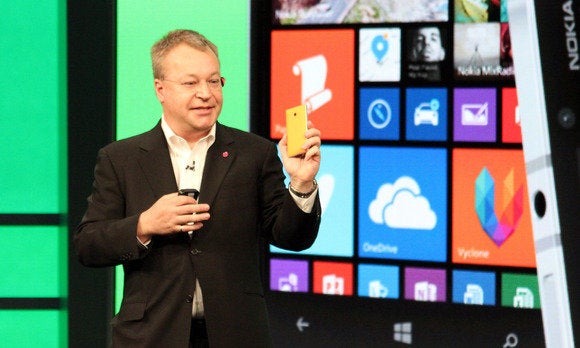 Stephen Elop, formerly the chief executive of Nokia (and future head of an expanded Devices group after Microsoft acquires Nokia), appeared on stage to tell developers that Windows Phone 8.1 will be rolled out to all Lumia devices this summer.
Nick Hedderman, a senior product manager of Windows, showed off some new business features coming to Windows Phone 8.1, including a new business VPN that connects automatically, and S-MIME support, which allows users to send, sign and read encrypted email on their phone. But it won't allow you to save business content on the device, or straddle the business and personal space. A corporate relationship with its policies can be added or subtracted to the phone, but it can't be run in conjunction with a personal environment.
The Windows Phone store has also been improved, Belfiore said. The Calendar will sport an improved weekly view. Microsoft also added a new Sense application to the existing Storage Sense, Battery Sense, and Data Sense apps. Wi-Fi Sense learns about Wi-Fi networks and will suggest and connect to free Wi-Fi hotspots—even auto-confirming a terms-of-service and plugging in email information, if the user allows it. Users can even let Windows Phone beam the SSID and password from a home network to a visitor's Windows Phone upon the guest's arrival.
Uses can also "elevate" from an ordinary phone call to Skype on ordinary phone calls, Belfiore said.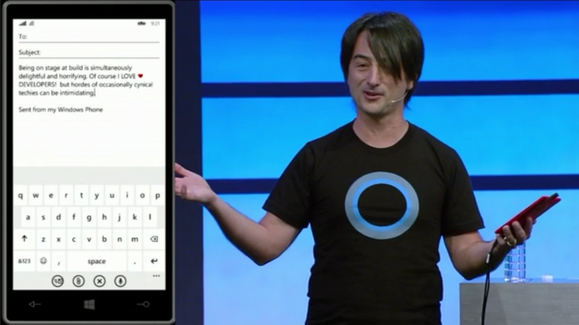 Microsoft enhanced the Windows Phone keyboard, including the addition of "shape writing," or the Microsoft version of Swype. Belfiore claimed the new keyboard surpassed the previous record for typing on a smartphone, beating the Samsung Galaxy S4.
Finally, Microsoft added Internet Explorer 11 to Windows Phone, including the new Reading Mode and InPrivate browsing. That Web platform will enable a number of new capabilities that straddle the phone, tablet, and PC. "We're taking the world's best smartphone experience and making it better," Belfiore said.
The new Windows Phone update will roll out to consumers in the next few months, Belfiore said. It will be preinstalled on new phones in April and May. The first phones to get it will be the Nokia Lumia 630 and 635, Nokia's Elop said. Those phones are geared for the international market, aggressively priced at $159 for a single-SIM option and up to $189 for a dual-core option. Elop also announced the Lumia 930, the international version of Nokia's Lumia Icon. It "just rocks," Elop said, and it debuts in Europe this June.
Windows 8.1 Update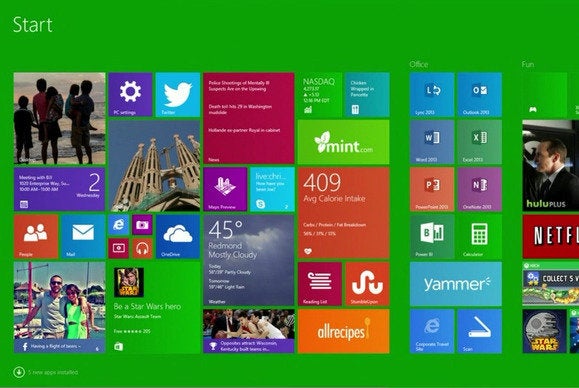 Belfiore also made the Windows 8.1 Update official, although it had leaked to developers in early March. (See our slideshow of the new features, and our hands-on of the new Windows 8.1 Update as well.) The improvements are designed to enhance the experience of mouse and keyboard users, he said.
Metro apps can now be docked on the taskbar, and those apps now have a title bar than can be accessed when users swipe upward. The Windows Store app will be automatically docked. On the Start page, you'll now find handy search and power icons. Right-click options will be available for Live tiles, giving them some of the power of desktop apps. New apps are highlighted and can be pinned either to the Start page or the taskbar.
The update will be available on April 8, Belfiore said, via online update rather than through the Windows Store. Developers can get it today, via MSDN.
Developers, developers, developers
David Treadwell, corporate vice president of the Operating System Group, appeared on stage to court the real audience of Build: developers, who have been tempted by newer operating systems like iOS and Android.
And he did so, with what he calls "universal Windows apps," bringing the Windows runtime to Windows Phones. That will allow common code to run on both platforms, Treadwell said. Microsoft streamlined every phase of the developer cycle, from design to debug. Developers want to adapt the design across various screen sizes, he said.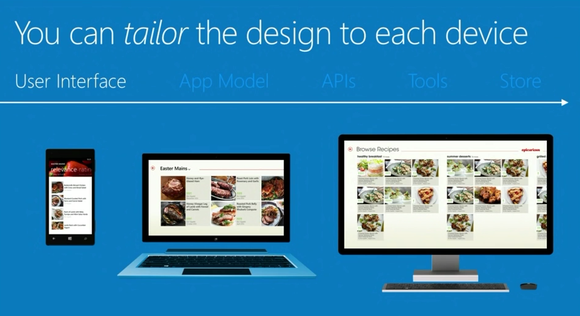 Directions on Microsoft's Miller said that more work would need to be done. "As we've talked before, it's all about simplicity," he said. "The devil's in the details."
More functions will be shared across platforms, and the way in which certain operations are handled, such as suspend and shutdown, will be shared. Data types, notifications, and others will also be shared, with support, naturally, from Visual Studio. An update from Visual Studio 2013, available today, will allow this, Treadwell said. It will include a Windows Phone simulator and new debugging tools.
Within the Windows Store, users will now buy an app, once, for both Windows Phone and Windows PCs. A universal app icon will make clear that the experience will be the same across a phone and PC: "Made for Windows Phones, and Windows PCs." And approval will be up to 50 times faster, Treadwell said.
Touch-first Office
Kirk Koeningsbauer, corporate vice president of Microsoft Office, showed off a new, early version of a touch-based Microsoft Office, which looks a lot like Microsoft's recently-launched Office for iPad.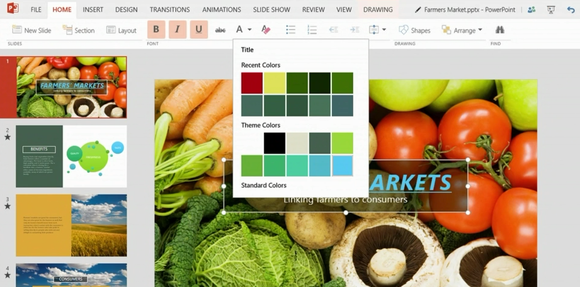 "As we built these new applications as customers moved from Win32 [older versions of Office] to the modern versions of Office," Koeningsbauer said. The idea, he said, was to eliminate any learning curve, and let existing Office documents work seamlessly on the new Office experience. Documents are automatically saved to OneDrive.
Documents will look the same on both a phone, tablet, or PC, providing a sense of "universal Windows," Koeningsbauer said.
Tantalizing glimpses of the future
Terry Myerson, the executive vice president of Microsoft's Operating Systems Group, also began showing off some of the technology the company has waiting in the wings.
Bringing apps to the PC and the tablet is one thing, but one screen is still being ignored: the Xbox, currently being used on 80 million screens around the world, Myerson said. The average Xbox user is on it 5 hours per day, he said. Universal apps will eventually run on the Xbox, Myerson said.
Myerson also re-announced the second version of Kinect for Windows, which uses the sensor in the Xbox One. "We think this is the future," he said. The Xbox, Windows, and now Windows Phone will also gain access to DirectX, Myerson added, allowing Xbox games like Forza Motorsport to run on the PC.
Microsoft has ported Windows to ARM, but Myerson also showed off Intel's embedded Quark chip, and then built—of all things—a Big-style piano. "What sort of things are possible when the PC is the size of an eraser?" Myerson wondered.
"What's so great about the Internet of things is not that they're a thing, but that they're connected to the Internet," Myerson said, which means that they can tie into services like Microsoft's Azure.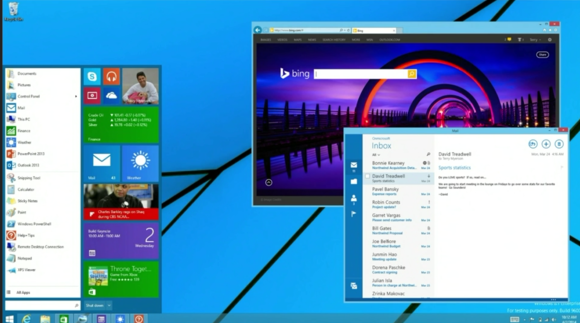 And finally? A new Start menu. Or the old one. Well, it looks a lot like the Windows 8 Start page, tacked onto the Windows 7 menu. Unfortunately, executives simply flashed it onscreen briefly, and that was all. There's no word on when it will arrive, but it will be a free update to Windows 8.
Speaking of free, Microsoft also said that it would begin making Windows free for embedded devices, as well as tablets under nine inches—the first shots in a possible price war with Android competitors.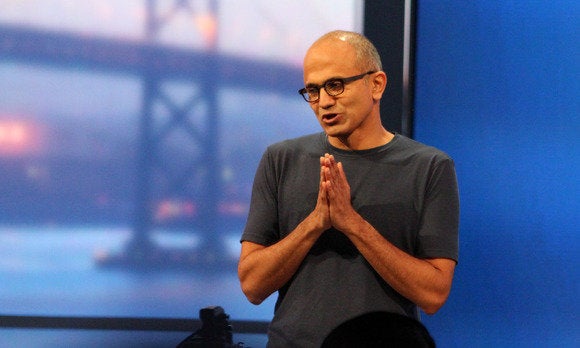 To close—after three hours—CEO Nadella appeared to reiterate the mantra of his short tenure. "Our vision simply put, is to thrive in this world of mobile first cloud first," he said.
Nadella closed by taking preselected video questions from developers. When asked why developers should build for Windows, Nadella was ready: "You want to build for Windows because we're going to innovate with a challenging mindset, not as a incumbent of Windows," Nadella said. Microsoft will innovate in new dimensions of products, at a "rapid pace," he added.
Updated April 3 with a video report from IDG News Service.