At Microsoft's Build 2014 keynote Wednesday morning, Nokia's handset announcements were the most underwhelming news. The Lumia 930 is merely a rehash of the Lumia Icon, a device that's already available at Verizon Wireless, while the midrange Lumia 630 and 635 won't hit stateside until later this year.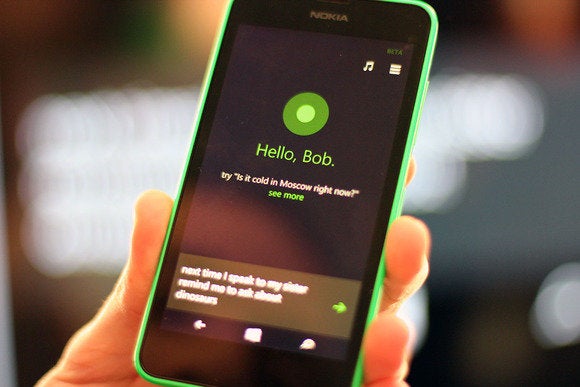 But that doesn't necessarily mean that you should overlook Nokia's newest additions to its Lumia lineup. If nothing else, all three handsets will run the newest version of Microsoft's mobile operating system, Windows Phone 8.1. At a Nokia event Wednesday night, we glimpsed how Windows Phone 8.1 actually operates on both a high-end and mid-range Lumia device. The two work impeccably together; we just wish Microsoft had thought to include some of its new features a little sooner.
Windows 8.1 on a real phone
We've been teased with leaks and fact sheets related to Windows Phone 8.1, but after seeing it in action, it's clear that Microsoft's mobile operating system is a huge improvement over its predecessor.
For instance, there have been a few subtle tweaks made to the Live Tile interface, like the photo overlay effect. It's a neat trick, and a diplomatic way of letting users add some customization to the interface without taking over the whole background, as is standard on iOS and Android.
Those Live Tiles might look like Tetris pieces taking over the screen, but you can move and adjust each of them individually. It does get a bit tricky, however; without a proper press, tiles can run amuck, creating odd visual gaps. If you're an interface perfectionist, this will likely drive you mad. Even one of the attendants managing a hands-on station reached over to fix the Tiles after seeing how I'd jumbled them up.
Windows Phone 8.1 felt speedier and more responsive than its predecessor. Apps loaded quickly, and Cortana—which we'll get to in a bit—loaded in and out without any lag. The OS struggled a bit on the Lumia 635, however. Even with 512MB of RAM, there were instances where I noticed the interface lagging behind as I scrolled.
As with other platforms out there, Windows Phone 8.1 is bundled with a ton of apps. One of them is the Bing Health and Fitness app, which is essentially Microsoft's FitBit clone. It tracks your steps, counts your calories, and lets you gamify your fitness regimen. It also offers a leg up on its competitors with tutorials, videos, and recipes from its partners. It's a neat feature to have built-in, and the variety of exercises that it supports is rather impressive.
Windows 8.1 borrowed many of its new features from other platforms, one of which is the Swype-like, gesture-based Word Flow keyboard. It works well, but no better than the Google Keyboard app on Android: The swiping mechanism and ability is there, but it doesn't have all the bells and whistles that other applications do. It's nice to have as an option, but it's still too bad that third-party keyboards aren't allowed in the Windows Phone Marketplace.
Cortana Talks
Like Apple's Siri, Cortana's luscious voice will answer any of your queries as best it can. You can engage her from a Live Tile or by holding down the search button. She'll give you directions, check the weather, and set up reminders. She'll gamely take your questions, but her answers can vary. Facts about the Empire State Building? No problem. But she had trouble answering how old San Francisco is, instead offering deals to hotels in the city. Close, but no cigar.
For the most part, Cortana is a proper amalgamation of Google Now's contextual functionality and Siri's weirdly charismatic personality. While fulfilling your requests to search the web or find directions around town, it stores what it learns about you in a virtual Notebook, where it can learn to serve you better next time.
A standout feature is Cortana's ability to remind you to tell someone something at a later time. Rather than just relay a to-do when you're in a specific location, like Google Now and Siri do, Cortana can remind you to tell someone something right as you're contacting them from your phone. It could be through email, text message, or phone call; as soon as you input their name, Windows Phone will pop up a reminder of what you need to relay to them.
You can read more about Cortana in our extensive hands-on.
Formulaic Nokia
The Lumia 930 isn't coming to the US, at least not for now. It's essentially the same phone as the Lumia Icon, down to the quad-core Snapdragon 800 processor and 20-megapixel camera. The only differences are that it's available in orange and green, and it isn't limited to Verizon's CDMA network.
It's fast, comfortable to hold, and indicative of where Nokia has found its comfort level. These flagship devices are apt to compete in the current smartphone landscape, and with all of the new features added in to Windows Phone 8.1, the Windows Phone ecosystem is closer to offering the complete package.
Of course, Nokia is still sowing its seeds in the emerging markets with devices like the Lumia 630 and 635. They're both available with dual-SIM capabilities, with the latter offering 4G LTE capabilities. They're also smaller than the Lumia 930, a bit more cutesy in appearance, and come with removable backings, which you can get with a matte or gloss finish. As mentioned, Windows 8.1 felt a little sluggish on these midrange phones as I was scrolling through Live Tiles and launching apps.
Too little, too late?
Both Nokia and Microsoft have finally caught up to the current smartphone landscape. It's obvious that many of the new features in Windows Phone 8.1 have been inspired by both iOS and Android, the two top dogs of the mobile world. By the same token, Microsoft and Nokia could have also been taking the wait-and-see approach: Let Google and Apple work out the kinks in their respective operating systems and then improve upon those features that consumers have embraced.
Whether consumers adopt the Windows Phone platform with open arms is another another thing entirely. Windows Phone 8.1 is growing overseas, and with over 250,000 apps in the Windows Phone Marketplace, at least consumers have more of a choice this time around.
Updated at 5:05 p.m. PT to include a video report from IDG News Service.