At a Glance
Expert's Rating
Pros
Very thin
Excellent trackpad and keyboard
Competent tech support available any time
Cons
Short on storage and USB ports
Screen panel exhibits too much flex
Battery life could be better
Our Verdict
This slim back-to-basics enterprise Ultrabook is easy to travel and work with, and you'll like its pressure-sensitive touchpad. But it's a little shy on battery life, storage and connections.
HP set out to make a corporate notebook that handles the basics and travels well. And the company's EliteBook Folio 1040 G1 pulls it off—for the most part. The Folio's file storage is tighter than the overhead bin in a puddle-jumper, and its display panel feels flimsy, but it does a good job of covering the rest of bases.
The non-touch Folio is surprisingly thin—0.63 inches—considering that it weighs nearly a half-pound more than Lenovo's 0.77-inch-thick X1 Carbon Touch. That said, you won't break a sweat hoofing it to the next gate with this computer in your carry-on. (Note that we're not calling this particular SKU an Ultrabook. Intel controls that standard, and one of its baseline requirements is that the machine have a touchscreen, which this doesn't.)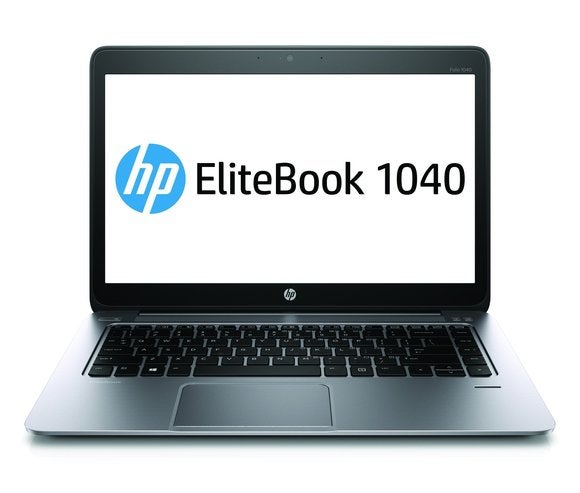 You might find the 14-inch screen almost too big if you travel coach or by commuter plane; but in business class on the heavies? No problem. The Folio's $1299 price tag might sound steep for its Spartan specs, but it's pretty much in line for an entry-level, business-class notebook that includes an Intel Core i5-4200U processor, a 1600-by-900-pixel non-touch display, 4GB of DDR3/1600 memory, and an itty-bitty 128GB SSD.
That price tag also buys robust security, enhanced tech support, and the ability for the folks in your company's IT department to deploy similar configurations throughout the enterprise. HP offers other configurations, including models with higher-resolution displays and touchscreens.
This trackpad's a drag—in a good way
Along with its usual "lighter, slimmer, yada-yada" pitch, HP told me the Synaptics ForcePad trackpad on this Folio is one of its most noteworthy upgrades. It functions the same as any other capacitive trackpad to control the cursor: You simply drag your fingertip across its surface.
But the ForcePad also recognizes the degree of pressure you apply to it. Instead of tapping to make selections, activate commands, call up a menu, and so on, you simply apply a little more pressure with your fingertip. If you've used the pressure-sensitive trackpoint that's embedded in some notebook keyboards, you have the idea.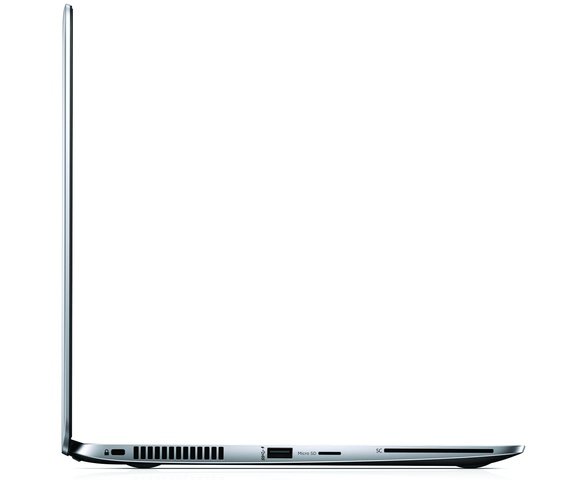 It took me a few days to become fluent with the ForcePad, and it needs a little tweaking. Still, I liked pressing on selected text or a browser tab and dragging it with one finger, though I sometimes ran out of dragging room on its four-inch wide surface. Press with two fingertips and drag slowly, and you can scroll continuously up or down. Applying more or less pressure affects the scrolling speed.
Scrolling varies across apps. In my experience, it worked fine in Microsoft Word and Google Chrome, but the gesture resulted in a pinch-zoom in Firefox, shrinking my page to unreadable type. The solution was to move my fingertips slightly farther apart with that browser.
When I intentionally pinch-zoom, I often get slight delays in responses. I have to remember to do the gesture just once and then wait. Despite its quirks, I use this trackpad more and more in place of keys. It's a little better at palm rejection than most, only occasionally causing my cursor to go AWOL.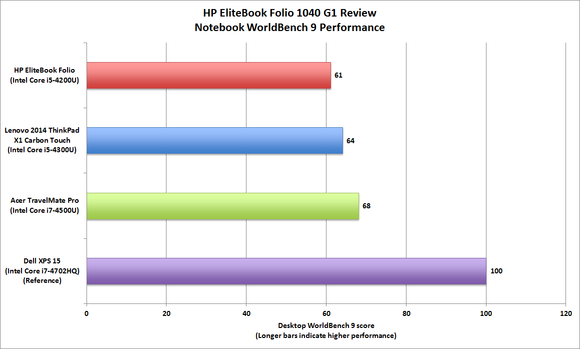 The keyboard is one of the best I've used recently—almost as good as those on Lenovo's original X1 Carbon Touch and Dell's XPS Ultrabooks. It sounds a little clattery, but it feels comfortable and gives good tactile response. The flat-topped, backlit keys offer just the right amount of friction and are spaced and sized well for my typing style with my large hands. Dedicated Home, End and Page keys are a bonus.
The Folio's 720p webcam and mic are as basic as the rest of the specs, and it shows. The video yields a strong blue tint, the frame shows lots of areas of simultaneous over- and under-exposed areas, and my face looks grainy when shooting in less than full light. Audio was clear and strong up to four feet from the mic, then dropped off sharply as I moved farther away. The setup is fine for linking up with colleagues, but don't plan to pitch clients with it.
Connectivity and tech support
The Folio has just two USB 3.0 ports (one of which provides always-on charging), DisplayPort, a headset jack, a Smart card slot (intended primarily for enterprise users), and a MicroSD card slot (useful for anyone who finds that a 128GB SSD is too small and cloud storage too inconvenient). Our eval unit's wireless connections included Bluetooth 4.0, but Wi-Fi was limited to 802.11n (curious, considering 802.11ac is available as a no-cost option).
Like many small notebook makers, HP has jettisoned VGA and ethernet ports from the Folio. That's in line with the industry's relentless effort to wring ounces and millimeters out of notebooks. HP includes its model F1H90AV Side Dock, which provides RJ45 and VGA ports, or you can pack HP's complete docking station. That option provides four USB 3.0 ports, RJ-45, VGA, and audio/video ports, but it costs $149 and weighs 1.7 pounds.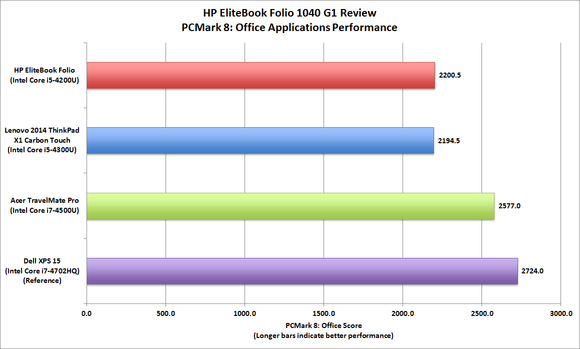 HP touts its "concierge-level" support, and its reps acquitted themselves well in my test calls. HP offers a full year of 24/7/365 phone support, holidays included. The reps picked up right away, spoke clear English, behaved courteously, and answered most of my questions readily—no pregnant pauses while they searched internal knowledge bases. One rep admitted he needed to get more up-to-speed on the EliteBook's security features. I appreciated his honesty, which allowed me to move on quickly to a better-informed rep.
That warm, secure feeling
Beefed-up security features are one of the big things that separate enterprise notebooks from their consumer cousins. Beyond its Windows login screen, the Folio 1040 G1 provides two ways to authorize access: The aforementioned Smart card slot and a built-in fingerprint scanner. I've found many such scanners to be finicky to program and use, requiring you to swipe your finger at just the right speed, but HP's was a breeze.
At a deeper level, HP's Sure Start technology is designed to protect the Folio's BIOS from malware attacks, and it provides instant BIOS restoration should the BIOS ever become corrupted. You (or your IT department) can use HP's Trust Circles to establish a list of approved contacts who can access critical files on the machine. Note that I didn't test either of these features.
This configuration includes a Trusted Platform Module (TPM) chip for data encryption, but the Core i5-4200U does not include Intel's vPro technology (HP offers other EliteBook Folio 1040 G1 configurations with CPUs that do support vPro).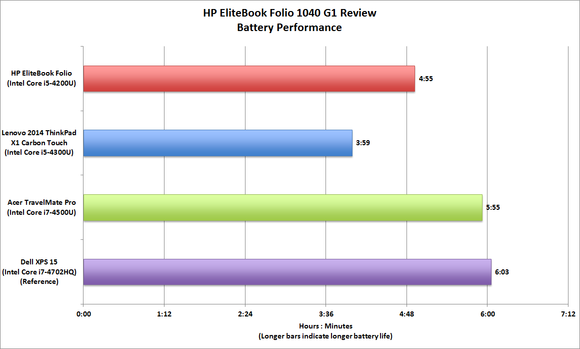 In this configuration, the Folio 1040 G1 delivered a Notebook WorldBench 9 score of 61. That's just behind Lenovo's new X1 Carbon (powered by a very slightly faster Intel Core i5-4300U processor), and a little behind Acer's TravelMate Pro (which is based on an Intel Core i7-4500U). Our 100-point reference system, meanwhile, is a consumer-oriented Dell XPS 15, which features Intel's powerhouse Core i7-4702HQ.
The Folio actually squeaked past the new X1 Carbon when we ran the PCMark 8 Office benchmark, but the Acer and Dell machines blew the doors off both these other machines, thanks to their Core i7 CPUs.
If you fly overseas a lot, make sure your seat has an AC outlet: The battery in this year's Folio lasted less than five hours. PCWorld's battery-rundown test is admittedly more punishing that what most publishers use, and the Folio did last nearly a full hour longer than Lenovo's new X1 Carbon, but Acer's machine ran for nearly six hours, and our reference laptop lasted just over six hours.
Bottom line: Not bad
HP hits many of the right notes with its EliteBook Folio 1040 G1, but it's not perfect. It's supremely thin; it has a great keyboard and an innovative trackpad; and it has very good security features that don't require you to pay for features of interest only to enterprise users.
When the traveling gets tough, the Folio will need to belly up to the AC tap every night and often in between, but not as often as Lenovo's X1 Carbon. In terms of pricing, the Folio costs about the same as Acer's TravelMate Pro; and it's $310 cheaper than Lenovo's best Ultrabook.
But the Lenovo delivers a touchscreen display with much higher resolution, and the Acer has a discrete GPU that's not present in either the HP or the Lenovo. To earn a higher score, the EliteBook Folio would need to provide more I/O ports, weigh a little less, provide more storage, and deliver a higher-resolution touchscreen display.
Correction, 4/10/2014: HP bundles a Side Dock adapter with VGA and ethernet connections with the EliteBook Folio 1040 G1. We originally reported that it was a $60 add-on.