Microsoft is moving Windows to the car, again.
Microsoft has been in the automotive space for a very very long time—probably more than 15 years, according to Steve Teixeira, who works in the developer division at Microsoft. A good chunk of cars on the road run either Windows CE or Windows Automotive, including BMW, Fiat, Ford, Kia, and Nissan.
Now, Microsoft is prepping yet another version, Teixeira revealed at last week's Build event. The company has already tested its new version of Windows for the car, both in simulators that model eye-tracking, as well as in actual cars in a local Seattle raceway. "More of a concept, but a concept that we can work very very seriously on so that we can bring the world the IVI (in-vehicle infotainment) and a broadened Windows device together," Teixeira said.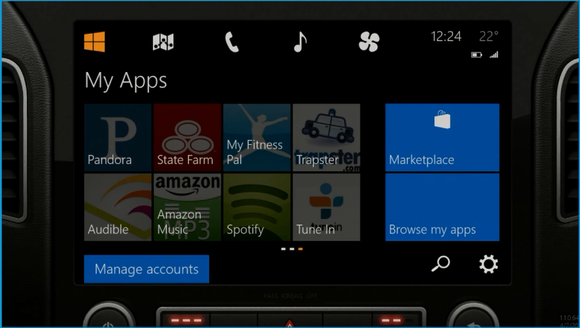 Connected cars fit between phones and tablets, controlling the flow of data that traverses the main CAN (controller area network) bus within the car. Most cars already have some form of in-dash display that governs the car's functions, which will become more entrenched once government regulations on back-up cameras go into effect.
The question is what Microsoft does going forward.
In addition to an in-vehicle infotainment system that runs an embedded version of Windows, Microsoft is going to work to bring Windows devices into the car.
"I can jack in, and get a projection of what's going on in my phone on the IVI, or in-vehicle entertainment system," Teixeira said, using a technology, adopted by Nokia among others, called MirrorLink (developed by the Car Connectivity Consortium).
"The IVI knows the most about your car, so a device like your phone can never usurp that value of an IVI which is wired into your vehicle," he added, But as the car gets longer and longer in the tooth, the commonly replaced phone can pick up more of the slack.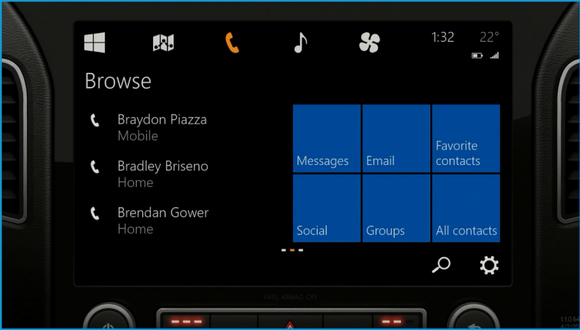 In the prototype Teixeira showed, the in-dash screen needs to do more than just "blast the UI" from the phone to the screen, he said. Microsoft is working on four things: reducing the "cognitive load," or the requirement to think about what you're doing; glanceability, or minimizing the "eye time" on the screen beyond 2 seconds; trying to minimize the effects of different screen sizes; and doing away with the need to touch tiny little virtual buttons—which might be OK on a phone, but much less so at 65 MPH. Most of the time, that interface should be voice-driven, essentially, by Microsoft's Cortana technology.
The concept looks like Windows for the car: There's a Start screen, with common tasks that can be "pinned" to the car's dashboard, while things the driver needs to know right away (such as an upcoming school zone) are displayed prominently. In Teixeira's demo, users could select different views, such as climate control, or more information about the currently playing artist. In the demo, he swiped right to reveal service information, such as a 30,000-mile maintenance reminder, as well as an assessment of how efficiently he drove. And, of course, there are apps—which automakers and third-party companies alike are already pushing forward on.
If the car is parked, users could run virtually any app. But in drive mode, Microsoft plans to enable app developers to enforce safe driving behavior, he said.
Teixeira also showed off navigation, plus the ability to browse and call contacts. Messages could be read aloud. And media sources, in the demo, were tied to all of the media sources available to the car and phone, including FM radio and Xbox Radio, and MP3 files stored on the phone.
So far, it's an early prototype. But it gives a solid impression of what Microsoft's thinking: Windows belongs in far more than the PC.