At a Glance
Expert's Rating
Pros
Backs up important files and settings
Supports all major browsers
Cons
No network support
Doesn't transfer programs
Our Verdict
Though it doesn't transfer programs as does PCMover, PCTransfer does a nice job of transferring your important files and settings.
Microsoft no longer supporting XP doesn't invalidate it as an operating system—the controllers running the tunnel boring machine here for San Francisco's new subway use XP. However, it may just spur you to finally check out the more secure and robust Windows 7 and 8, especially as the Redmond giant has promised us a real Start Menu for the latter. If you decide that it's time, a transfer utility such as IObit's free PCTransfer could prove handy—though it doesn't do much you can't do on your own.
PCTransfer does exactly what it says it will do—transfer your important files to a secondary or external disk, then copy them back onto your new installation. Of course, so do Windows Easy Transfer and virtually every other backup program in existence. If you have one of those, you don't need PCTransfer.
Like the others, PCTransfer will automatically select important files. However, if you're a big IObit fan, you'll appreciate that it backs up the settings for the company's other products. Another area where PCTransfer has it over Windows Easy Transfer is browsers. Window Easy Transfer grabs only Internet Explorer data, while PCTransfer also handles settings from Chrome, Firefox, and Opera. On the other hand, Windows Easy Transfer supports direct cable and network connections.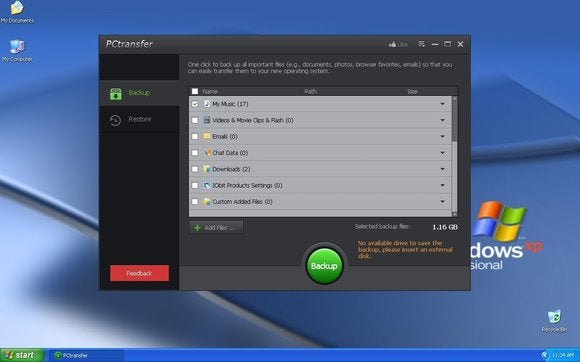 PCTransfer creates a folder on the secondary or removable drive, places the backed up files inside, and also creates a copy of itself so you needn't download it again on the destination PC. All you need to do after upgrading or buying a new computer is run that copy of PCTransfer and select restore instead of backup. Your old stuff will be transferred to the proper locations.
PCTransfer is obviously a portable app (able to run without being installed), and a rather good-looking one at that. Usage couldn't be simpler, and it's lightweight at only 4.5MB. It doesn't even offer to install Iobit's Advanced System Care, as most of the company's freebies do—at least at the time of this writing.
There are some caveats, as well as precautions you should take. PCTransfer and its ilk don't copy your applications over. For that you need a specialized program such as Laplink's PCMover. Also, no transfer program knows about every piece of software you have installed. Back up your entire old system and keep said backup around for a while until you're sure you've grabbed everything you need. An imaging program that creates VHDs that are mountable under Windows 7 and 8 is a good way to go. If you know where stuff is stored, you could actually just do that and skip the transfer program.
If you need some help transferring data from good ol' XP to the new love of your computing life, Iobit's PCTransfer will do the job. Then again, I've always thought that a fresh start is sometimes in order. Your call on that.