The Windows 8.1 Update goes public starting Tuesday, promising all kinds of new features for traditional PC users. One thing it won't bring is the new Start menu that Microsoft recently debuted—that's due in a later update in the coming months.
But Windows 8.1 already has a Start menu of sorts buried under a right-click on the Start button in the lower left corner. Commonly known as the power user menu, this menu is a popular option to quickly shut down a PC since it's much simpler than clicking on the Settings charm.
There's more to the power user menu than just turning off your computer, however. Here are three features from the power user menu that every Windows 8.1 user should know about.
Deleting programs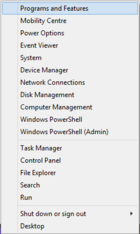 At the top of the menu is an option called Programs and Features, which gives you direct access to the Control Panel option for uninstalling programs.
Keep in mind the Control Panel uninstall option only works for desktop apps. If you want to uninstall a modern UI app you have to visit the Start screen or all apps screen, right-click the app, and select Uninstall.
Managing tasks
The traditional way to get to the Task Manager is to tap Ctrl+Alt+Delete. Over the years, however, Microsoft has changed this option from a keyboard shortcut to a full-blown menu with other options such as shutting down and locking your PC.
So a slightly quicker route to the Task Manager is to access it under the power user menu. From there you can quickly see which app is hogging all your processor power or shut down a non-responsive app.
Control Panel
Right below the Task Manager is an option to open the Control Panel. It feels like there are a thousand ways to open the Control Panel in Windows 8.1 including through the Settings charm, the desktop view in File Explorer, and the all apps screen.
As far as I'm concerned, however, the fastest and easiest way to get there is to right-click on the Start button (or tap the Windows logo key + "X" if you want to get really fancy).
The only thing faster would be to pin the Control Panel to the taskbar.
After you're used to accessing these three options in the power user menu there are tons of other options you might find useful including power settings, system information, network connections, and the Windows PowerShell, to name just a few.