If Microsoft plans to decouple Office for the iPad from Office 365, the team is keeping it a closely guarded secret. But printing seems to be on its way.
Microsoft's Office for iPad team (above) took to Reddit for one of the site's famous "Ask Me Anything" sessions. But while the team was responsive, even enthusiastic, the amount of information they released was, unfortunately, minimal. The team confirmed that Office for iPad has been downloaded 12 million times in the past week, however.
According to team members, Microsoft hasn't changed its position on two of the most important questions surrounding the suite: printing, which is en route; and the need for an Office 365 subscription to create and edit documents, which remains unchanged.
"Print is a high demand feature that we intend to introduce in due course," Sangeeta Mudnal, Group Program Manager for Excel, posted in a response to the most glaring omission from the Office for iPad suite — which, otherwise, garnered very positive reviews. And, based on comments, it looks like Microsoft is also exploring the addition of pivot tables and mathematical notation for Excel as well.
Unfortunately, Office for iPad also requires an Office 365 subscription to edit or create documents, which ties the suite of "free" apps to a $99 annual subscription. Naturally, users also asked about whether Office for the iPad would ever be decoupled from the subscription requirement, or provided for the cheaper "A2" educational license.
Thanks for the feedback. We appreciate it! Currently, we do not have such plans," "Kaberi," (presumably Kaberi Chowdhury), a technical product manager for the Office for the iPad team, wrote. "We believe that you get the best up to date Office experience is the Office 365 subscription. Particularly in a world where people have multiple devices (phones, tablets, PCs/Macs), the subscription provides greater value across all of them. And you can store all your documents in the cloud for access anywhere anytime."
Microsoft's Office for iPad team confirmed that they are, if not the same team, at least made up of many employees who are also working on the updated Office suite for the Mac. But they declined to say when that update would ship, posting a funny GIF in response.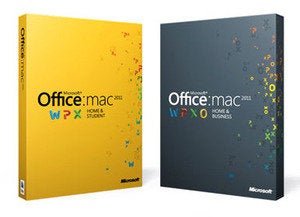 "The code for Office for iPad and Office for Mac is shared, as the development platforms for both are very similar," added "Schweib," a "development tools wrangler" for the team. "The iPad work required us to create an all-new UI and to redesign the interface between UI and the internal logic. That work actually helps us with de-Carbonizing Office for the Mac, instead of delaying or hindering it. We're able to create new Cocoa UI on the Mac and tie it into the new logic interface now." Schweib was referring to Apple's Carbon API for porting Mac OS 8 and OS 9 programs to Mac OS X, and the Cocoa native API for Mac OS X.
Likewise, the team remained mum on a touch-based suite of Office apps for Windows or Android, although Microsoft demoed the apps last week at its Build conference. "We are part of the broader Office organization and we collaborate with our Office for Windows partners on a daily basis," Han-yi Shaw, the Group Program Manager & Design Manager for Office for iPad, wrote. "We share lots of ideas and application code between the teams — and it's worth mentioning that Office for iPad could not have been possible without this tight collaboration with our Office for Windows partner teams."
Shweib also noted that, due to app restrictions, it was unlikely that Office Apps, the plug-ins for Office, would make their way to the iPad apps. "Sections 2.7 and 2.8 of Apple's App Store Review Guidelines emphatically state that downloading, installing, or launching any sort of code other than your app's own code is prohibited," he wrote. "I don't know if Apps for Office would be allowed in the iOS App Store."
Other tidbits:
On authorization: "The decision to ship Office for iPad was made before Satya became CEO," Kaberi added. "Steve Ballmer approved the plan to ship Office for iPad."
On the delay: "Since we were designing Office for iPad from a 'blank slate' so to speak, we wanted to take the time to deliver the highest possible quality Office experience that is fully optimized for the iPad," Shaw wrote. "A wise man once said, 'Details matter, it's worth waiting to get it right.' That rings true for how we thought about it."
On OneNote for iOS: "We're continuing to work on updating our iOS clients, and our next iPhone update will be compatible with iOS7," "Avneesh," a product manager for OneNote, wrote.