The future of smartglasses will be realized by a factory worker operating a 3000-pound stamp press, not a gamer stomping on virtual-reality bad guys. Face computers will be all about scanning bar codes on cardboard boxes, not scanning tourist attractions for augmented reality overlays.
Dig it: Smartglasses are a productivity story. They're about getting things done. This is the vision of XOEye Technologies, which this Friday will begin seeding its XOne smartglasses to some two-dozen companies in blue-collar business sectors ranging from overnight delivery to oil and gas.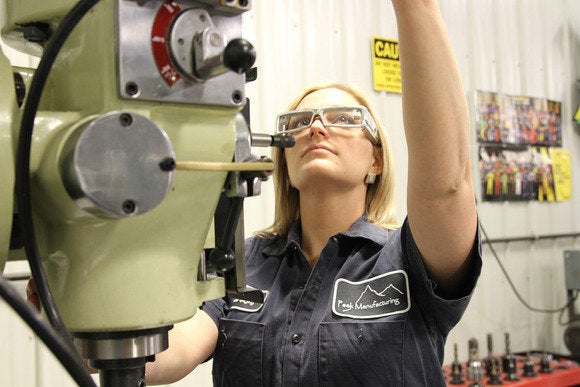 XOEye CEO Aaron Salow says smartglasses represent the next wave of business communication. Every 20 years, he posits, a new technological breakthrough fundamentally changes how workers communicate with each other and clients. In the 1950's, the enterprise space depended mostly on phones. Faxes made an impact in the 70's, and email changed everything in the 90's.
Next up: "activity streams." Smartglasses like the XOne will share streams of data—audio, video and even rarefied sensor information—to connect workers with colleagues in unprecedented and liberating ways. Or so Salow says.
"Activity streams are the next 20-year cycle, and wearables are a huge part of this," he riffs. "Whether it's capturing a bar code, or capturing video of what a technician is seeing, I'm able to transmit data from the employee to the cloud to various devices in the workplace. Right now, people trade email and video to troubleshoot problems. But if a technician could share an activity stream from these glasses instead, imagine how much faster problems would be resolved."
I see, you see, we see
The XOEeye concept is simple by design, and it needs to be if roughnecks on an oil rig or hardhats on a factory floor are going to bother with newfangled tech. An employee dons the XOne glasses, and everything he or she sees is streamed from an onboard 5-megapixel video camera to Vision, XOEye's cloud platform. Tapping into Vision, remote colleagues can see everything the employee sees—and from the employee's point of view.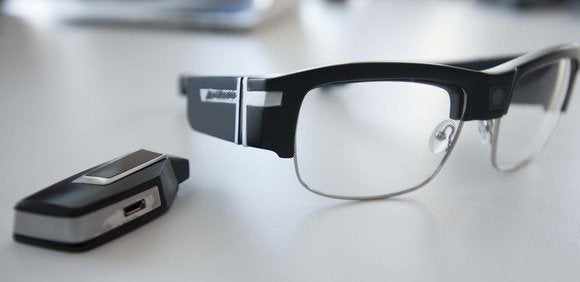 The smartglasses also include two microphones and a set of earbuds, so employees at a job site can easily speak with coworkers, whether they're located in a different part of the same building or 2000 miles away. And because the XOne glasses include an accelerometer and gyroscope, XOEye's Vision platform can log body movements, inviting new possibilities for managing worker safety and ergonomics.
Let's walk through a few scenarios. The most obvious XOEye application involves telepresence-based troubleshooting: A manager in a remote location guides a field technician through a complex diagnostics process, using the XOne glasses as his eyes and ears. Salow scripts a typical exchange: "Grab this wire. No, not that one, that one. Great, now tighten that down. Let's hear it again. No, it still doesn't sound right. Turn it off. Let's try something else."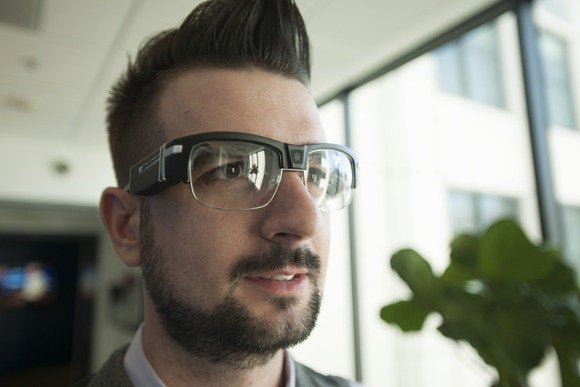 Sure, that field worker may not always appreciate being guided like a marionette by a puppet master half a continent away, but telepresence can save companies expensive plane trips for on-site visits, as well as critical time.
Hands-free scanning—finally
Because camera sensors can also read bar codes, the XOnes could be used by airlines that need to route thousands of pieces of luggage every hour. Currently, this is a grueling process that requires an employee to pull a heavy suitcase off a conveyor belt with one hand, while reading the luggage tag with a handheld scanner in the other hand.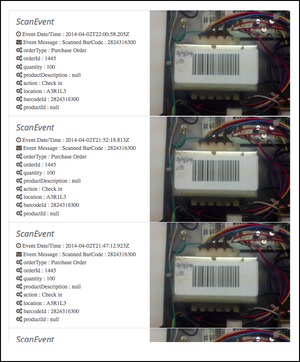 But if an airline mothballs its $1000 handheld scanners for the $500 face-mounted XOnes, it can save money and reduce workplace injuries. "Every time one of our airline customers has a shoulder injury, it costs them thirty thousand bucks," Salow says. "Something like this, which is a fraction of the cost, lets them pick up that bag with two hands. It totally changes the amount of safety and injury issues."
Of course, the truck drivers who work for FedEx and UPS use handheld scanners too. Salow imagines a day when our packages will be scanned by the XOne—and a deliveryman will snap a photo of the package before he leaves it on your doorstep. "We've got companies that are spending millions of dollars on liability every month because someone says a package was destroyed," Salow says. "Well, was it? Now they've got a picture of the container when they left it at your house."
Safety first
Safety and ergonomic applications fill out XOEye's bag of tricks. The smartglasses' motion sensors can pick up whenever a factory worker bends down in a 90-degree angle. The back-end Vision platform can record this as a "biometric event" and save it to a database for further review by management. "If Joe is bending over 60 times a day, he may have a back problem in his future," Salow says. "So a company may want to change the way it utilizes this person, or maybe transfer him to a different department."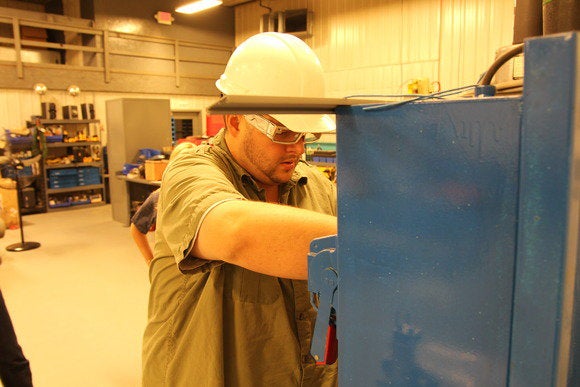 Similarly, Salow says, the XOne's accelerometer could trigger an alert every time a factory worker exceeds an acceptable forklift speed. Or perhaps a dangerous machine shuts down anytime someone wearing the smartglasses gets too close to a saw blade or stomp point. Salow says XOEye will provide customers with APIs so they can build and implement custom applications that interface with their own unique workflows.
Likewise, the Vision platform is designed to integrate with legacy enterprise management systems (critical, say, for all that bar-code scanning), and can be used to push specific applications to the smartglasses via over-the-air updates.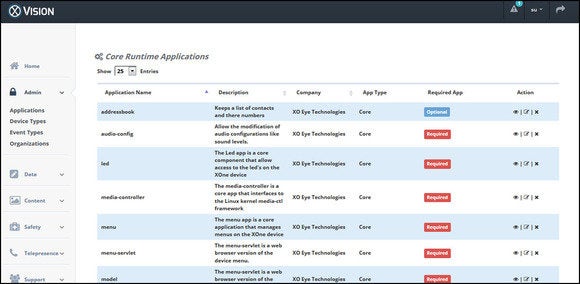 Google Glass? For this market?
So it all sounds very enterprisey. But what would Salow make of the "Glass at Work" announcement that Google issued on Tuesday? Salow thinks Glass is ill-suited for the industries XOEye is targeting. Specifically, Glass' reliance on voice control and capacitive touch makes it a non-starter for noisy work environments where so many employees wear gloves.
The XOne, meanwhile, is designed for blue-collar workers, and is born from the collective wisdom of an XOEye team based in Nashville and steeped in the life lessons of working in heavy industry. "I was running a machine on the floor of a company when I was 14, so my whole background has been in manufacturing, and operations, and construction," Salow says. "We get those people who drive an F-150 and listen to Kenny Chesney. That's us."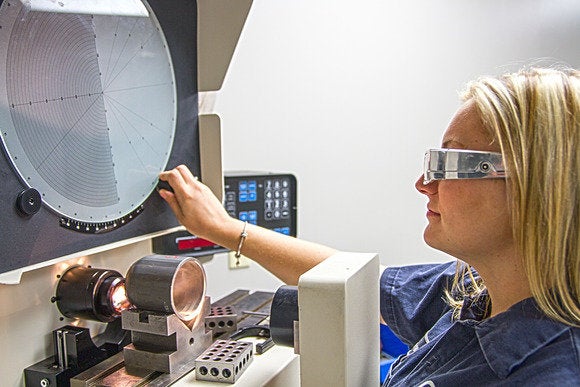 Like Glass, the XOne's interface features voice control, but the glasses aren't dependent upon it. The XOne doesn't employ capacitive touch, and instead has two hardware control buttons for times when the din of machinery drowns out voice commands, and when heavy safety gloves make traditional touch control impossible.
You'll also notice that the XOne lacks any type of display to provide visual feedback for the system's applications. That's a design feature, an acknowledgement that excessive visual feedback isn't necessarily safe, Salow says. Instead the XOne has a strip of LEDs that run along the interior of the frames and send simple messages back to the worker—for example, a green LED could indicate a package has been properly scanned.
And of course, the clear lenses on the XOne are impact-resistant to ANSI Z87.1 standards. The glasses' earbuds are safety-certified, too.
The only viable smartglass future?
The XOne smartglasses are destined for final release this summer. Not only will it cost a very expensive $500 per unit, but the glasses will require a $99 monthly subscription to the Vision enterprise suite. That recurring cost includes full access to the device-management platform, regular firmware updates, and unlimited minutes for the XOne's telepresence function. (Notably, each pair has its own phone number for voice calls, but it depends on Wi-Fi or Bluetooth smartphone tethering, as the glasses have no SIM.)
Salow says subscription fees will likely drop if a business buys XOnes at scale. But will the costs be low enough to spark an "activity stream" revolution? Well, if any use cases have the potential to spur wearables adoption, it's the kind that put workplace productivity front-and-center, analysts say.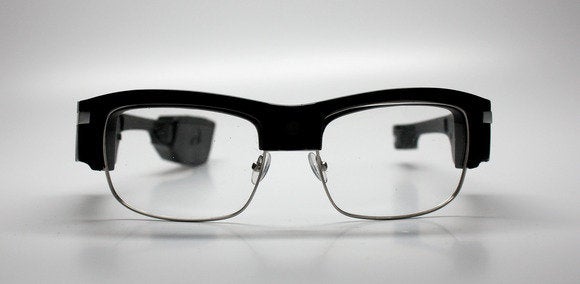 "The average Joe consumer will probably look at Google Glass and say, 'What is this going to help me solve?'" says Ramon Llamas, a wearables industry analyst at IDC. "Whereas within an enterprise opportunity, particularly the ones in industry, these are very specific situations and problems. And we all know that anything that's going to make you more efficient is going to make you more profitable down the line."
And, hey, it's not like XOEye's customers will have to worry about how they look in the XOnes. When you're operating a 3000-pound stamp press, your main concern is precision, safety, and getting the hell home. Aesthetic concerns can wait until after you clock out.