It's not just desktop users who refuse to move on from Windows XP. Thousands of websites are still enamored with the now-unsupported OS, too.
Internet research firm Netcraft recently released its monthly website survey for April. With XP reaching its end of life, the company paid particular attention to websites still using XP to run their servers.
According to Netcraft's findings, China may dominate global Windows XP usage on PCs, but when it comes to running websites with the now-defunct OS, nobody beats the United States.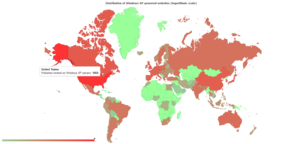 Overall, more than 6,000 websites were still using XP to run their servers. Of those 6,000, nearly a third (1,869) were in the United States, with Canada and Italy running a distant second and third, at 261 and 226 sites, respectively.
Of the American sites still using XP, 14 were government-run, including a webmail system for the State of Utah, Netcraft said. Government-run or not, sites still running XP are taking some big risks considering that XP is already under heavy attack by malicious actors.
It gets worse: Nearly half a million websites around the world are still relying on Windows 2000 to run their servers, according to Netcraft. Windows 2000 support ended three years ago, in July 2010.
XP and Windows 2000 aren't the only throwbacks that remain in wide use. Netcraft says it found another 50,000 websites globally using Windows NT 4.0 to run their servers. Support for NT 4.0 ended in 2004.
In the case of XP, some of those sites—if they are large institutional or governmental sites—may have custom support contracts from Microsoft and will continue to receive security patches for at least another year.
But with so many sites running far more ancient software, even after those extended support contracts run out, it's unlikely XP will be disappearing from web servers around the world anytime soon.