Her voice sounded like Queen Amidala from Star Wars: The Phantom Menace, or maybe HAL's twin sister from 2001: A Space Odyssey. She had an illustrious accent, perfect diction, and just a hint of vulnerability. "Continue to follow the road for the next six miles," she cooed, in a way that seemed less like a command and more like gentle encouragement.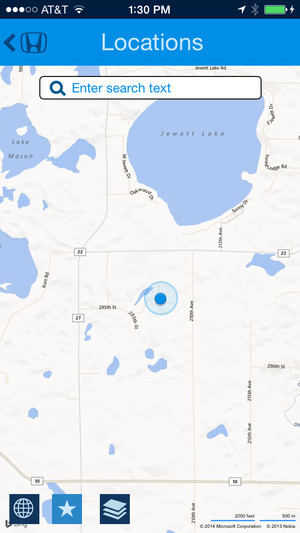 No, I wasn't driving a luxe sedan made by a Bavarian automaker. I had plunked down $60 for the HondaLink Navigation app in iTunes. (Sorry, Android users, there isn't a version available on your platform quite yet.) It's part of the HondaLink Next Generation app collection, which works with the blazing-red 2014 Honda Civic Coupe EX I was driving. You can add built-in nav to the EX model for $1500, but this app is much cheaper—even if you also have to buy Honda's proprietary HDMI/USB cable ($99 from your local Honda dealer or the Honda Navigation Center).
After downloading the Navigation app (along with the HondaLink App Launcher, which organizes the apps) to my iPhone 5s, I connected the phone to the car. The Navigation app mirrors itself on the 7-inch touchscreen display.)
"Make the next legal U-turn where allowed…" Queen Amidala chimed in again. You perk up a little when she speaks, expecting to be swathed with a warm towel or handed a freshly made smoothie.
Driving about 300 miles on a trip to the Twin Cities, the Navigation app proved to be a welcome riding partner. Among its boatload of nav options, you can quickly search for POIs (points of interest) like eating establishments, gas stations, intersections, entire cities, and even just some random country road. The touchscreen-mirroring worked much faster than I expected, without any weird pauses.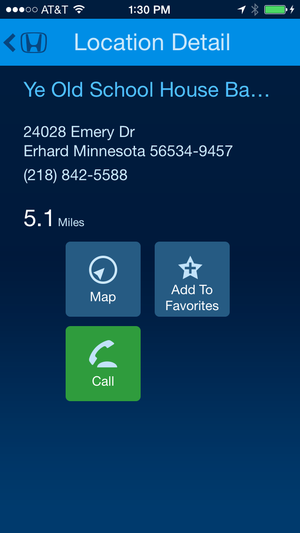 There were a few minor problems. When you first connect up, the iPhone shows you a prompt to allow the connection. That's a good security precaution, but also yet another thing to think about if you just put a cup of coffee between your legs, bantered with the kids in the backseat, hit the seat-warmer knob, and did whatever else you normally do to settle into the car. I'm happy to report, however, that I managed to connect without burning my thighs. Whew!
In a few cases, the touchscreen went mysteriously blank. Re-inserting the cable plug solved that problem.
Strangely, Queen Amidala would occasionally tell me she could not set a new destination because it was "too close" to my current location. When queried, Honda could not replicate my experiences. (It might have been something wrong with my phone.)
The HondaLink app works exactly the same as most built-in GPS systems but costs far less. It's a better fit for the Civic crowd, who might prefer this bring-your-own app model to thousand-dollar upgrades. (The app works in the Civic EX, the Hybrid, Natural Gas, and Si.)
It was hard to say goodbye to the Queen, though. My next test will involve a German car whose stern, Teutonic intonations make me feel like I'm still learning how to drive. Achtung, baby!