BlackBerry is not going to bail out of the handset business, but needs to return to its enterprise roots to reverse its slide, according to CEO John Chen.
"We're committed to the handset business and we'll make it work," Chen said at a media briefing Thursday in New York.
Chen's comments about staying in the handset business clarified a statement he made earlier to Reuters, which carried a news report Thursday that quoted him saying, "If I cannot make money on handsets, I will not be in the handset business."
BlackBerry's years-long dominance of the enterprise handset market succumbed to the popularity of iOS and Android. Worldwide shipment of devices with the BlackBerry OS totaled 19.2 million in 2013, falling by 40.9 percent compared to 2012, with a market share of just 1.9 percent, according to IDC. BlackBerry was behind Android, which had a 78.6 percent market share, Apple's iOS at 15.2 percent and Windows Phone with 3.3 percent.
BlackBerry is looking to put recent handset and OS struggles behind it and is increasing focus on enterprise services and premium handsets. Customers want the BlackBerry of old, Chen said.
High-end focus
"We need to make sure they get it. If they still want that, they will have that," Chen said.
The next big phone launch for the company will be the BlackBerry Z3, which will initially be out in Indonesia.
The company isn't abandoning the consumer segment with its high-end smartphone focus, but it won't go into the low-end, Chen said.
"This is not about trying to do a $79 phone [with] Android and try to beat up against Chinese manufacturers [like] Xiaomi or whatever. That's not what I'm looking at," Chen said.
Consumer handsets could be years away, Chen said, adding that the company first wants to get its financial house in order and develop a set of solid enterprise services.
"If you can win the enterprise back, you can sell more to the day-to-day consumer," Chen said.
The company is reducing the cost and improving the efficiency of manufacturing phones. Manufacturer Foxconn helps BlackBerry "buy parts cheaper," Chen said.
"There's multiple components on the handset business," Chen said. "There are things that we look at—warranties, spare, repair, support, scraps—we've got great people looking at every single [component] of what makes up a dollar. Literally, we go down that path."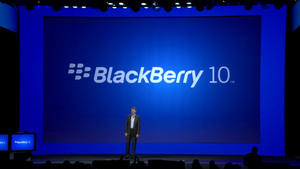 BlackBerry is moving some of those hardware savings to software and services. The company is enhancing mobile device management, enterprise mobility management, security, productivity and messaging software. Software and services add value and could prompt more users to buy BlackBerry devices, Chen said.
Is the future BlackBerry Messenger?
One of BlackBerry's successes is BlackBerry Messenger, a voice and text messaging tool that works with BlackBerry OS, iOS, Android, and will soon come to Windows Phone. The software is feature rich, but the company acknowledged it needs improvements.
"We have a complicated user interface, particularly in the invitation and registration process. We are working very hard right now and our next releases will focus around simplifying that user interface," said John Sims, president of global enterprise services at BlackBerry during the media briefing.
The company is building its global infrastructure to support mobile software and services, and also plans a professional services division to help in cloud and mobile-device deployments, Sims said.
BlackBerry has been the subject of acquisition talks in the past, but company executives said they are confident that an enterprise focus will aid in growth after years of struggles.
"We're going to build high-end phones for the enterprise customer. We talk about regulated industry, we talk about verticals, we're going to continue to push on that," Chen said.