From the bold vibrancy of its new Start screen, to its new digital assistant, Cortana, Microsoft's new Windows Phone 8.1 establishes itself as a top-tier smartphone platform.
And that's critical—especially for an operating system currently holding a market share of less than 4 percent among U.S. smartphone buyers (though to be fair, it's more popular elsewhere). That's not to say it leaps ahead of Apple's iOS or Google's Android, but neither is it markedly deficient in any one area—although it could always use more, higher-quality apps.
What's even better? You don't need to twiddle your thumbs, waiting for your carrier to push Windows Phone 8.1 to your phone months down the road. You can sign up for Windows Phone Preview for Developers—yes, you, a mere consumer—and receive the same bits as the carriers receive, as well as any updates. (Note, however, that you may void your warranty, and you may not receive device-specific drivers right away.)
For those less adventurous, Windows Phone 8.1 will be available to all Windows Phone 8 devices, including the Nokia Lumia line. But you'll likely have to wait a month or two for your carrier to vet the new, free update.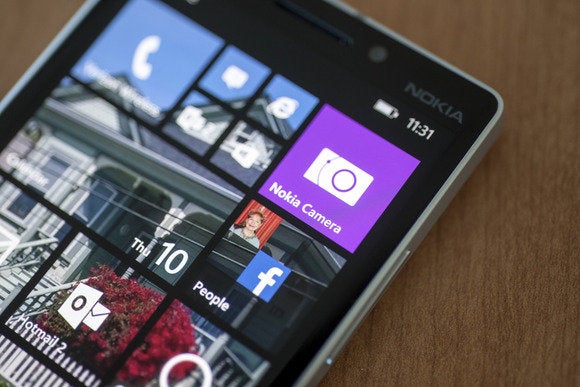 Windows Phone 8.1 gets personal
Windows Phone 8.1 wants to be your personal operating system. Live Tiles will peek through a screen background of your choosing. The new Cortana digital assistant adjusts itself to your needs and priorities, even screening your calls. And when something of import crops up, a notifications pull-down screen summarizes what you need to know. That barely scratches the surface of the upgrade, but the sum of all the parts is this: a palpable warmth about Windows Phone 8.1 that truly sets it apart.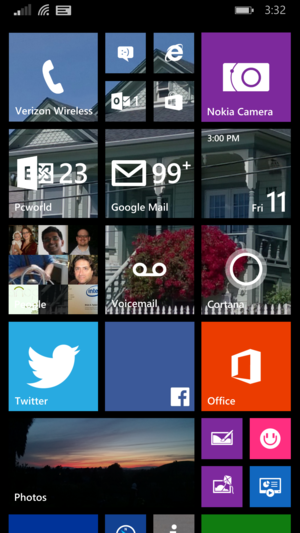 If there was any knock on the Windows Phone 8 Start screen, it might have been that it was too electric. Every Live Tile was brightly colored, many with embedded information scrolling through. There was no obvious focal point.
In all fairness, some of those problems still remain. But my god, the upgrade's beautiful. And personalized.
On iOS 7, the home screen is a matrix of flat icons. Microsoft redesigned its Windows Phone 8.1 Live Tiles so that on the Start screen, some would be transparent windows overlaid on a background image of your choosing. You can place a People tile that rolls through photos of your contacts. You can set another tile to flash photos from your Camera Roll. You can pin music, specific people, and even websites to the Start screen, all of which can serve updates.
Some might say it gives the Start screen more of a manic look and feel, but the personal touches make the difference. The Start screen could be just a sterile assembly of code and silicon, but instead, it's a vibrant, incredibly welcoming front door.
On my Nokia Lumia Icon test unit, supplied by Microsoft, Windows Phone 8.1 allows three columns of large Live Tiles. If there's any criticism to be made here, it's that the opacity of the tiles themselves is arbitrary—I couldn't find a way to enable or customize them.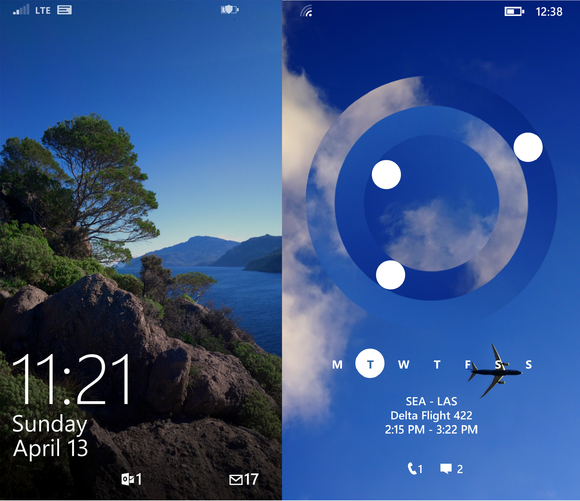 The lock screen is also customizable to some degree. You can set any number of apps to display on the lock screen, along with the time, date, your next appointment, and the number of unread emails from multiple accounts. Eventually, Microsoft will publish a lock-screen customization app (announced at its recent Build conference), allowing Windows Phone users to create the sort of radically different launcher experiences that Android users can download. But it's not quite ready, a Microsoft spokeswoman said.
Cortana: Microsoft's first digital assistant
Cortana, Microsoft's first digital assistant, is the most dramatic innovation of the Windows Phone 8.1 upgrade. Cast in the mold of Apple's Siri or Google's Google Now, and still in beta, Cortana is designed to answer questions and perform simple tasks, such as playing music, setting reminders, or providing directions.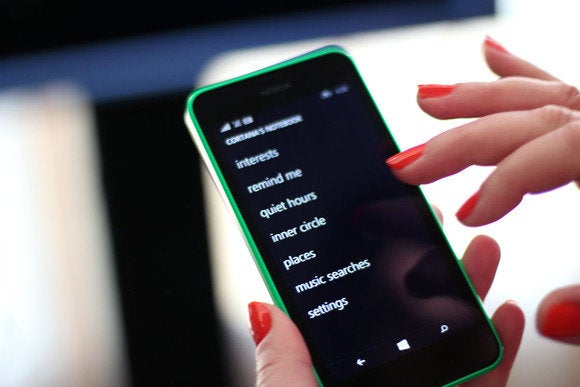 When setting her up, you're asked to provide a list of topics she can track for you, providing ready updates. You also have the option of letting her peer into your email inbox and other aspects of your digital life, to improve her usefulness to you.
Windows Phone 8.1 offers three ways of accessing Cortana: as a Live Tile, as an app, and by holding down the Search (magnifying-glass) button on the phone itself. The first two methods generate a Cortana screen that includes some brief snippets of headlines. The third takes you directly to a voice-driven interface, where Siri asks and answers questions in a somewhat robotic, female voice.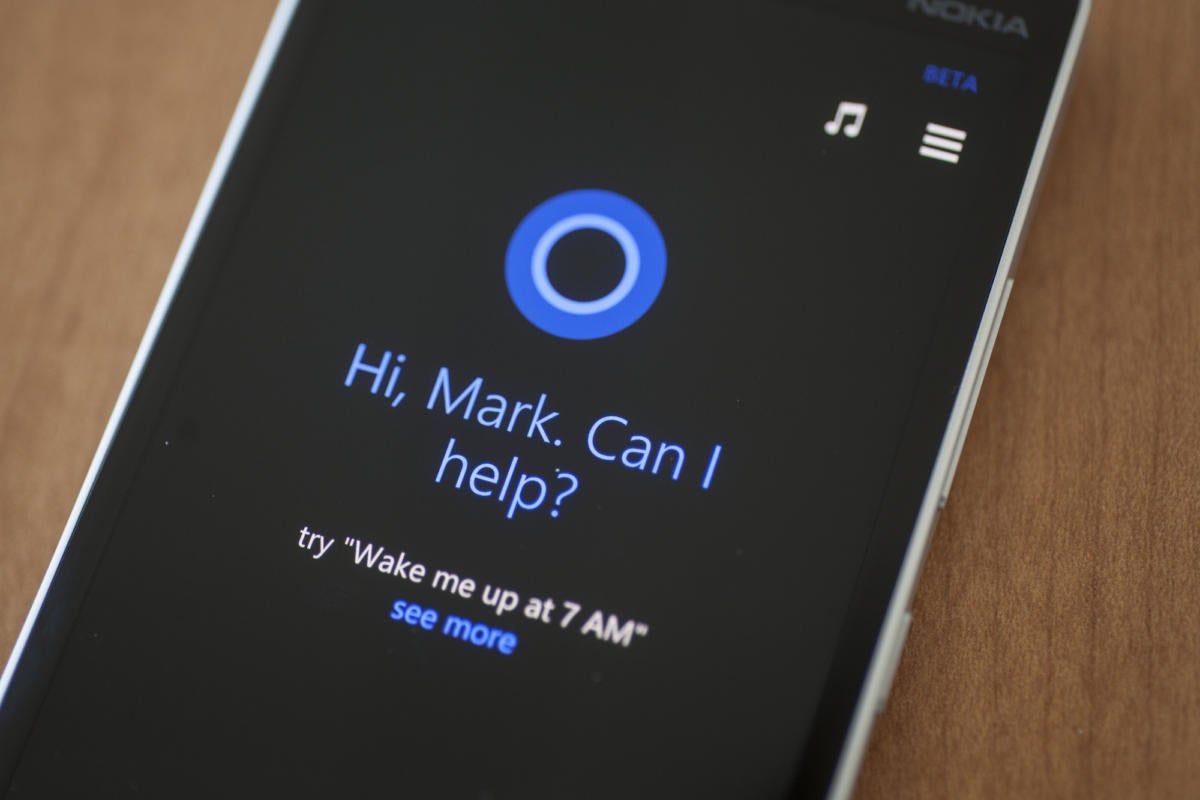 How good is Cortana so far? That's one question we answered for ourselves, pitting Cortana against Google Now and Siri. For a beta, Cortana's already looking good, and she should only get better.
Word Flow: It works even for sloppy writers
Windows Phone 8.1 also includes Word Flow, essentially Microsoft's version of Swype (which was bought by Nuance in 2011). Like Swype, you can, well, swipe across the keyboard instead of trying to find the keys.
Quite frankly, I'm horrible at type-by-swipe. My individual fingers know the keys, but when my index finger begins wandering around the screen, it inexplicably loses track of which key is where, and I end up trying to peer around my moving index finger like an idiot. Fortunately, Word Flow was designed with my incompetence in mind. It works. Surprisingly well, in fact. I can use Android's own type-by-swipe keyboard reasonably well, but I noticed a small improvement while using the Windows keyboard.
Keep reading: Automatic Wi-Fi sensing, better camera and calendar apps, and more
Wi-Fi Sense: Not quite as good as promised
Windows Phone 8.1 ships with Wi-Fi Sense, a new app that, according to Microsoft, will automatically sign you into all of the free hotspots found at coffee shops and airports. In addition, you'll automatically share your own home Wi-Fi credentials with friends.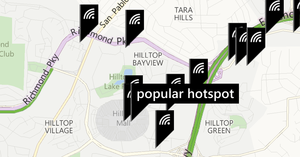 In practice, Wi-Fi Sense is great for logging you in after you've arrived at a location. Loitering outside Starbucks, a local Marriott hotel, or a random office building never logged me in automatically—not once. But after manually accepting the terms of service at a free Starbucks hotspot, I was able to return and connect automatically. (This is probably for the best: You wouldn't want to connect automatically and unwittingly to a "honeypot" Wi-Fi access point that's out to snatch your data.) Wi-Fi Sense maintains a map of local open hotspots, a convenience that was also in Windows Phone 8.
There's also an improved Data Sense, where you can set limits for your cellular data use. It can also instruct your phone to restrict background data in certain situations. Data Sense can cut consumption by 45 percent by compressing HTML and Javascript and slightly degrading the quality of downloaded images; or by 70 percent through more aggressive compression, as well as blocking some ads. I didn't test this, but it's a nice addition for those with prepaid plans.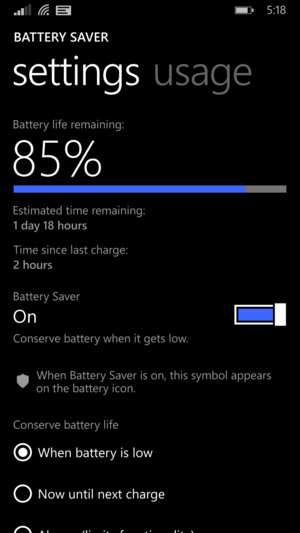 Both Data Sense and the new Battery Saver app track data and power consumption, respectively, on an app-by-app basis. They're both well thought-out and organized.
Battery Saver also provides a "time remaining" estimate before your phone runs out of juice, something I'd like to see on other platforms. Naturally, there's an option to conserve the available battery, which kicks in automatically when the phone is at 20-percent charge or lower. At that point, your phone drops into standby mode, accepting calls and texts, but syncing email and other apps only manually. It's at least conceptually similar to the ultra-low-power mode added to the Samsung Galaxy S5, but without the special power-sipping, black-and-white formatting.
You can also prevent a given app from running in the background by manually turning off those features.
Action Center notifications: A bit TMI?
Within Windows Phone 8, the Start screen's Live Tiles were the primary source of communicating information, such as the number of unread emails. With Windows Phone 8.1, that's augmented by a new Action Center notifications pane that can be pulled down from the top of the screen, even from the lock screen.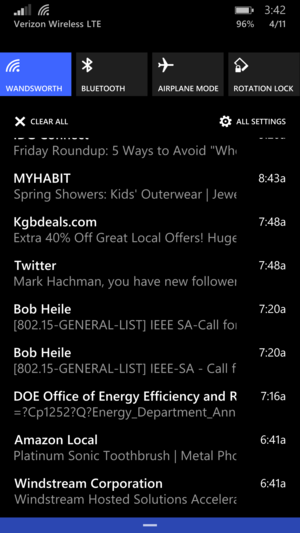 At the top of the pane are four icons: the local Wi-Fi router (if one is connected), a Bluetooth toggle, an "airplane mode" toggle, and a rotation lock toggle. You may replace them with other functions, such as the camera. Apps have the option of swapping in their own icons, too. There's also a small link to the Settings page, plus a "Clear All" control. As it turns out, the latter's rather important.
By default, the Notifications pane displays what appears to be every email you've received that day, from multiple accounts. On my device, that means my personal Gmail and Outlook.com accounts, as well as my work email filtered through Exchange. And that's not counting the score updates from my MLB At Bat application. That's a lot of scrolling. In this regard, Google's Android does it better, with miniature tiles that let you drill down for more information.
Camera improvements: Stealing a page from Nokia
Given that practically every Windows Phone is made by Nokia, which offers its own Nokia Camera app, Microsoft's efforts to improve its Camera software might seem wasted. But Microsoft's decision to eliminate Windows licensing fees from small-form-factor devices clearly is aimed at attracting a new wave of low-cost hardware partners.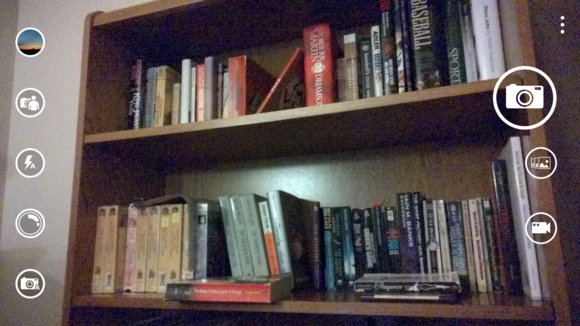 The Windows Phone 8.1 Camera app offers a new burst mode, a virtual necessity on hardware like the Icon, which is plagued by shutter lag. The Camera app now includes "lenses," connections to third party apps like Twitter or 4Blend HDR. There are also new scene modes, including optimized settings for closeups, night shots, night portraits, sports, and backlit scenes. But you still won't find the degree of customization available from Nokia Camera, which makes virtually everything manually accessible (including shutter speeds of a second or more). If you own a recent Lumia phone, use Nokia's app—which will automatically launch if you hold down the camera button.
On the other hand, the Windows Phone Camera Roll will now organize your photos by date, location, and even activity, rather than the chronological order they defaulted to previously.
New People hub favors those with phone numbers
If you have an iPhone, you can speak to friends via voice or FaceTime. Now that Skype has been integrated natively, you can do the same in Windows Phone 8.1.
Skype is now always active on your cell phone, too. Personally, I've never been a fan of trying to hold a video conversation on a wildly moving cell phone. It also appears that simply calling an Android user with Skype installed on their phone (and active) doesn't allow one to upgrade the call from voice to Skype.

Integrating Skype also means that your database of Skype contacts will now be pulled into the People hub, which aggregates your contacts from Outlook, Gmail, Skype, and elsewhere.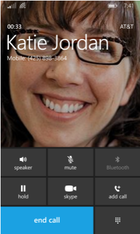 But there's a catch: On Windows Phone 8, Microsoft pulls your contacts from all of the possible connected services. But on Windows Phone 8.1, some of my contacts didn't make the trip.
Why? Because, by default, Windows Phone 8.1's People hub won't show contacts that don't have phone numbers attached to them. That's a big change from Windows Phone 8, and one that caused me a bit of angst as I tried to track down what happened.
Granted, I can see the point: By connecting Facebook, Twitter, and LinkedIn, you can end up with a ton of somewhat meaningless contacts. To add contacts from those networks, you'll need to visit the Email + accounts submenu in the Settings.
Internet Explorer 11: New views and features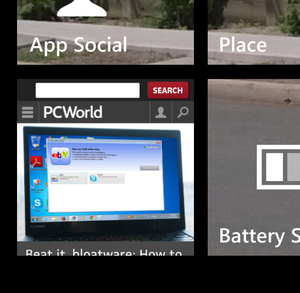 Windows Phone 8.1 adds Internet Explorer 11, which most users simply will think of as "the browser." IE11 brings a host of improvements to the table: Reading View reformats websites into clean, ad-free pages. InPrivate provides (mostly) anonymous browsing. A High Savings Mode trims data consumption and is linked to the new Data Sense app, as one of many performance enhancements. As mentioned previously, you can now pin websites to the Start screen as Live Tiles and watch them dynamically update over time.
Calendar, Messaging and Email improvements
Some Windows Phone 8.1 aim to satisfy business users, including the addition of VPN support and a "workplace account" to create a portion of the phone that can be managed by an enterprise. Unfortunately, my employer, IDG, minimizes this, so I could not properly test it, nor could I connect to my workplace VPN. Email now includes S-MIME encryption support.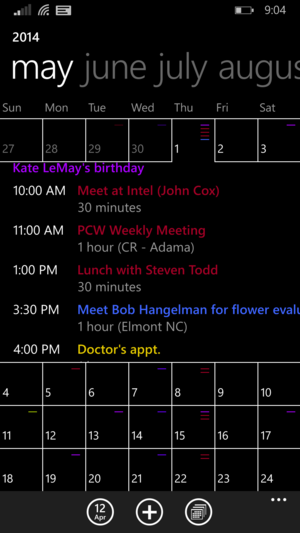 The Calendar app does a nice job of straddling your work and business life by simply combining calendars from Outlook, Exchange, Google, and others, pulling in birthdays from Facebook, and displaying each in different colors. Microsoft added daily weather data, too, although it's not clear whether it's keyed to the location of those meetings.
While you can set Calendar appointments via Cortana, there's still room for improvement. Note to Microsoft: please consider adding some sort of "travel buffer" between appointments, so that salespeople and other mobile teams have an idea of how many meetings they can physically pack in a day.
Finally, it's worth noting that you can now "mute" an SMS chain between you and someone else, in case you're busy or someone is simply bugging you. You can also delete the SMS message chain altogether.
Windows Phone keeps getting better
While the Windows 8.1 Update for PCs introduced a number of improvements, it all felt like Microsoft was fidgeting, trying to fine-tune the computing experience to appease its most irate critics. The updates to Windows Phone 8.1, by contrast, feel far more fundamental. Yes, the latest iteration of Android, KitKat, pushed Google's Voice Search and Google Now into the forefront. Apple's iOS7 added notifications and a redesigned user interface. So we've seen this before—it's Microsoft just playing catch-up, right?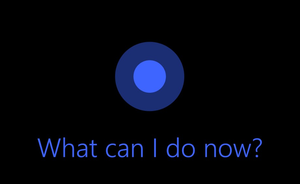 Yes, to an extent. But with Windows Phone 8.1, Microsoft has built significantly onto an already-decent OS, and other pieces are falling into place: Microsoft's continued courting of developers, the imminent assimilation of Nokia, and Microsoft's recent commitment to universal apps spanning Windows and Windows Phone.
Neither Apple nor Google should be worried that Microsoft's app ecosystem is going to overshadow theirs anytime soon, and that's the remaining challenge for Windows Phone as a platform. But Microsoft now has a firm foundation—a welcoming operating system with enough technical chops to attract both consumers and developers. This is the new reality: Microsoft can finally compete alongside Apple and Google, in what is now a three-way race.