When Microsoft discontinued support for Windows XP last week, along with it went one of Microsoft's popular browsers, Internet Explorer 8. But ne plurez pas, mes amis: IE8 lives on—as a French pizza.
Yes, from the land that gave us Marcel Marceau and museums stuffed with human bones, meet the IE8 Explorer pizza from Speed Rabbit Pizza. And lest you think the Internet Explorer connection is somehow coincidental, Le Journal Du Geek reports that it is a "edition limitee" (limited edition) pizza that somehow has hung on since 2009, when it was first introduced.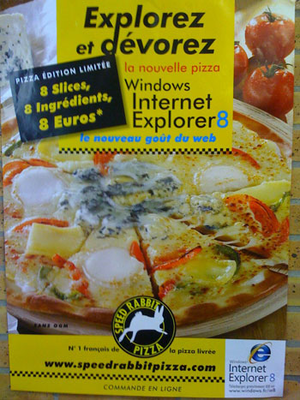 So what's in this pizza? Sour cream, mozzarella-cheddar cheese, reblochon cheese, blue cheese, goat cheese, slices of fresh tomatoes, red peppers, according to the company. While it sounds delicious, the accompanying picture makes me long for one of our West Coast specialties, if not a traditional Chicago deep dish. (And as someone who has lived overseas, the versions of "pizza" that the English and French come up are a little weird. Who needs corn on their pizza?)
It would have been nice if the IE8 Explorer had been bundled together with the purchase of a new Windows XP PC. But, of course, that may have been unlawful under the EU's statutes of the time. In any event, the introductory 8-euro, 8-slice offer has long been rescinded. It looks like the minimum price for a Speed Rabbit IE8 special is 11.90 euro ($16.44) with options for larger pizzas (plus cheese or meat-stuffed crusts) pushing that upwards of 24 euro, or at least $33.
Unfortunately, our attempts to contact Speed Rabbit (in French and English) have come to naught, so we're not quite sure if Speed Rabbit plans to end "support" for this new pizza soon, or if it will live on in terms of "custom support packages". And it also causes one to wonder what Speed Rabbit would have added to a Firefox, Opera, or Safari pizza. (Any guesses?)
But leaving aside the fact that IE8 is still supported on Windows Vista (because, seriously, who uses Windows Vista?) we can all mourn the fact that Windows XP—and IE8—are dead. But every wake needs a meal, and what better way to soak up all the beer?