Universal Windows apps will bring with it universal pricing—which, at least for the Windows Store, will mean the option of lower prices for all. And it's live now.
On Monday, Microsoft added $0.99 and $1.29 pricing tiers for the Windows Store, price points for apps that should be familiar to those who own a smartphone. Technically, the pricing is part of a new "consolidated pricing structure," which is a follow-on to Microsoft's new universal apps strategy.
Universal apps were announced at Microsoft's recent Build conference. The premise is simple: Write an app for Windows and Windows Phone alike, using as much common code as you can. Historically, Microsoft's code base and developer tools for the Windows and Windows Phone platforms have been widely divergent, but they've crept closer together over time. Eventually, Microsoft hopes, developers will be able to code for either Windows Phone or Windows and allow the app to run on other platforms, including the Xbox, with minimal tweaking.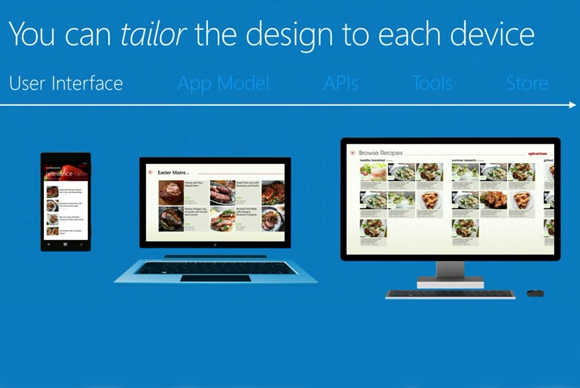 According to Alan Meeus, a product manager with Microsoft, the first universal apps will begin rolling out with the launch of the Windows Phone 8.1 version of the Windows Store—which technically opened up with the launch of the Developer Preview of Windows Phone 8.1 on Monday. At Build last week, Meeus said Microsoft was working with several top-tier developers on universal apps, but he would not say who.
"When we release Windows Phone 8.1… we will be sharing 95 percent of the APIs between Windows Phone and Windows 8.1 Update," Meeus said. Some of the more fringe APIs will be released at a later date, he added. Notifications and push services into the cloud will also converge, as will capabilities tied to a user's Microsoft ID, such as OneDrive access or Wi-Fi passwords.
A consumer will be able to buy a game on his Windows Phone, and if the publisher allows it, the consumer will also be able to buy it on his tablet or his PC, Meeus said. That's one advantage.
"But it's also not just the app," added Brad McCabe, another product manager for Microsoft, at Build. "The state can be saved through the cloud. So the same game that you play to level 200 on your phone, you go home and pick up your tablet or PC or whatever devices, now you can pick up on level 200, play a little bit, and tomorrow you pick up on your phone and you just keep going. It doesn't matter what device."
The corollary is that Microsoft expects app pricing to "simplify," which means a fewer number of price points. More importantly, apps which developers price at either the $0.99 or $1.29 price tier represent 55 percent of Windows Phone paid transactions today, the company said.
"The marketplace is converging from the sense that the user can experience one marketplace, although technically speaking, we still have to market both," Meeus said.