Free Wi-Fi aggregator Fon is hoping to boost the popularity of its network with the Gramofon, a router that integrates music streaming. The first service to be added is Spotify, but more are on the way.
Since it was founded in 2006, Fon has been working to build a crowd-sourced network of hotspots, where users share their broadband connection via Wi-Fi and in return get free access to other hotspots around the world.
For that to work users need a special router that creates two separate signals—one private and one public. The Gramofon is the latest compatible router and was launched on Tuesday via Kickstarter. It costs $30 and will start shipping in July, assuming the project is successful.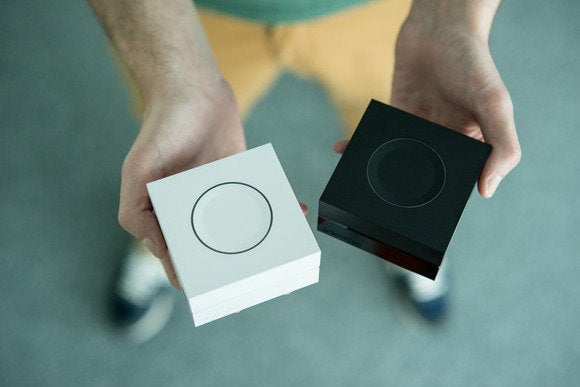 For the Spotify integration to work the router has to be connected to the Internet and to a stereo. Unlike with Apple's Airplay, the user isn't dependent on their smartphone or tablet for the streaming to work. The mobile device is used to choose what music to play, but after that users can leave their "apartment to run errands, and when they are back an hour later, the music will still be playing," according to Fon's FAQ on Kickstarter.
Friends on Facebook and Google can also control the music by logging on to the user's Wi-Fi network using their social networking credentials. The initial version won't allow users to block friends from selecting music on their Gramofon, but FON is working to add that feature.
In addition to Spotify integration, Fon has worked with Wahwah Networks to develop a streaming radio service for the Gramofon. At first, it will only work in the U.S., Spain and Brazil. The company also plans to integrate the Gramofon with music services from Amazon, Deezer, Google, Rdio and Soundcloud, for example.
The router is powered by a chip from Qualcomm, which Fon started working with and got financing from earlier this year.
The Gramofon can be connected to the Internet via an existing Wi-Fi network or a modem and an ethernet cable. The router will ship with a 3.5 millimeter audio cable and an RCA adapter for connecting it to a stereo system.
There is no digital audio connection, according the FAQ. Also, there is no way to connect speakers wirelessly with the Gramofon, but Fon tells prospective users to "stay tuned."
The Kickstarter project will run until May 15 and Fon's goal is to reach $250,000.