At a Glance
Expert's Rating
Pros
Fast Intel Atom processor
Crisp 1900-by-1200-pixel display
Excellent build quality
Cons
Lower-than-average battery life
Awkward I/O port locations
No digitizing pen or keyboard-case options
Our Verdict
Lenovo's ThinkPad 8 offers many advantages over competing 8 inch Windows tablets, including a faster processor, more storage, and a higher-resolution screen. But it comes up short when it comes to battery life and you'll want to add a mouse and keyboard for anything more than web browsing and simple email.
Sure, you can now use Microsoft Office on an iPad, but you can run Office and just about every other productivity app on a Windows 8 tablet. And while many of those devices have all the same specs, Lenovo is banking on its ThinkPad 8's faster CPU, higher-resolution display, and business-like styling to earn a coveted spot on your desk.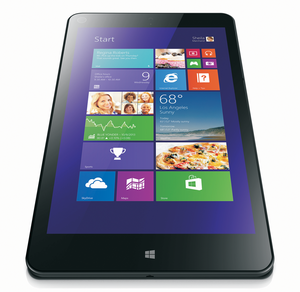 Where 8-inch competitors such as the Toshiba Encore 8 and the Dell Venue 8 Pro max out at a resolution of 1280×800 pixels, the Lenovo ThinkPad 8 goes all the way to a desktop-like resolution of 1900×1200. That high pixel density—around 270 pixels per inch—results in very crisp, clear text and video. Business documents are readable no matter how fine the fine print.
You needn't be concerned that desktop elements will appear unusably tiny at this resolution. The desktop scales to 200 percent by default, which makes icons and thumbnails look about the same as they would on a 1280×800 display. That's large enough that I can navigate the OS with my fingertip while holding the device. When I'm sitting at my desk with a Bluetooth mouse and keyboard, I'm comfortable with scaling set to 150 percent, so I can see more content at once.
Display brightness is good at both ends of the spectrum. I could read outside in bright sunlight and in the dark without burning my eyes out. The sound emanating from the stereo speakers near the bottom is decent for a tablet of this size. You won't fill a boardroom with an amazing audio presentation, but you'll annoy your next-cube neighbor just fine.
Where's the pen?
Given Lenovo's collaboration with both Wacom and N-trig on previous ThinkPad tablets, I had hoped to see an active digitizer in a business-oriented ThinkPad tablet. I've used Windows tablets in my studio for years, and the ability to mark up PDFs with a pen was a large part of what I did all day. I tried a capacitive stylus with the ThinkPad 8, but it didn't work well in either OneNote or Windows.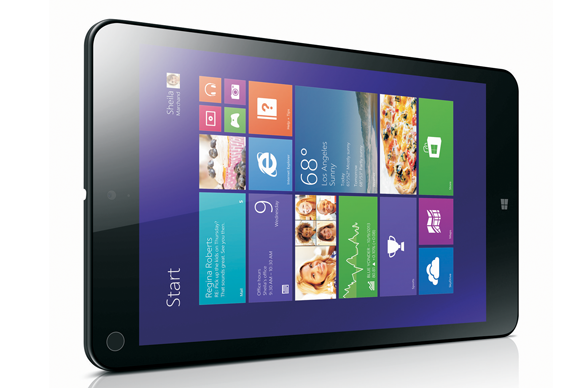 Lenovo beefed up the ThinkPad 8 by including a quad-core Intel Atom Z3770 processor, instead of the lesser Atom Z3740 found in most of its 8-inch competitors. Like those devices, it comes outfitted with 2GB of memory, but it offers twice as much standard storage—64GB—and you can upgrade to 128GB for an additional $140.
Benchmark performance
When we benchmarked the Thinkpad 8 with PCMark 8: Work, Lenovo's tablet slightly outperformed tablets with Intel's Atom Z3740 processor, but it fell slightly behind the Atom Z3770-powered Dell Venue 11 Pro. (That device has an 11-inch screen with resolution of 1920×1080 pixels. It earned a PCMark: Work score of 1404, to the ThinkPad 8's 1378.) In my usage, the ThinkPad 8 handled everything I threw at it, including some more intense desktop programs, but it just didn't leave me as impressed as the Venue Pro 11 (which is far more versatile in terms of its optional accessories).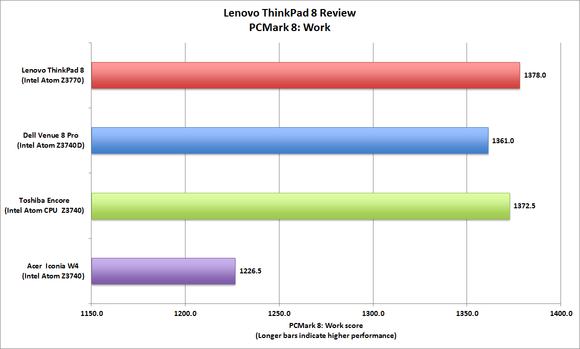 The ThinkPad 8 also fell behind in battery life, likely due to its higher-resolution screen and faster processor. The Thinkpad lasted 6 hours and 48 minutes in our battery-rundown test, well behind the nearly 9 hours of Dell's Venue 8 Pro or the whopping 10 hours of Lenovo's other 8 incher, the Miix 2. A day of reading left me with low battery, needing to plug in by late afternoon.
A well-built tablet
The ThinkPad 8's build quality is on par for the brand, meaning it's solid and feels like business-class hardware. The top side is fabricated from aluminum, with a rubber edge to soften its feel, but I wish Lenovo had carried that material around to the back of the tablet. The ThinkPad 8 is comparable in thickness and weight to the Dell Venue 8 Pro (0.35 inches and 0.95 pounds respectively), though its longer screen makes it chassis just a little larger (8.83 inches, compared to 8.5 inches for the Venue 8 Pro). But the ThinkPad 8 has none of the chunk factor of the 64GB Toshiba Encore (which weighs 0.98 pounds); it's comfortable to hold in one hand.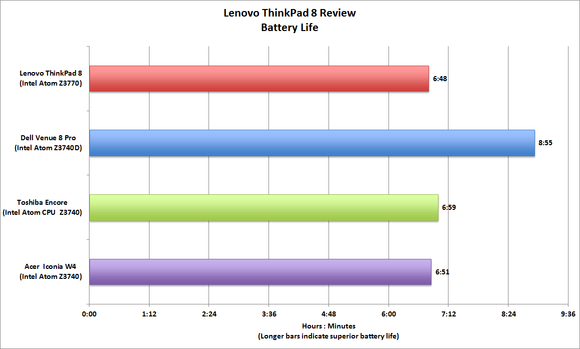 There's a capacitive Start button beneath the display, and a front-facing two-megapixel/1080p camera above it. The 8MP/1080p camera on the back is a nice bump from the more typical 5MP rear camera. But the physical volume and lock buttons on the right side (with the tablet in portrait orientation) are recessed a little too deeply into the frame and are difficult to locate by touch.
I/O ports, meanwhile, are scattered haphazardly around three sides: The mini USB 3.0 data and charging port is on the right, the micro-HDMI and micro-SD card slots are on the left, and the headphone jack is on the bottom. If you want to plug in a monitor and external speakers or headphones while you charge the ThinkPad 8, you'll be stuck in upside-down portrait mode.
Cover up
Lenovo's optional Quickshot cover ($35) is terrific. It's similar to Apple's Smart Cover for the iPad, in that it connects to the left side of the tablet via magnets, and it functions as a stand that puts the ThinkPad 8 into "tent" mode for hands-free viewing. Fold down the back corner to expose the rear camera lens, and the tablet automatically goes into camera mode. Unfortunately, the micro HDMI and micro SD card slots are also on the left side, so the cover blocks them. Fortunately, the cover is easy to remove when you do need them. Aside from these small annoyances, I highly recommend that anyone buying a ThinkPad 8 toss a Quickshot cover in their shopping basket, too.
The ThinkPad 8's $399 starting price is about $100 higher than the average 8-incher, but you get more processor power, more storage, and higher resolution than those machines deliver. Lenovo also offers a $499 SKU that comes with Windows 8.1 Pro, which adds management features your corporate IT department will appreciate, but you'll give up a free copy of Microsoft Office Home and Student to get it.
The shorter battery life and the lack of digitizer pen options are disappointing; in fact, those shortcomings knock the ThinkPad 8 out of the getting-work-done category for me. But those factors might not be showstoppers for you, and I didn't let my personal needs factor too heavily in my final rating.