At a Glance
Expert's Rating
Pros
Works with almost any phone
Offers complete access to phone contents
Our Verdict
MOBILedit offers complete mobile phone management from your PC. It's more expensive than alternative programs, but you definitely get what you pay for.
You might think of your smartphone and your PC as two entirely separate entities, never needing to cross paths. Or, perhaps you use the desktop software that comes free with your phone, finding that it meets all of your syncing needs. However you choose to sync—or not sync—your smartphone, MOBILedit should have you rethinking your decision. This comprehensive tool offers almost everything you need to manage your smartphone from your computer.
MOBILedit works with almost any kind of mobile phone, from the most basic flip model to today's most advanced smartphones. It connects to your handset via USB, Bluetooth, or IrDA. Before connecting your phone, you'll need to install the phone's drivers to your PC, but this step is clearly explained during the installation process. MOBILedit also connects to Android phones and iPhones via Wi-Fi, though to do so, you'll need to install a mobile app on the device—and this is where I ran into my first minor snag. MOBILedit clearly instructs you to install the "MOBILedit Connector" from your phone's application market, and while it's easily located in Google Play, you won't find any such app in Apple's App Store. There, it's called "MOBILedit Lite," and it wasn't immediately apparent that this was the app I needed to setup a WiFi connection. Once that issue was resolved, I had no problems connecting my phones (I tested it with an iPhone 4S, a Motorola Droid Bionic, and a Samsung Galaxy) to my desktop via MOBILedit.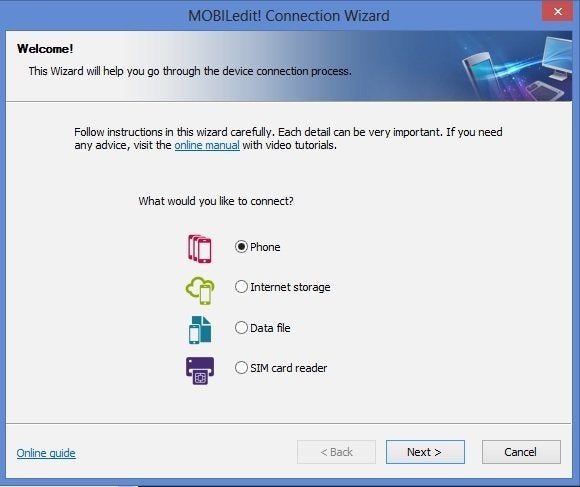 The ability to connect an iPhone via Wi-Fi is new since the last time I looked at MOBILedit, and it's a welcome addition. The other major change in this latest version, 7.5, is the completely redesigned interface, which now features dark colors and Windows 8-like tiles that allow you to access its features. At first, I wasn't thrilled with the redesign, as I was happy with the lighter aesthetics and the column-based layout found in previous versions. But after spending some time using MOBILedit, I realized that the design changes make the application easier to use.
Once your phone is connected to MOBILedit, the application allows you to browse through the contents of your mobile device. Want to view your text messages or call logs from the spacious real estate of your computer screen? Click on the "Call Log" tile or the "Messages" tile and you're all set. Want to transfer photos from your phone to your desktop? Click on the "Media" tile and you can browse through all of the photos and videos stored on your phone. MOBILedit lets you back up the complete contents of your phone and allows you to transfer that backup to another device. You also can use it to install applications on, and transfer multimedia content to, your phone.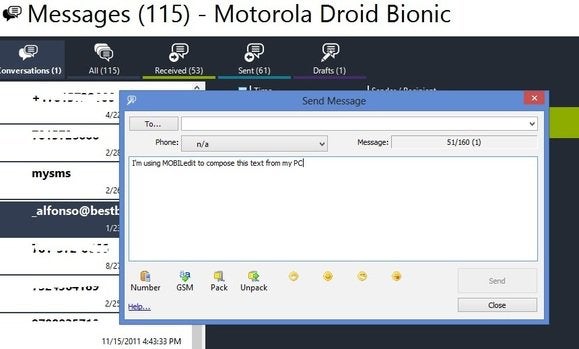 iOS users who have been stymied by iTunes' restrictions will appreciate the freedom MOBILedit offers, but the experience remains somewhat limited. Because of Apple's strictures, MOBILedit can't access everything stored on your iPhone. It couldn't, for example, access all of my contacts, which MOBILedit says is due to a limitation of the Apple synchronization API. This it too bad, because MOBILedit's ability to help you clean up and de-duplicate your contact list is one of its most useful features. Still, MOBILedit offers plenty of features that iTunes lacks, including the ability to view and edit your iPhone's calendar, text messages, apps, notes, and more.
MOBILedit Lite is free, but is limited to read-only functionality with two phones. The $25 Basic version adds the ability to write your data to another phone—helpful if you're using MOBILedit to transfer data to a new device. The $35 Family version offers all of the application's features and five phone activations. Note that connecting a phone via WiFi and then via USB counts as two phone activations, so the Family version is a worthy investment if you plan on using it with one than one device. MOBILedit is more expensive than iTunes and the free software that comes with your phone, but you get what you pay for, as it's a whole lot more powerful, too.