At a Glance
Expert's Rating
Pros
Good protection
Two-way firewall
Credit/identity protection
Cons
Lacks premium features you expect from a "full" suite
Pricing is not competitive after promotional period
Our Verdict
Extreme Security offers top-tier protection but lacks the cross-platform and mobile support that are becoming common in similar suites.
Chances are, when you need a security suite you first look to the big players: Symantec, Kaspersky, McAfee, or Trend Micro. But Check Point's ZoneAlarm Extreme Security is a full suite that offers protection on a par with those brands: In independent tests, ZoneAlarm managed almost-perfect protection, excellent performance, and just one false positive.
ZoneAlarm Extreme Security ($54.95 for one year of protection on up to three devices) provides robust antivirus protection along with extra features such as parental controls, identity protection and credit monitoring, social media scanning and protection, and a Find My Laptop feature that lets you locate and remotely access your lost or stolen device. ZoneAlarm also has its own private browser, as well as a special Game Mode that minimizes interruptions while gaming. However, it lacks some of the bells and whistles that are becoming common in other similarly priced suites, such as cross-platform and mobile support and password management, features you'll find in McAfee All Access and Trend Micro Titanium Maximum Security.
Design
Extreme Security doesn't have the most attractive interface, but it is intuitive and informative. At the top of the main window, a green checkmark indicates your protection status. Beneath this are three touchscreen-ready "zones": Antivirus & Firewall, Web & Privacy, and Mobility & Data. Each zone includes bullet points indicating what feature set it covers (for example, Antivirus & Firewall lists Antivirus, Firewall, Threat Emulation, and Application Control). To access a zone, simply fingertap/click it.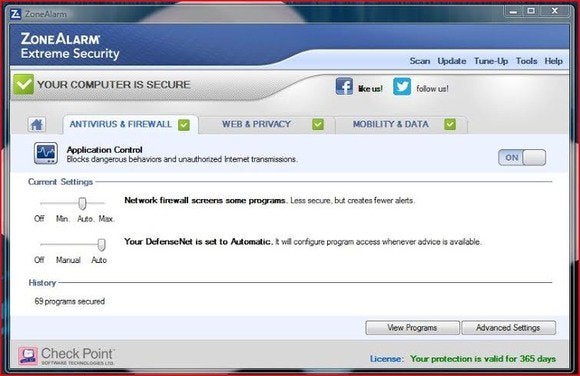 Inside each zone is a straightforward menu with toggle buttons for turning key features on and off. Each feature has its own settings menu, including advanced settings. Unless you know what you're doing you probably want to avoid the latter, as there's little explanation for what each advanced setting does.
The interface can get a little cluttered at times—especially when you duck into the settings menus, and displaying the "Like us!" and "Follow us!" buttons for Check Point's Facebook page and Twitter account seem like overkill.
Protection and performance
ZoneAlarm has some compelling antivirus features, including "Advanced Real-Time Antivirus"—basically, a constantly-updated cloud database of antivirus signatures—a two-way firewall, protection against hidden files in email attachments and downloads, and anti-keylogging.
We consulted protection and performance data from AV-Test, an independent security testing lab. AV-Test tested Check Point's ZoneAlarm Extreme Security in January 2014, using Windows 7 Ultimate with SP1.
According to AV-Test's results, ZoneAlarm protected against 100 percent of threats in its real-world testing scenario, which involves pinging the product with 64 malicious URLs. ZoneAlarm also performed well in AV-Test's prevalent malware—or "malware zoo"—test, with a detection rate of 99.06 percent against over 11,000 sample files.
AV-Test also evaluates for false positives and potential performance impact. ZoneAlarm Extreme Security only flagged one false positive in a scan of 386,287 safe files. On a performance-impact scale of 5-25, with a lower score indicating less impact, ZoneAlarm Extreme Security scored a 7. This indicates you shouldn't see reduced speed in typical actions such as starting up, shutting down, and downloading and installing programs.
The bottom line
ZoneAlarm lacks some the fancy features that are becoming standard on similarly priced suites, such as support for mobile devices. But Check Point has focused its efforts on improving the protection factor of its product, and it delivers on its promise of "extreme security."