Reader Jackolyn wrote in with this question:
"I am the newsletter editor for our church newsletter and Excel is driving me crazy with its KARTIKA font. Each time I try to type info in a calendar cell, Excel defaults to KARTIKA."
Vexing! Somehow, Excel's default font setting got changed. Obviously you can manually choose your desired font each time you start a new worksheet, but that's a hassle.
In Word, you can change the default font via the font settings window, which is logical. However, when you access the same area in Excel (which you can do by pressing Ctrl-Shift-F), you'll find no such option.
Fortunately, it's not difficult to make the change if you know where to look. (Note that this info applies to Excel 2010 and 2013; I'm not sure if it's the same in earlier versions.)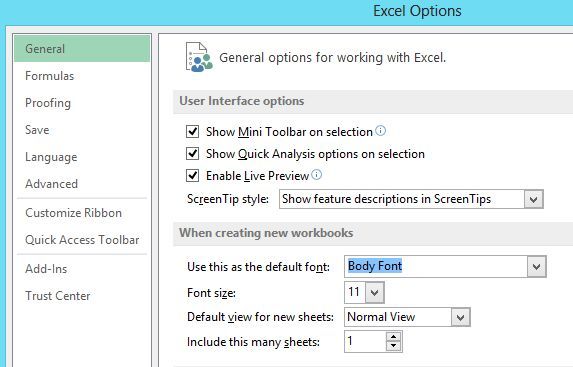 1. Start Excel and open any new or existing workbook.
2. Click File, Options.
3. In the General section, look for "When creating new workbooks." The very first option: "Use this as the default font." Choose the font you want, then click OK. (You an also modify the default font size if you want.)
Presto! Now, whenever you start a new workbook, Excel should default to that font. Easy-peasy.
Contributing Editor Rick Broida writes about business and consumer technology. Ask for help with your PC hassles at hasslefree@pcworld.com. Sign up to have the Hassle-Free PC newsletter e-mailed to you each week.
Note: When you purchase something after clicking links in our articles, we may earn a small commission. Read our affiliate link policy for more details.
For more than 20 years, Rick Broida has written about all manner of technology, from Amigas to business servers to PalmPilots. His credits include dozens of books, blogs, and magazines. He sleeps with an iPad under his pillow.