Google's already got your base search needs covered within its ad-supported walls: Its Knowledge Graph offers quick hit search results for simple things such as currency conversions, current temperature reports, or basic biography data, while card-based Maps results go so far as to show you the phone number and open hours for any business you search for.
But sometimes, you need more info than a simple grab-and-go provides. Google says that around 10 percent of our daily info needs require lengthier explanations, and to help us find that deep information, the company will now surface three high-quality articles in its first page of search results on a number of broad topics.
The new section is named, appropriately enough, "In-depth articles." The idea is to provide "thoughtful in-depth content" that remains relevant long after its publication date, according to a Google blog post.

Google's in-depth search results appears to be a takeoff on Google News, which has offered in-depth news articles inside its topic clusters for some time. In fact, Google's in-depth search results are probably mining Google News for its results since—as its name suggests—the in-depth results are news articles and news-related blog posts. You won't, for example, find Wikipedia entries or information pages from government websites.
Going in-depth with Google Search
Seeing in-depth articles in your search results depends largely on the keywords you use in your query as well as your search topic. For example, Google says its in-depth results are focused on broad topics and not people. In our tests that did not appear to be a firm rule, however, and searches for certain people did yield in-depth results.
We didn't find any in-depth results when searching for historical and current notable people such as Albert Einstein, Benjamin Franklin, Bill Gates, or George Washington. Even a search for the Curiosity Rover didn't yield any in-depth results; however, searches for Bill Clinton, Eisenhower (minus the "Dwight D."), Abraham Lincoln, Barack Obama, and George W. Bush did. Outside of the Oval Office we also saw in-depth results for Steve Jobs and Elon Musk.
Interestingly, when we did our searches again for Bill Gates and the Curiosity Rover using just "Gates" and "Curiosity" respectively we ended up with in-depth results for both.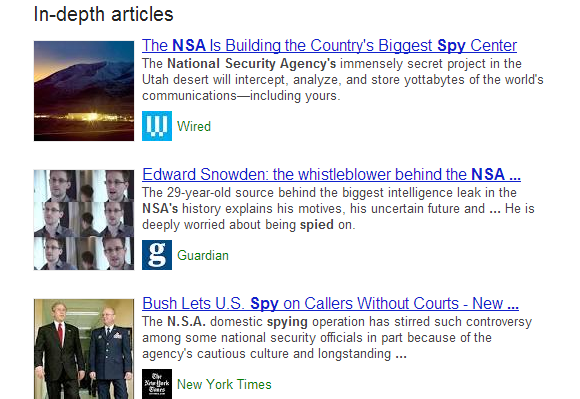 Aside from the occasional hits on notable people, topics are more likely to yield in-depth results. We had no problem finding results for broad or semi-broad topics like "racism in America," "NSA spying," and "space exploration."
Again, these topics appeared to show in-depth results because they are related to current events. When we ran searches for "Higgs boson," "human digestion," and "proper running form," none returned an in-depth section.
When in-depth articles do appear they are placed towards the end of the first search results page, so you'll have to scroll down to see them. In-depth results are separated from the regular search links, in a block of three listings flagged with the previously mentioned "In-depth articles" heading.
As promised, in-depth results can range from blog posts that appeared yesterday to news articles that are nearly a decade old. Our search for "NSA spying" gave us Wired's March 2012 article about the NSA's Utah data center, The Guardian's article from June revealing Edward Snowden as the NSA whistleblower, and The New York Times' 2005 article on the Bush administration's warrantless wiretapping scandal.
In-depth results for "racism in America," by comparison, didn't show any recent articles. Instead, Google offered a Boston Globe article from 2007 about how racism might affect health, an article from 2011 in The Nation about racism and elections, and a Newsweek poll from 2012.
Overall, the new in-depth section is a handy way to find some relevant information when you hit the right combination of keywords and research topic.
Google's in-depth results are only available in Google.com in English for now, and all English users can expect to see the update hit in the next few days. The search giant did not say when international Google search pages such as Google.co.uk and Google.com.au would see the new feature.