Large parts of a public Wi-Fi network built by Google in Mountain View, California, don't work properly and, according to local residents, haven't worked for months.
Google Wi-Fi was launched in August 2006 as one of the first public wireless Internet services in the U.S. and was intended to provide free service across the city that Google has called home since 1999.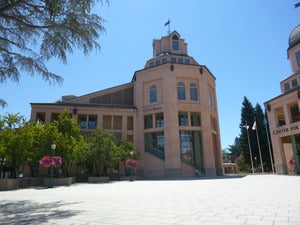 It was the forerunner to later Google forays into Internet provision, like its Google Fiber service, now in Kansas City and soon in Austin, Texas, and Provo, Utah. Google also just signed on to replace AT&T as the supplier of Wi-Fi service to U.S. Starbucks coffee shops. The Starbucks service begins rolling out this month, and Google promises service that is ten times faster than AT&T.
The network served Mountain View residents, businesses, and visitors successfully for years. Google renewed a five-year agreement in 2011 to provide the service. But in 2012 service quality dropped considerably.
"We started noticing it in very large files, things like operating system updates, but now it's on files as small as 500 kilobytes," said Rajiv Bhushan, chief scientist of pharmaceutical startup Livionex and a long-time user of the network.
"In December is when it really, totally broke, and that's when I switched to a for-pay service," he said.
Complaints about connectivity aren't difficult to find. An online forum established to provide customer support is full of messages bemoaning the lack of service.
A recent test by IDG News Service resulted in a total failure to get a working Internet connection at a dozen sites around Mountain View, including in the city's main downtown area and directly in front of Google's headquarters. (Google's on-campus guest network on the other hand provided a blazing fast connection.)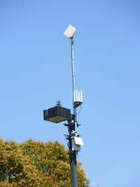 There was never a shortage of Wi-Fi signal and connecting to all the nodes was fast, but that's where things ended. The vast majority of attempts didn't even get as far as the log-in screen, which requires signing into a Google account to connect. It was true on both a smartphone and PC.
Google won't say much about the problems on the Wi-Fi system, but the company acknowledges the network is overloaded and not working properly.
"We're aware of the problem, and we're trying to do right by Mountain View," said Jenna Wandres, a Google spokeswoman. "We're in conversations to try and come up with a better solution."
Lack of service isn't universal. Despite the online complaints and IDG's experience, at least one user said Google Wi-Fi continues to supply a useable signal.
Randolph Directo said he's been using the service without major problems for the last few months, but did have to turn his directional Wi-Fi antenna a few months ago when the base station closest to his house stopped working.
"About two or three weeks ago, [the access point] came back to life, so I re-aimed my antenna accordingly. Since then, my connection to the network has been healthy," he said.
Mountain View responds
The city of Mountain View said it's also aware the Wi-Fi network is no longer functioning well.
"The system was built seven years ago and was not designed for the data demands and volume of wireless devices in service today, including smartphones and tablets," said Kimberly Thomas, who works in the city manager's office.
"Google is considering a number of options to provide free Wi-Fi in the city. No specific proposal has been presented, and no decision on the direction has been made at this point," she said.
Both Google and Mountain View were unable to say when city residents and visitors might once again be able to enjoy a reliable free wireless Internet connection, but the matter has been the subject of several meetings so far this year.
The agreement governing the Wi-Fi network, a copy of which was seen by IDG News Service, specifies that Google needs to provide "unbundled high-speed wireless connectivity to the Internet for residential, business, and mobile customers" but doesn't specify any minimum quality of service. An April 2011 amendment to the contract gives Google to option to end service with prior notice to Mountain View and for the city to take over the infrastructure.