Surprise! There's a next-generation Surface RT tablet in the works, and Nvidia is involved.
Following a quarter in which Nivida beat analyst estimates yet failed to deliver on the mobile front, Nvidia chief executive Jen-Hsun Huang spoke to CNET, confirming that the company still has clout.
"Now we're going to bring it with the second-generation Surface," Huang told CNET. "We're working really hard on it, and we hope that it's going to be a big success."
Microsoft representatives declined to comment, and Nvidia spokesman Ken Brown also declined to comment beyond Huang's comments. Huang's comments did not clearly indicate whether Huang was speaking of the Surface with Windows RT, or the more expensive version based on Windows 8, aka the Surface Pro.
Brown said that Nvidia's silicon didn't appear in the current Surface Pro, "so make what you will of that," he said. The current Surface RT uses a quad-core Nvidia Tegra 3 chip.
Nvidia reported a profit of $96.4 million or 16 cents per share on revenue of $977.2 million for the quarter, as profits fell 19 percent and revenue was down 6.4 percent from a year ago. Nvidia had said in April that it had adjusted its Tegra mobile chip schedule to try and pull in the Tegra 4i, a mobile chip that also integrated LTE baseband technology. Unfortunately, the change in plans hurt Nvidia: Tegra revenue was just $52.6 million, down a whopping 70.7 percent from a year ago. Nvidia showed strength in its other graphics segments, incluidng the desktop PC, workstations, and an emerging class of high-performance computing servers.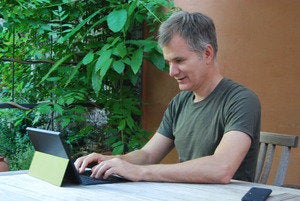 Meanwhile, Microsoft's Surface has struggled. Last month, Microsoft recorded a $900 million charge against earnings for the Surface tablet, although sources said at the time that the Surface RT tablet wasn't dead. This week, Microsoft also cut the price of the Surface Pro by $100. Microsoft representatives declined to say whether the tablet price cut had been accommodated in the writedown.
However, PCWorld found some devoted fans of the Surface RT, some of whom said that they would buy another Surface RT tablet in the future.