The Lync unified communications (UC) server belongs to that long list of Microsoft enterprise software products that began as a modest offering dismissed by competitors and years later evolved into a solid option for IT departments.
Largely dismissed as a nonthreat by competitors when it first arrived in 2003 with the name Office Communicator, Lync today has positioned itself as a product that demands attention from enterprises looking to upgrade or adopt a UC platform.
"In the UC landscape, Lync is absolutely a real competitor. It has a full feature set, a customer base, channel partners," says Henry Dewing, a Forrester Research analyst. "Microsoft can deliver the UC services that businesses want today with Lync."
The product, whose latest version is Lync 2013, includes presence, instant messaging, Web meetings, audio chat, video conferencing and IP telephony.
In the crowded UC market, it competes against offerings from vendors including Cisco, IBM, Avaya, Siemens, Alcatel-Lucent, Mitel and ShoreTel.
However, Lync isn't being hailed as a product that stands out from the rest in any significant way nor that is blazing trails of innovation in this UC market.
"It's a good, competitive, traditional UC tool," says Zeus Kerravala, founder and principal analyst with ZK Research.
Mobile Access Biggest Chanllenges for Lync and Other UC Systems
For example, the UC market is hobbled by poor interoperability between products, especially at the IM and presence levels, Kerravala says.
In addition, UC systems provide access to a partial subset of the collaboration and business software people use, according to Kerravala.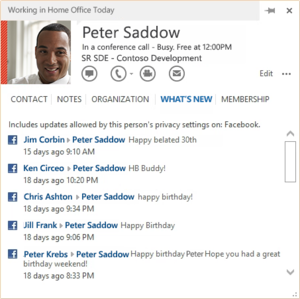 Moreover, despite improvements in mobile access to their software, no UC vendor can claim to have a fully mobile-centric approach to UC today, he adds.
A vendor that makes a breakthrough in those three areas could disrupt the UC market and distance it from the competition, Kerravala says.
Until then, the adoption, engagement with and benefits of having a UC system will remain impacted.
Dewing concurs, saying that UC systems need to provide what he calls "deep business process integration" so that they are available in the context of the tools people work with on a daily basis, such as ERP and CRM applications.
"That's where UC has to get," he says.
Bern Elliot, a Gartner analyst, says it's critical for UC systems to deliver an end-user experience that is intuitive, cohesive and integrated.
"The productivity doesn't happen because now you have video and IM and presence and you can do video conferencing. The productivity is there because all those things are readily usable by your average worker," he says.
Microsoft Says Lync-Skype Integration Will Bring Business Value
Microsoft is satisfied with its recent improvements in the Lync mobile client applications for iOS, Android, Windows 8 and Windows Phone, and says it will continue enhancing them on a rolling basis, according to B.J. Haberkorn, director of product marketing for Lync at Microsoft.
"We've dramatically improved those clients," he says.
Haberkorn also touts video communications improvements in areas like image quality, device support and management of sessions.
With Lync 2010, Microsoft said it beefed up the product's IP telephony capabilities to the point where enterprises could use it to replace their traditional PBXs, and in Lync 2013 those features were further refined, Haberkorn says.
Microsoft has also focused on providing APIs to application developers and on building partnerships with hardware vendors to port to and integrate their products with Lync.
Looking ahead, Microsoft is working hard on integrating Lync with Skype, its consumer IM, audio/video chat and IP telephony product.
The first phase is completed, allowing Lync and Skype users to add each other to their contact lists, see presence information, exchange text IMs and do audio calls. Video conference and other features will be integrated later.
Elliot calls this Skype integration a potentially transformational improvement for Lync.
The Lync-Skype pairing can allow Lync customers to connect with their clients, partners and other outside parties who are on Skype, which has hundreds of millions of users worldwide.
"It creates a next-generation dial tone," Elliot says.
It's still early to anticipate all the use cases and ramifications of this Skype-Lync integration, but the potential for real business value is there, he says.
"For example, it would let you have customers and partners included in your enterprise collaboration teams, and in your enterprise support teams, so it would let you shift from a customer support model to a customer partnership model," Elliot says.
Microsoft is also taking steps to scale Lync up from the desktop with its Lync Room System. In partnership with vendors like Polycom and Crestron, Microsoft is aiming at bringing Lync to conference rooms and thus compete more closely with vendors that provide telepresence systems like Cisco.
Another frontier Microsoft is pursuing is the cloud. There is a version of Lync, called Lync Online, in Office 365, the public cloud suite hosted by Microsoft. Lync Online has most of the capabilities of the Lync Server, except for the IP telephony, which Microsoft has said it plans to add. However, enterprises can buy the full featured Lync Server and have it hosted in a dedicated cloud by Microsoft partners including AT&T and HP.
L.A. Fitness and Sprint Bet Big on Lync
In February, Microsoft announced that it had hit 5 million seats of enterprise voice, up from 3 million in late 2011, and that 90 of the Fortune 100 companies were Lync customers.
Among those making big bets on Lync is L.A. Fitness, the health club chain, where about 25,000 employees use Lync for every UC function—from IM to telephony.
"Lync has been a huge hit for our company," says George Bedar, the L.A. Fitness CIO.
The company started with the product about four years ago, in the R2 version of Office Communicator, and Bedar has been happy with the way the product has been expanded and enhanced.
In the 2013 version, he highlights performance, redundancy and stability improvements on the back end, enhanced mobile clients for iOS, Android and Windows Phone, and better video quality.
Bedar also likes that Lync is intertwined in various ways with Outlook/Exchange, SharePoint and Office, which are all Microsoft products that L.A. Fitness uses broadly.
Lync is also widely deployed at Sprint, where about 50,000 use it for IM, presence and online meetings, including 25,000 that also use it for IP telephony.
Lync has helped Sprint, which began using the product in 2007, to eliminate about 500 traditional PBXs it had company-wide, according to Chris Peasley, Sprint's manager of enterprise communications systems.
Sprint has also found great value in the improvements to the mobile clients, as well as in the back-end enhancements, and in the synergies between Lync and other Microsoft products like SharePoint and Outlook/Exchange, he says.
Is Lync Right for Your Environment?
According to Gartner's Elliot, it's most common for Lync to be deployed in environments that are already heavily into Microsoft.
"We see Lync being strong where a Microsoft portfolio is being advanced broadly," he says.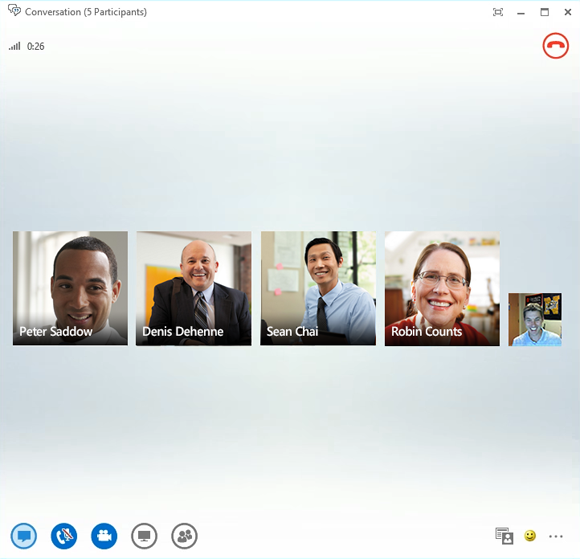 Likewise, Lync may be less attractive in environments that are committed to, say, IBM's collaboration and communication products, since IBM has its own Sametime UC component, or that are heavily invested on Cisco networking, IP telephony, video and collaboration wares like the Cisco WebEx and Tandberg products.
Lync is also a UC system that is tightly integrated with a communication and collaboration stack, which differs from other vendors whose offerings approach UC more strongly from other areas like telephony.
"The big question or criteria for choosing a UC system is which infrastructure are you better able to support? Which one will link most easily into your business apps and processes," says Forrester's Dewing.
IT departments should also determine the total cost of ownership (TCO) of UC systems, the difficulty in installing and integrating it and its present and future capabilities to be accessed from a broad variety of devices, he says.