At a Glance
Expert's Rating
Pros
Affordable price tag
Respectable benchmark performance
Expansion opportunities
Cons
Relies on integrated graphics
Poor gaming performance
Mediocre (and nonwireless) PS/2 mouse and keyboard
Our Verdict
The Gateway DX4870-UB2C is an old-school midtower desktop that delivers respectable productivity performance and lots of storage for an appealing price.
Desktop PCs come in all shapes and sizes these days, but Acer's Gateway DX4870-UB2C is pretty old-school: A midsize desktop tower, it delivers solid—but not spectacular—productivity performance and 1TB of hard disk storage for a modest $550; however, you must provide a monitor, and headphones or speakers for audio.
That profile makes it a good candidate for a student (it's no coincidence that it appears during back-to-school season) or anyone on a budget who might have a display and audio gear from a previous system. In fact, the Gateway DX4870-UB2C (who comes up with these names, anyhow?) has an analog VGA port to accommodate the older LCD or (gasp!) CRT, as well as an HDMI port to accommodate a newer digital display (but there's no DVI or DisplayPort).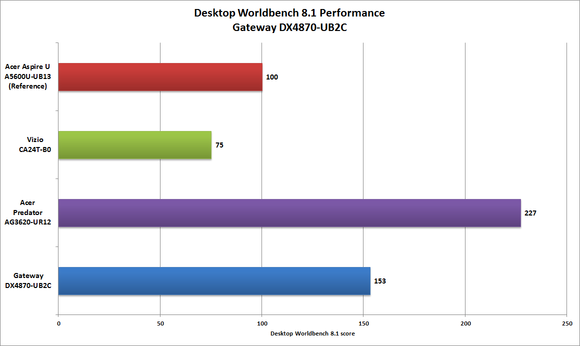 Outfitted with an Intel Core i5-3330 quad-core CPU, 8GB of RAM (expandable to 32GB), integrated Intel graphics, a 1TB (7200-rpm) hard disk, and Windows 8, the DX4870-UB2C scored 153 on PC WorldBench—well above the 100 score for our reference system (Acer's Aspire U all-in-one), but hardly stellar compared to scores in the 200s, 300s, and even 400s racked up by recent high-performance systems.
The lack of a discrete graphics card and a solid-state drive probably account for the poorest test results—in file compression, storage, and GPU-accelerated image editing, and—most tellingly—gaming. The DX4870-UB2C otherwise hovers in the middle of the pack on almost all benchmarks, and should capably handle any routine student or small-business tasks. Its power consumption was modest, another plus for cash-strapped and/or eco-minded buyers.
In appearance, the DX4870-UB2C generally observes the conventions of current midtower desktop design, with a top that curves upward toward the front, ending in a protruding edge affording easy access to microphone and headphone jacks, a memory card reader, and a couple of USB 2.0 ports. The power toggle itself is adjacent in the center of the top edge.
A couple of covered bays reside beneath this ledge, the topmost of which contains a DVD burner that supports multiple formats (DVD-RAM/±R/±RW). The second bay is empty, providing room for expansion.
In the back are six more USB ports (two USB 2.0 and two 3.0), the aforementioned display connections, a gigabit ethernet port, and additional audio-in and -out ports. The motherboard has four expansion slots: three supporting older PCI Express x1 cards and one for the faster PCI Express x16 add-ons. You also get Bluetooth support and 802.11n Wi-Fi support on both the 2.4GHz and 5GHz bands.
The optical mouse and keyboard are both wired, however, and plug in to old-style dedicated PS2 ports on the top of the back. I would have liked to see wireless peripherals or USB at the very least. The keyboard felt cheesy, with somewhat wobbly action. But streamed video looked fine on a high-def HDMI-attached monitor, and the audio sounded great on a set of borrowed headphones.
Gateway's software bundle, which appears as a mass of tiles on the Windows 8 desktop, is decidedly consumer focused, including a couple of games and the usual trial versions of security apps. The presence of a couple of dictionaries and a link to the human-guided search engine ChaCha signal the obvious outreach to students. While these don't add significant value, I have to say I did enjoy my first game of Cut the Rope.
Overall, the Gateway shapes up as an affordable way to upgrade to reasonably current desktop components without spending a fortune to also acquire routine peripherals that you might already have. It may lack the svelte lines of a small-footprint desktop, but those machines tend to be significantly more expensive—and for everyday desktop use, the trade-off may well be quite acceptable for the intended audience.