Although most of the big changes in Windows 8.1 were announced in June, Microsoft is making a few more adjustments before shipping the update to users.
The changes appear in a leaked build, Build 9471, of the near-final version of Windows 8.1, as tested by The Verge. Along with the return of the Start button, better built-in apps, and more options within the modern-style interface, the changes should smooth out the learning curve of Windows 8.
In fact, Russian site PCPro claims that a related build, Build 9478, has now reached the Release to Manufacturing (RTM) branch, which could indicate that Windows 8.1 will soon be on its way to OEMs.
Within Build 9471, Microsoft's built-in apps such as Mail and Calendar now display a narrow bar along the top or bottom of the screen, with three dots on the right side. These dots signify additional menu options, which you can view by swiping from the top or bottom of the display, or by right-clicking on the screen.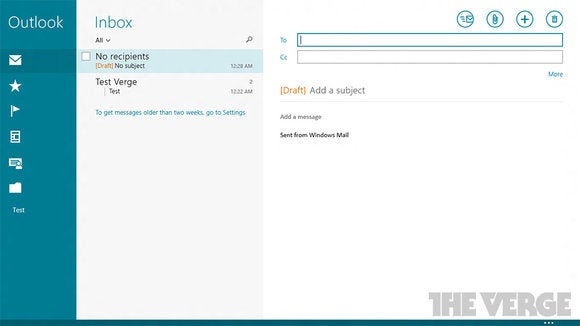 It's a subtle tweak, but one that lets users know when more options are available in an app. It also brings some continuity with Windows Phone, which hides menu options behind a "…" button. Hopefully third-party apps will be able to make use of this feature. Of course, you'll still have to swipe or click to see what those options are.
The other tweak to Windows 8.1 takes a more in-your-face approach. In certain built-in apps, Windows 8.1 will remind users to swipe from the right bezel to open the Charms bar, which includes a Start shortcut and other options. It's unclear, however, when this reminder will appear, and Microsoft needs to walk a fine line between helpfulness and intrusiveness.
Finally, the leaked build includes a glimpse at Microsoft's Help & Tips app, which was announced in June, but not included in the Windows 8.1 Preview. The app tells users how to navigate the operating system, explains features such as SkyDrive cloud storage, and describes all the options in the Settings app. Each section includes short animations, showing how to perform certain functions. A video from WinBetashows this tutorial in action around the 1:55 mark.
As PCWorld's Brad Chacos wrote in June, Windows 8.1 is a big improvement, but would have benefited from better UI hints for users. It seems that Microsoft realizes this and is trying to help users get more familiar with the Charms bar and menu bars.
We'll still have to see how it all comes together in the final version, which ships to PC makers this month according to ZDNet. The final version for existing users should arrive in the next month or two.