At a Glance
Expert's Rating
Pros
2560-by-1440-pixel IPS display
Blu-ray player
802.11ac Wi-Fi adapter
Cons
Absence of an SSD cache puts a damper on productivity benchmarks
Uncomfortable mouse and keyboard
Confusing display controls
Our Verdict
We dig the Haswell-class CPU and the powerful video card, but the absence of an SSD cache for the mechanical hard drive hurts the ET2702's performance on productivity apps.
Full HD displays are so last season. Asus's new ET2702 is the company's first 27-inch all-in-one to sport a quad HD display—that is, a display with a resolution of 2560 by 1440 pixels, instead of the usual 1920 by 1080 pixels. That higher pixel density makes a big difference when you're sitting merely 20 to 40 inches away from a 27-inch screen.
But there's more to the Asus ET2702 than just its screen. Our review model, which costs around $1899 as configured (as of August 14, 2013), sports a quad-core Intel Core i7-4770 processor (a member of the new Haswell family), 8GB of DDR3/1600 memory, a discrete graphics card (AMD's Radeon HD 8890A), a Blu-ray player, and a 2TB, 7200-rpm hard drive. In pricing, the ET2702 is on a par with comparable systems: It's more expensive than the $1440 Vizio CA27T-B1, which has a slower processor and a lower-resolution display, but it's about $200 cheaper than the Dell XPS 27 Touch, which has a lower-voltage version of the Core i7 processor (the Core i7-4770S).
Although the ET2702 boasts some impressive specs, it disappointed somewhat in benchmark performance. For instance, it earned a score of 174 in our Desktop WorldBench 8.1 benchmark tests. That's good—it means the ET2702 is 75 percent faster than our baseline model, the Acer Aspire U—but it's not fantastic, especially compared with the scores of other 27-inch all-in-ones we've reviewed recently. The Vizio CA27T-B1, which has an older third-generation Intel Core i7 processor, scored 179 on WorldBench 8.1. The Dell XPS 27 Touch, meanwhile, blew both the ET2702 and the CA27T-B1 out of the water with its mark of 262.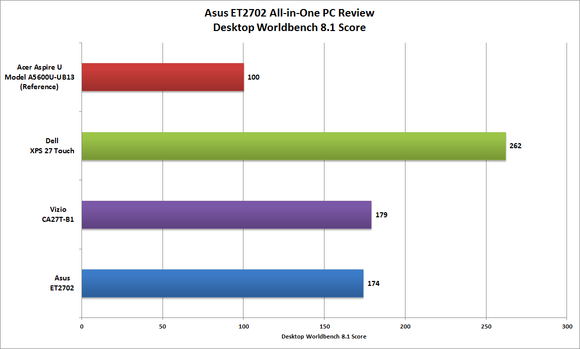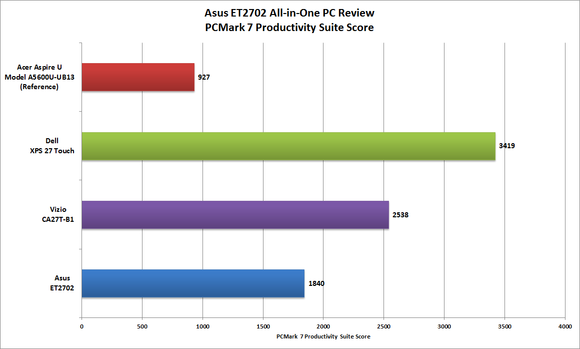 Those results don't mean that the ET2702 is a lousy computer. It actually delivers superior graphics compared to what Dell and Vizio are providing with their AIOs, and thus it is the best choice of the three if you're looking to play games. Whereas Dell uses Nvidia's GeForce GT 750M card, and Vizio relies on integrated graphics, Asus splurges on an AMD Radeon HD 8890A. In our Dirt Showdown test (resolution of 1024 by 768 pixels, with low visual-quality settings), the ET2702 managed an impressive frame rate of 131.7 frames per second. By comparison, Dell's XPS 27 Touch delivered 125.7 fps and the Vizio CA27T-B1 chugged along at a rate of just 54.4 fps on the same test.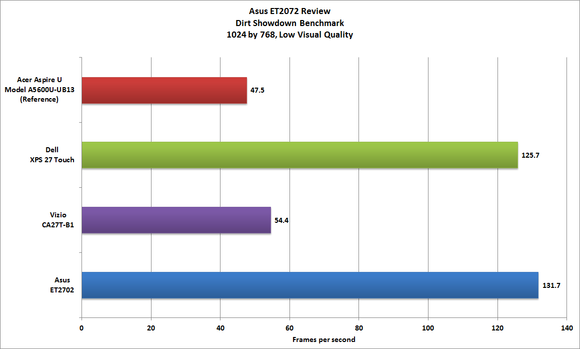 The ET2702 is also one of the few desktop systems we've seen to provide an on-board 802.11ac Wi-Fi adapter. If you're running a superfast 802.11ac router, this computer will take full advantage of it.
The Achilles' heel of the ET2702 is its storage subsystem: Dell and Vizio both include a 32GB solid-state drive as a cache for their machines' hard drives, whereas Asus does not. That cache makes a tremendous difference in many applications that involve frequent data fetches from storage. As a result, it affects many of the benchmarks that comprise our WorldBench 8.1 suite. Asus does provide up to a 128GB SSD on some other versions of the ET2702, but not on the model the company sent us (specifically, its model ET2702IGTH-B023K).
Even though the ET2702 doesn't have the best touchscreen display I've seen (that honor belongs to Dell's XPS 27 Touch), it does deliver crisp, clear text and images, as well as bright and accurate colors. Touch is especially nice on the ET2702: Multitouch gestures are smooth and accurate, not at all choppy as I've seen on some touchscreens. I also appreciate the bezel-free, edge-to-edge glass design, which makes it much easier to perform Windows 8 gestures such as swiping from the side or the top of the screen to access menus. I also enjoyed watching HD streaming video on the ET2702's screen, although I did notice visual artifacts and blurred details.
The rest of the ET2702 needs some work. This AIO looks appealing from far away, thanks to its sleek profile and brushed-metal accents, but Asus needs to make several tweaks for better usability. Four labels in the lower-right corner of the screen, for instance, identify touch-sensitive nubs below the screen for mode, volume up/down, menu, and brightness up/down. The nubs are confusing to use—I wasn't sure whether I was supposed to swipe, tap, or press them. They're also inconsistently sensitive, and generally they never did what I expected them to do. Tapping the volume nub, for example, changed the brightness.
The wireless peripherals, while attractive, are uncomfortable to use: The mouse is too small and square, and the keyboard sports superslick, soft keys. The adjustable stand barely tilts the screen 15 degrees, and the plastic door covering the side ports feels as if it will break within the first five uses.
The Asus ET2702 isn't a bad all-in-one PC, especially if you're a sucker for pretty screens, but it's not the best. The Dell XPS 27 Touch is faster and more attractive, and it suffers from fewer usability issues. And Dell's machine costs only $200 more.