Most ergonomic tech gear tends towards the practical. But Microsoft's new Sculpt Ergonomic Keyboard and Mouse may actually inspire some envy from design nuts as well.
Unfortunately, there's also some bad news: like the existing Sculpt Comfort Mouse (also re-released in a bundle on Tuesday), Microsoft's new Sculpt Mouse doesn't support left-handed mousing. And what day does Microsoft's new mouse launch on? Yes, International Left-Handers Day. Ouch.
Internally, Microsoft's new Sculpt Ergonomic Desktop ($80.95 for the keyboard, $59.95 for the mouse, $129.95 bundled together) has been code-named "Manta Ray," according to Suneel Goud, a product manager at Microsoft. It's easy to see why: the curved keyboard appears to swoop forward.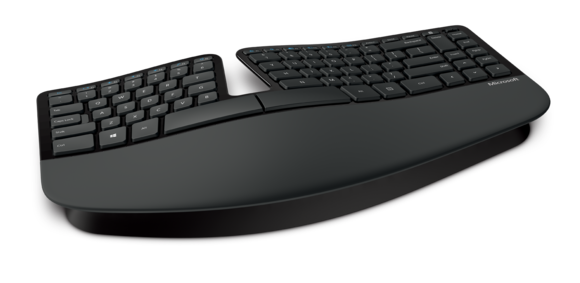 But Microsoft also has an agenda: keep workers happy, and they'll stay at their desks, happily tapping away at their Windows PCs. In this, the company has a natural advantage: typing on a glass tablet can be awkward even at the best of times, unless it's bundled with an ergonomic keyboard of its own. Although Microsoft is commonly known for its software, it has shipped mice since 1983, and Microsoft's Intellimouse is credited with the first scroll wheel.
Microsoft also released a survey, conducted with Kelton, a consultancy, claiming that four in five workers have experienced physical discomfort at work, with 25 percent of those blaming a keyboard as the source, with an additional 14 percent pointing to repetiive use of an external mouse.
Enter Microsoft's new Sculpt series, which positions the hands in what Microsoft says is a neutral position, with optional reverse-tilt angles. Although the keyboard ships with a number pad, it's detachable; a nifty feature that can save space or turn the number pad into a calculator-type device.
There are a couple of items to be aware of, however: first, unlike the previous Sculpt Comfort mouse and keyboard, the new Sculpt Ergonomic devices use a 2.4-GHz connection, not Bluetooth. A Microsoft spokesman said that this will eliminate any delays, however minor, in pairing the keyboard, but will require plugging in the included USB wireless dongle.
Second, the new Sculpt Ergonomic Mouse, is once again, built with right-handers in mind. Sorry, Bill Gates. Sorry, President Obama. You'll have to make do with the $30 Microsoft Sculpt Mobile Mouse—or a product from rival Logitech. Microsoft also warns that certain features might not be compatible with Windows RT; peruse this checklist to be sure. Battery life won't be an issue, though. Microsoft rates the Sculpt Ergonomic Mouse at a one-year lifespan; the keyboard, at three years; and the number pad at a full six years.

Like the Sculpt Comfort Mouse, the new Sculpt Ergonomic Keyboard and Mouse includes a Windows button, so that users can quickly leap between applications and the Start Menu, as well as a four-way scroll wheel. The keyboard features the split spacebar design of the Sculpt Comfort keyboard, with the option to reconfgure one of the spacebar keys to backspace.
As for the older Sculpt Comfort Mouse, Microsoft now sells the keyboard ($59.95) and mouse ($39.95) as a new bundle, known as the Sculpt Comfort Desktop ($79.95).
Unfortunately, it's difficult to move past the fact that both of the the two major mouse manufacturers—Logitech and Microsoft—sell ergonomic mice geared at right-handers. Granted, there are "neutral" mice that can be used by either hand; the Logitech LX8 was my favorite, until I lost the wireless dongle.
Microsoft's keyboards and mice have been rightfully praised for their ergonomic design, and the new Sculpt Ergonomic Keyboard appers that it will continue that tradition. But how ergonomic can a right-handed mouse be, for a lefty? As a lefty myself, I've dealt with scissors, desks, golf clubs, and gear shifts all designed for right handers. At least Microsoft has freed the number pad from the tyranny of righties. But releasing an ergonomic mouse for right-handers on Left-Handers' Day? It all feels a bit rude.