At a Glance
Expert's Rating
Pros
Powerful 4th generation Intel processor
Quiet, sleek and compact
Blu-ray burner
Cons
A single 256GB SSD for storage
Middle-of-the-road video card
Just one PCIe x16 slot (occupied)
Our Verdict
The HP Envy 700-030qe is an above-average computer that's reasonably priced.
HP's Envy product line gives the company's engineers an opportunity to break from building buttoned-down productivity machines and strut their stuff by crafting something that gamers and media mavens will appreciate. While you'll never mistake the Envy 700-030qe's cookie-cutter design for a custom-built rig from a boutique PC builder, this machine features the key components that enable it to run with that crowd, but at a far lower price point.
HP planted one of the world's most powerful CPUs in its Envy 700-030qe: Intel's Core i7-4770. A boutique vendor, on the other hand, would have sprung for the Core i7-4770K, the completely unlocked variant that begs to be overclocked. Actually, you can custom-order your Envy with that processor for an additional $150, but you'll inevitably want to spend more cash after the machine arrives (no matter which processor you choose) to update its negligible cooling system: The chassis is equipped with just a single fan.
Still, the Envy tore through our strenuous Desktop Worldbench 8.1 benchmark suite, producing a very good score of 352. That score not only marks the Envy 700-030qe as more than 3.5 times faster than our baseline system, Acer's all-in-one Aspire U M5-583P-6428, but puts it in contention with—you guessed it—systems from boutique vendors that are based on Intel's Core i7-4770K processor. Digital Storm's Virtue, for instance, earned a Worldbench score of 399.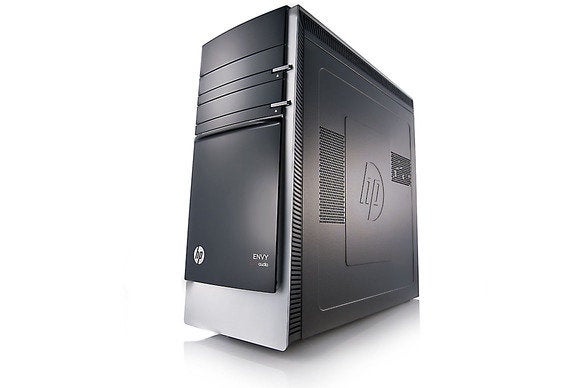 A PC needs more than just a fast processor to earn a high Worldbench score. The machine also needs plenty of memory, fast storage, and a strong video card. HP gets most of that right by packing in 12GB of DDR3/1600 memory, Nvidia's GeForce GTX 645 video card, and a 256GB SSD inside the Envy 700. The SSD is generously proportioned for a consumer rig, but that 256GB is all the storage HP provides. I'd recommend either springing for a second drive if you order one (you can order the Envy 700 with a 1TB drive as secondary storage for $90, if you want the entire system to be covered by HP's two-year warranty), or adding a second drive as soon as you unpack it (you should be able to find a 2TB drive for a few bucks more than what HP is charging, plus tax and shipping).
Our enthusiasm for the Envy 700 wanes just a little on the gaming front, which is ironic given the heritage of the Envy brand name (HP acquired it, along with the rest of the assets of luxury PC manufacturer Voodoo PC, back in 2006). The Envy 700's Nvidia GeForce GTX 645 is a decidedly middle-of-the-road video card. It's an OEM model with slightly better specs than the GeForce GTX 650 that you'll find at retail (it has 576 CUDA cores and 2GB of GDDR5 memory, versus the GTX 650's 384 CUDA cores and 1GB of GDDR5).
This GTX 645 doesn't support Nvidia's SLI dual-GPU technology, but that's a moot point because the Envy 700's motherboard has just one PCIe x16 slot anyway. The Envy 700's dinky 460-watt power supply unit might also get in the way of a future video card upgrade (you can order your system with an optional 600-watt PSU; that will add $70 to the system's price tag but will improve your future upgrade options).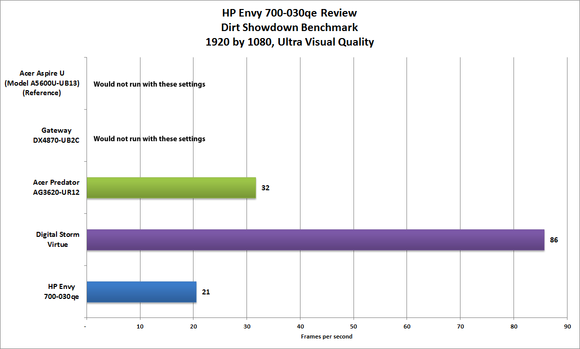 With the resolution in Dirt Showdown set to 1920 by 1080 and visual quality at Ultra, the Envy delivered an unplayable 21 frames per second. Digital Storm's Virtue, which is outfitted with a top-of-the-line Nvidia GeForce GTX 780 card, churned out 86 frames per second with that game at the same settings. (Our reference system, by the way, couldn't play the game at all at that resolution because it lacks a discrete video card.) When we dialed the resolution down to 1024 by 768 and reduced visual quality to low, the HP delivered the game at 134.5 frames per second, more than twice the minimum we consider to be playable. The system is pleasantly quiet, too.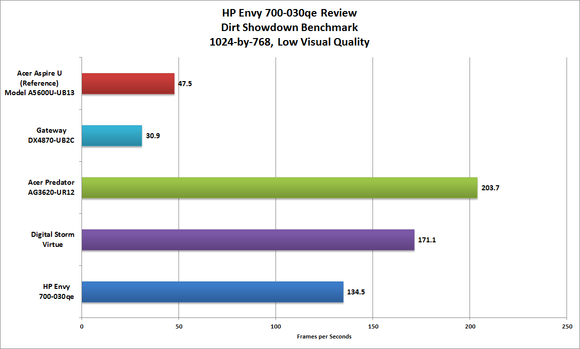 If your entertainment preferences run more to movies, HP has you covered with not just a Blu-ray drive, but an increasingly rare (with retail computers, anyway) Blu-ray burner. The Envy 700 also has an onboard 802.11n Wi-Fi adapter, so you won't need to hardwire the computer to your router (or buy an adapter to take advantage of that super-fast 802.11ac router you just bought). The back has two USB 2.0 and two USB 3.0 ports; two more of each appear in the front (along with a media-card reader and headphone and mic jacks).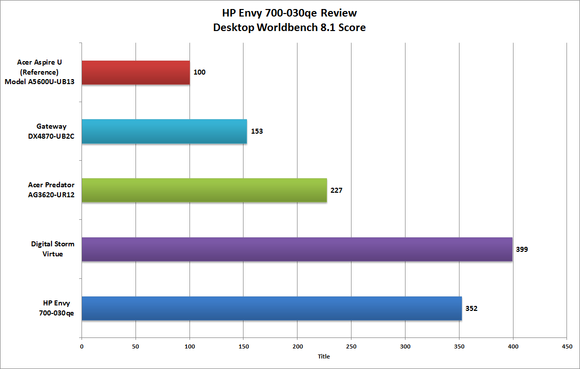 The bundled USB mouse and keyboard (wireless options are available for an additional $40) are about what you'd expect: The mouse has a nice curve to fit the hand, and the keyboard is a basic black unit with no backlighting. The keyboard does have dedicated buttons for controlling media-player software.
The HP Envy 700-030qe is an above-average computer that's reasonably priced at $1450. When we built out a comparable system based on Digital Storm's Virtue (with an unlocked Core i7-4770K, 16GB of DDR/3 memory, an Nvidia GeForce GTX 650 Ti Boost video card, and a 256GB Samsung 840 Pro SSD), that system's price tag came out to $1713. That's a not-insignificant bump of $263, even if it does buy you better components and a prettier, more easily upgradable machine.