Unsurprisingly, a New York law firm has filed the first class-action lawsuit alleging that Microsoft misled investors over the state of its Surface with Windows RT tablet.
Robbins Geller Rudman & Dowd LLP claims that Microsoft made "false and misleading" statements about its financial performance and the Surface RT tablet between April 18, 2013 and July 18, 2013. During that time, the firm alleges, Microsoft knew that the Surface RT was experiencing poor customer demand and lackluster sales, and that it had materially declined in value.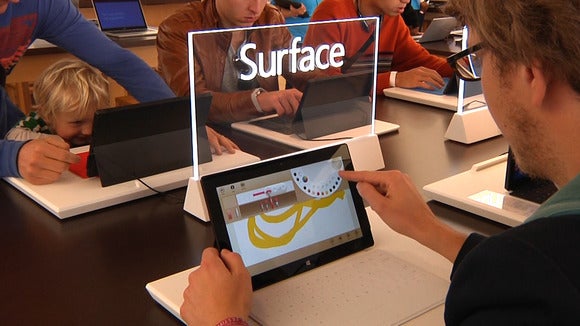 Microsoft couldn't be reached for comment at press time.
On July 18, Microsoft took a $900 million charge against earnings, writing down the value of the Surface tablet after it reduced its price by $150. It later discounted the Surface Pro by $100 as well, although Microsoft representatives haven't said whether or not the $900 million accounted for those discounts, either.
Although the write down includes accessories as well, as many as 6 million Surface RT tablets were left unsold, even though we found several Surface RT owners that loved the tablet and said that they would buy another.
What Robbins Geller and its clients obviously found most objectionable, however, was the fact that Microsoft's stock tanked as a result. Microsoft's stock has dropped slightly more than 9 percent dating back before its earnings report, and the share price has only risen slightly since then.
Microsoft apparently remains committed to the Surface RT tablet, at least according to Nvidia chief executive Jen-Hsun Huang, who claims that his company and Microsoft are working on it.
Robbins Geller says it represents U.S. and international institutional investors in contingency-based securities and corporate litigation, so the firm undoubtedly has a stake in ensuring Microsoft pays up.
Whenever the stock drops unexpectedly, lawyers start climbing out of the woodwork. Investors who feel wronged can join the class action at the Robbins Geller website.
Frankly, what Microsoft has said about the Surface is minimal at best, describing how the Surface fared over the holidays. Steve Ballmer was quoted as saying that Microsoft didn't sell as many Surface tablets as the company wanted to. Is that the smoking gun that Robbins Geller hopes will shoot Microsoft in the foot? If nothing else, Microsoft has been very tight-lipped about what it said of the Surface. What it knew, and what it was obligated to tell shareholders, may be something else entirely.