Well, it's official: The classic Gmail composition interface is gone, gone, gone, replaced by the new-look pop-up window that first rolled out way back in March.
Don't act surprised. You knew this was going to happen, even though the revamped compose UI was lambasted from the moment it rolled out to the masses. And rightfully so! The classic Gmail composition experience consumed most of the screen, allowing you to focus front-and-center and respond to messages in-thread.
The new composition UI, on the other hand, was a small box that popped up in the lower-right corner of your screen. You had to turn your head to peer at it, especially on a large monitor; text quickly disappeared off-screen when you were banging out long emails.
In a word: meh. Before today, at least, you had the ability to revert to the classic Gmail composition interface is you loathed the new look as much as I did. No more, alas.
But fear not! While the small corner composition window is still stinking up Gmail by default, Google introduced a full-screen option for the new Gmail compose UI about a month ago after receiving a barrage of user complaints. It works really well, but it's not the default.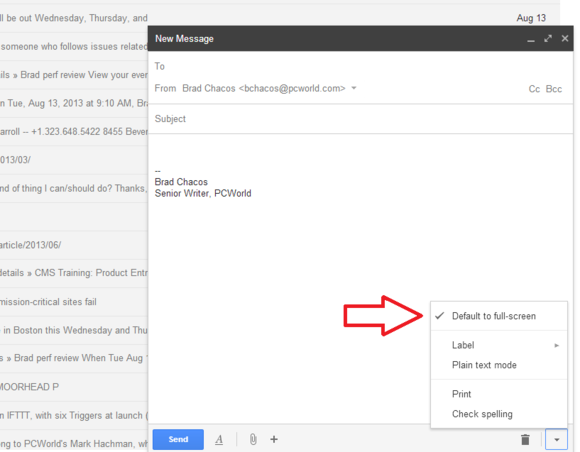 To have Gmail open a full-screen composition window whenever you click Compose, just start composing a new message and click the More options button to the right of the Discard trash can. (It looks like a little downward-pointing arrow.) Then, just select Default to full-screen in the menu that appears. Voila! Done.
The full-screen composition window still doesn't match the classic view completely, but hey—it eliminates my biggest gripes with the new-look UI, and you don't have to crane your neck to use it. This one little switch will help you get back to your Gmail power-using ways in no time.