Google will shut down its Messenger group chatting service as part of an update to its Google+ app for Android-based devices, the company announced. Google also will ditch the service on iOS devices.
Google Hangouts, which performs similar messaging and video calling functions, will act as a replacement for Messenger, said Google software engineer Virgil Dobjanschi, in a Wednesday blog post. Google Messenger was a service for mobile devices designed for group conversations with text, photos, and face-to-face video chat.
Because Hangouts provides messaging and video calls across Android, iOS, and the Web, "we're moving Messenger from the Google+ mobile apps, first on Android, then on iOS," Dobjanschi said. Messenger will be shut down Wednesday for Android-based devices. A Google spokeswoman declined to comment further on when the service will be removed on iOS.
Users will be able to download all of their Messenger conversations, including text and photos, from Google's Takeout data export service later on Wednesday, Dobjanschi said.
Competition
The offer of a transition to Hangouts, however, does not guarantee that users will stay, because the product occupies an increasingly crowded market of other group chat and messaging services. Competitors include Facebook's Messenger service, WhatsApp, Rounds, and Imo messenger.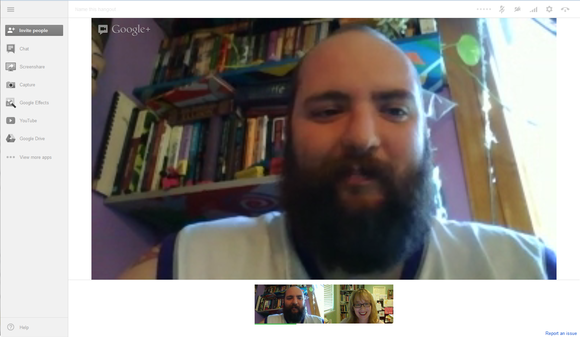 Google also faces pressure to distinguish its Google+ social network from large rivals like Twitter and Facebook. To make Google+ more attractive to users, the company announced more than 40 new featuresat its annual I/O conference for developers in May. Some of those enhancements included an improved interface and ongoing chat and photo improvements.
Google+ has roughly 190 million active users, the company reported in May. More than 390 million people are active across Google, which includes liking content in the Google Play Store, making video calls in Gmail and sharing YouTube videos.
Facebook, meanwhile, has more than 1 billion monthly active users, and Twitter has just over 200 million.
Google has recently shut down some other services in the process of updating its apps. Last month the company scrapped its Latitude and check-ins products as part of an update to its Maps app. Google Latitude provided a way for people to see the approximate locations of friends and others who have shared that information.
New features
Several new features are coming to the Google+ Android app that will be rolling out over the next few days, the company said on Wednesday.
While some of the location-sharing features might now be absent from Google Maps, there are additional tools in this area within the Google+ Android app.
With the new version of the app, location sharing includes more controls, so people can share their pinpoint or city-level location with others, and on a circle-by-circle basis, if they want, Google said. In other words, users can share their pinpoint location with family, and their city-level location with co-workers, according to the company.
The update also lets Google+ for Android interact more with Google's Drive cloud storage service. If users are sharing photos or videos in Google Drive, they now have the option to view and share them from Google+ on Android and on the Web, Google said. Google's photo auto-enhancement feature, which was first rolled out at the I/O conference, will be applied here as well.
A pull-to-refresh feature, which commonly lets people see the latest content within an app by pulling down on the screen, also is on the way for the app, Google said.