Jason Holtman, who previously ran the Steam digital-download business for Valve Software, has joined Microsoft.
Holtman (above, far left, in an image from the 2010 Game Developers Conference via Flickr) was one of several employees who were reportedly terminated in February from the games maker, whose hits Portal and Half-Life have gone one to become industry classics.
But it's the Steam digital-delivery service that has kept Valve's name in the spotlight, especially as game development at the software maker can take years.
Now, Holtman has confirmed, in a brief interview with Gamesindustry.biz, that he has joined Microsoft.
"Yes, I have joined Microsoft where I will be focusing on making Windows a great platform for gaming and interactive entertainment," he told the publication. "I think there is a lot of opportunity for Microsoft to deliver the games and entertainment customers want and to work with developers to make that happen, so I'm excited to be here."
Holtman doesn't appear to have a Twitter account, but his LinkedIn account confirms that he is now working in a role of "PC Gaming and Entertainment Strategy" within Microsoft.
Microsoft confirmed the move on Friday.
"Yes, Jason Holtman has joined Microsoft where he will be focusing on making Windows a great platform for gaming and interactive entertainment," a Microsoft spokesperson said in a statement. "This is a great time to join Microsoft. The company has been energized by its new services and devices vision and is continuing to invest heavily to make the Windows Platform a best-in-class experience for developers and consumers alike. Microsoft is committed to building a rich ecosystem and we are excited to have an experienced industry leader like Jason join the team."
Holtman's new title, as well as his past work, suggests one or more of three roles: overseeing the portion of the Windows Store responsible for games, adding Steam-like enahncements to the Windows Store, or perhaps revamping the controversial Games for Windows program within Microsoft.
State of Microsoft gaming
Currently, the gaming portion of Microsoft's Windows Store looks like a cut-rate version of a mobile apps store: casual games like Where's My Water? favor prominently, as does Angry Birds Star Wars and Microsoft Studios' own Halo:Spartan Assault, which has received positive reviews.
Several good, free Windows 8 games also can be found. But there's not a top-tier "PC" game to be found up front, save for Microsoft Studios' Big Buck Hunter. For instance, there's nothing from the Battlefield or Medal of Honor series. There's not even the full PC version of Halo, perhaps the Microsoft Xbox's signature franchise.
IInstead, those games live on the PC subsection of the Xbox Games Store. Like Steam, users must download the Games for Windows client before they can install the games—but the Games for Windows client can't be found within the Windows Store, forcing users to go out to the Web.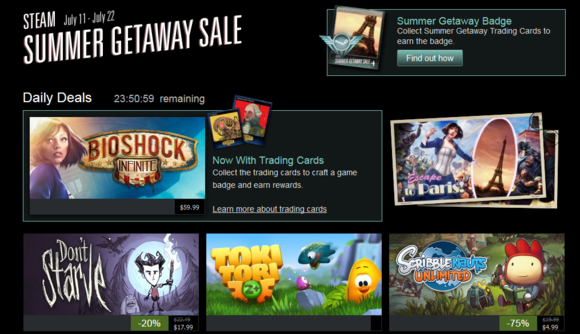 At Valve, Holtman turned Steam in a full-fledged digital store, responsible for promoting both indies and full-fledged AAA titles. The occasional Steam sales provoked headlines, and the service not only has added achievements, but also a "big-picture" mode to allow games to be played on the big screen. Users can buy and browse games from within the Steam service, and download copies to several authorized machines.
What isn't known is how much Steam pulls in. Valve doesn't even discuss how much it will take from the sales of each game until it's approved, and doesn't publish the amount publicly, according to a FAQ. According to an analysis by Forecasting and Analyzing Digital Entertainment, LLC, in 2010, Steam brought in about $970 million in game sales revenue.
Holtman, however, is famous for calling video-game pirates "underserved customers," and noted that the rate of piracy in Russia decreased once Valve published its games day-and-date with their release in other markets.
As any PC gamer knows, Windows still remains a viable platform for gaming, and PC gamers collectively can spend millions in hardware to support a single title. But Games for Windows has arguably been passed over by digital-download servies by a variety of companies, including Valve. What isn't known is what Holtman's specific role at Microsoft will be; however, he has a number of opportunities ahead of him.
Updated at 2:10 PM on August 16 with a comment from Microsoft.